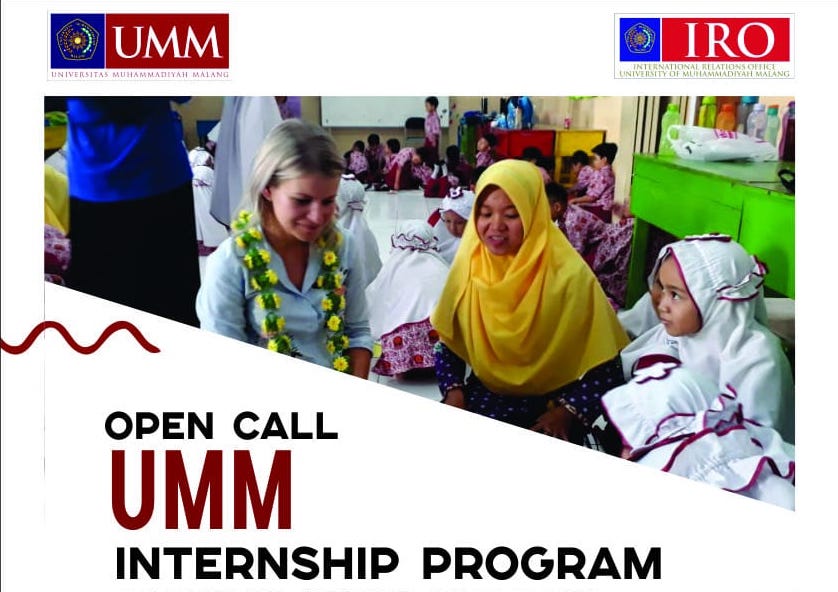 University of Muhammadiyah Malang (UMM) Internship Program 2019 for Non-Indonesians
Deadline: March 31, 2019
The UMM Internship program is officially open! The Internship Grant is awarded and administered by the University of Muhammadiyah Malang (UMM) Indonesia, to provide a unique opportunity for postgraduates to gain valuable international experience in Indonesia.
The postgraduates will gain valuable international experiences by
Learning of Indonesian language and exposure to Indonesian cultures: Learning Bahasa Indonesia and getting exposed to unique Indonesian cultures will open up a vast archipelago of some of the friendliest and most hospitable people. Challenging yet rewarding cultural experience will invite interns to think outside of comfort zone and engage in unique values and practices.
Teaching strategy course and Research: The learning to teach opportunities will be available across a range of disciplines related to the work of teaching and learning process at UMM including; Engineering, Economic and Business, Political and Social Sciences, Agriculture and Animal Husbandry, Education, Psychology, Law, Islamic Education, Health Sciences, and Medical Sciences.
Practical training at UMM: Interns will work closely with an appointed supervisor at the same time acting as the co-teacher, teachers of Bahasa Indonesia classes, and institutionally engaged IRO staff.
The Grant will be for a period of 20 weeks (one semester), and can be proposed by interns with recommendation from the department/faculty to be extended to another 20 weeks. The decisions as to whether an extension will be granted are at the sole discretion of the university.
Responsibilities
Interns will be responsibly engaged in institutionally approved projects that are meaningful to both the UMM and the intern's learning and development. Duties may include but not limited to:
attending Indonesian language class, Teaching strategy course and Research
Learning to teach suitable department(s) at UMM;
supporting UMM's academic and non-academic (cultural) functions;
supporting UMM's internationalization;
reporting on learning to teach assessment forms completed by students and supervisor/co-teacher;
reporting on development outcomes
Benefits
UMM Internship Grant covers
UMM Internship Grant salary IDR 4.000.000/month
Indonesian languange course*
Practical teaching strategy course and research*
Cultural immersion and international forum.
Nb: UMM also provides limited number of free basic accomodation (rules of residence apply), polyclinic service, internet (both university are and dormitory), and library. Please not that the internship program will not guarantee any future employment rights.
*Certificates will be provided.
Interns will be responsible for all costs associated with personal matters. These may include but not limited to: International travel (including visa payment in Home Indonesian Embassy), Medical insurance valid for Indonesia, Passport and Living arrangements.
Eligibility
To be awarded the Grant applicants must meet the following criteria:
be a non-Indonesian citizen;
recently completed a postgraduate degree;
have field of study offered in the Grant;
be available for the full internship period;
have commitment to rules applied in UMM;
have multi-culturally understanding traits;
applicants who have not been to Indonesia are preferred;
Application
For more information, visit UMM Internship Program.