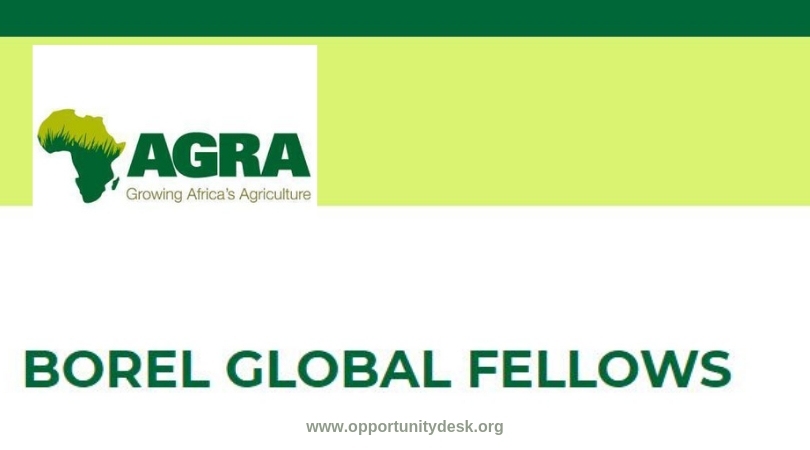 AGRA Borel Global Fellowship Programme 2019 for Masters Study at University of Delaware
Deadline: March 22, 2019
Applications are open for the AGRA Borel Global Fellowship Programme 2019. The College of Agriculture and Natural Resources at the University of Delaware has partnered with AGRA (Alliance for a Green Revolution in Africa) to build a Master's degree program to train African students in plant breeding, crop protection, soil science, agricultural economics, microbiology, wildlife management, and entomology and other areas vital to food security in Africa.
Made possible by a generous gift from Jim and Marcia Borel, the program provides opportunities for one to two students per year to complete a Masters degree at the University of Delaware while conducting research in their home country in an area of critical need.
Program Details
Students will be recommended to start at the University of Delaware during the summer to acclimate and begin involvement in research coursework (as much as 3 months in advance of the first semester). Following this, students will spend the next 12 to 18 months completing course work, developing research skills, and beginning a research project to be completed upon return to their home country. Students will spend six to eight months in their home country completing their research. The faculty mentor will travel to Africa during this period to help prepare the student for their thesis defense.
Financial Support
Each Borel Global Fellow will receive generous financial support including:
A stipend to cover living expenses while in Delaware (stipends vary by program; current minimum is $18,000/year)
A stipend of $1,125 per month covering up to eight months support for the African "in residence" portion of the fellowship
A full waiver of tuition for up to 33 credits (currently valued at ~$53,000)
Round trip airfare to/from the USA (economy class)
Computer allowance of up to $1,000 (to be purchased at Delaware)
Reimbursement for the UD application fee ($75)
Financial support and travel allowance for the UD faculty mentor Students are responsible for purchasing their own health insurance upon arrival to the university
Eligibility
Open to African students with a BS degree (or equivalent) in plant science, agronomy, horticulture, agricultural economics, wildlife ecology, entomology, soil science or microbiology or related discipline
3-5 years of work experience post-graduation in the agricultural sector
A sincere and demonstrable passion to return to the home country and contribute to agricultural development, increased food security, and/or agribusiness development
A letter of commitment from an African research institute, or university pledging to provide the fellow with in-kind research support for the African portion of their fellowship
English language proficiency
Acceptable scores on the GRE and TOEFL exams
Ability to obtain a student visa (F-1) and travel to the USA from the home country
Access to the internet in the home country
For field research, access to appropriate resources for the student in Africa will be made by the faculty mentor.
Application
Candidates that hold a position in a scientific organization (e.g. university, national program, international non-profit organization, etc.) in Kenya, Tanzania, Malawi, Zimbabwe and Uganda are being considered at this time.
A two-stage application process is required for the program. Before applying to UD's graduate program, send the following documents directly to AGRA ([email protected]) with the subject line "Borel Global Fellows Program."
Statement of interest (2-page max)
Resume or curriculum vitae
Undergraduate transcripts
Up to three letters of reference from individuals who can judge your scholastic capability and potential for research at the graduate level
A letter of commitment from an African research institute, or university pledging to provide the fellow with in-kind research support for the African portion of their fellowship Following the first stage evaluation by AGRA, candidates will be invited to apply to the University of Delaware.
For more information, visit Borel Global Fellowship.