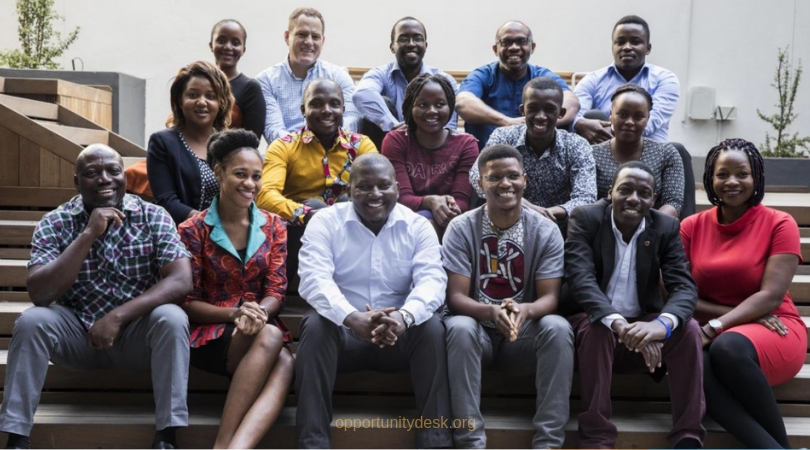 Royal Academy of Engineering's Africa Prize for Engineering Innovation 2020 (Fully-funded + GBP 25,000 prize)
Deadline: July 22, 2019
The Africa Prize for Engineering Innovation is now OPEN for applications. The Africa Prize encourages ambitious and talented sub-Saharan African engineers from all disciplines to develop scalable solutions to address local challenges, highlighting the importance of engineering as an enabler of improved quality of life and economic development. The aim of the Africa Prize for Engineering Innovation is to stimulate, celebrate and reward innovation and entrepreneurship in sub-Saharan Africa.
Applications are invited from entrepreneurs and engineers in sub-Saharan Africa who have developed an innovative product or service that can provide scalable solutions to local challenges, with a particular emphasis on sustainable social and economic development. Applicants with engineeringrelated innovations from all disciplines are invited to enter, whether or not the applicant themselves have an engineering background.
Benefits
16 shortlisted applicants will receive an eight-month package of tailored support to help them achieve commercial success from their innovation, including three week-long immersion sessions, supplemented by remote support.
The four finalists will pitch at the final event in Africa in June 2020 (taking place during the third immersion week).
The remaining shortlisted applicants will also be invited to display their innovations at an exhibition at this event.
The overall winner of the GBP 25,000 prize will be announced at a high-profile event in June 2020.
Three runners-up with receive £10,000 each.
* For the three immersion weeks, visa fees, international flights, airport transfers, hotel accommodation, subsistence and any in-country transport related to the training will be paid for by the Academy.
Eligibility
Applicants must have developed (or co-developed), or be in the process of developing (or co-developing) a new technological innovation.
Applicants should have the ambition to take a leading role in creating a new business to commercialise this innovation.
The Africa Prize is part funded by the UK Government's Global Challenges Research Fund, and as such all activities must be compliant with Official Development Assistance (ODA) rules.
Applicants must be individuals or small teams
Individual applicants must be citizens of a country in sub-Saharan Africa:

Angola Benin Botswana Burkina Faso Burundi Cameroon Cape Verde Central African Republic Chad Comoros Republic of the Congo Democratic Republic of the Congo Cote d'Ivoire Djibouti Equatorial Guinea Eritrea Ethiopia Gabon The Gambia Ghana Guinea Guinea-Bissau Kenya Lesotho Liberia Madagascar Malawi Mali Mauritania Mauritius Mozambique Namibia Niger Nigeria Rwanda Sao Tome and Principe Senegal Seychelles Sierra Leone Somalia South Africa South Sudan Sudan Swaziland Tanzania Togo Uganda Zambia Zimbabwe

For teams of two or more, the lead applicant must be a citizen of a country in sub-Saharan Africa
The innovation must be based in a country in sub-Saharan Africa
Applicants must have an engineering innovation, though are not required to be an engineering graduate or student
Applicants must provide a letter of support from a university or research institution, this can be as simple as stating an individual studied at that institution. If applicants are not affiliated with a university, another document proving the status of your organisation or innovation, such as a document of incorporation or similar, can be used.
The lead applicant must be over the age of 18. There is no upper age limit.
Industrial researchers and establishments are not eligible.
The applicant's innovation can be any new product, technology or service, based on research in engineering defined in its broadest sense to encompass a wide range of fields. This includes but is not limited to: agricultural technology, biotechnology, chemical engineering, civil engineering, computer science, design engineering, electrical and electronic engineering, ICT, materials science, mechanical engineering, and medical engineering. If you are in any doubt that your area of expertise would be considered engineering, then please contact the Academy to discuss your application.
Applicants should have achieved the development of, and be in the early stages of commercialising, an engineering innovation that:

Will bring social and/or environmental benefits to a country/countries in sub-Saharan Africa;
Has strong potential to be replicated and scaled-up;
Is accompanied by an ambitious but realistic business plan which has strong commercial viability.
Requirements
After the programme, all shortlisted candidates will be expected to provide brief progress reports to The Academy about the progress of their business six months and 18 months after the final event.
Application
All applications must be submitted via the online grants system, applicants should ensure they read the guidance notes before submitting their application.
Online grants system (You must first register an account, which you will be prompted to do)
For more information, visit Royal Academy of Engineering.