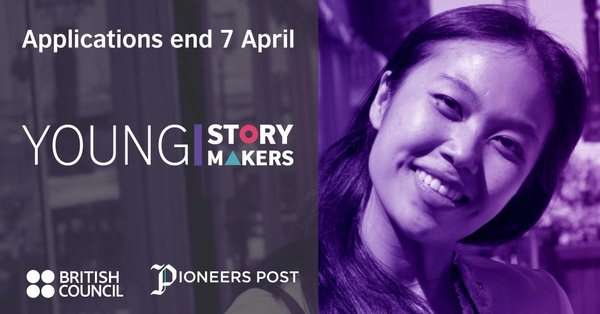 British Council/Pioneer Posts DICE Young Storymakers Programme 2019 for Aspiring Journalists
Deadline: April 7, 2019
Applications are open for the British Council/Pioneer Posts DICE Young Storymakers Programme 2019 for Aspiring Journalists. The DICE Young Storymakers programme is on the hunt for writers, videographers, and photojournalists committed to telling stories of positive change.
Pioneer Posts is partnering with the British Council to provide a rare opportunity for ambitious journalists aged 18-25 to gain invaluable professional skills while sharing stories of social and creative enterprise in their countries with readers from across the globe.
Over a period of ten months, the Young Storymakers will receive ongoing mentoring from editorial experts, helping them to develop their journalistic skills and knowledge, creating content which will be published on leading social enterprise magazine, Pioneers Post, as well as on the British Council's online channels. There will also be opportunities to collaborate with and learn from one another.
Benefits
Three successful applicants from each of the countries will travel on a fully-funded trip to London in May for training with a team of mentors and editors;
They will also take part in an intensive programme covering creative and social enterprise and social investment, including attendance at Good Deals & Beyond Good Business, the UK's leading annual social enterprise event.
Eligibility
Applicants must be aged 18-25 on March 1, 2019;
Hold a undergraduate degree or be enrolled in an undergraduate course (of any subject) at a university or higher education institution;
Be a legal resident of Brazil, Indonesia, Pakistan, South Africa, or the UK;
Be a native speaker of English OR be able to speak and write English at IELTS level 6.5 or equivalent (a formal qualification is not required, just the ability to speak and write [AP1] [PA(2] at this level);
Be dedicated to a career in journalism or communications, in any form. Previous training and experience in journalism and communications is desirable but not required;
Have a passion for positive social change and a demonstrated interest in creative or entrepreneurial approaches to addressing social issues;
Have published an article, blog, vlog, podcast, radio report or video on a third party site such as newspaper, magazine, radio programme, podcast or other media platform;
Be comfortable and imaginative in using social media to generate interest in your journalism or communications;
Have access to the internet and to the equipment necessary to produce articles, videos, podcasts or other content such as a computer, smart phone or other video or audio equipment;
Have a valid passport;
Be available to travel to and from the UK on any date between 18-24 May 2019.
Application
For more information, visit DICE Young Storymakers programme.