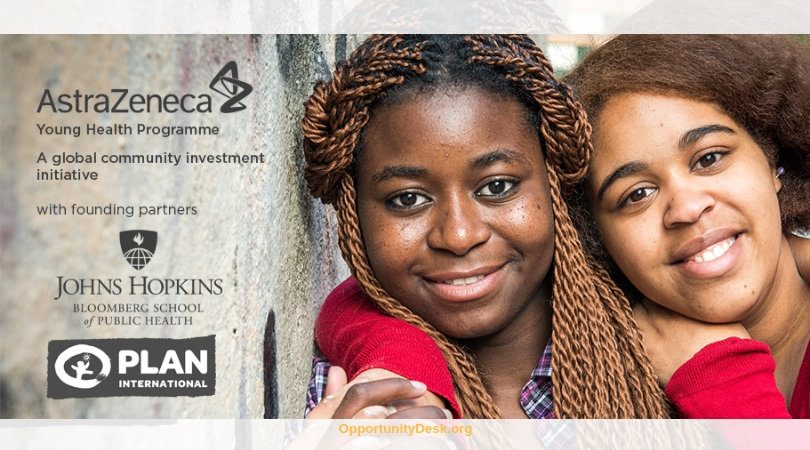 AstraZeneca Young Health Programme Scholarship to attend One Young World Summit 2019 (Fully-funded to London, UK)
Deadline: May 25, 2019
Applications are for the AstraZeneca Young Health Programme Scholarship are now open. This year, AstraZeneca is collaborating with One Young World to offer 18 scholarships to inspiring young leaders to attend the One Young World Summit 2019 in London, United Kingdom. Through the Young Health Programme (YHP), AstraZeneca works to engage and empower young people with information so that they can make healthy choices today that will lead to better health later in life.
The successful scholars will join 7 other YHP youth delegates who are already involved with the programme, as peer educators, advocates, NGO partners or community youth leaders. In addition to attending the Summit, YHP scholars will participate in a pre-Summit workshop to meet the delegation, share information about their background and get prepared for what will be an incredible experience in London.
Benefits
Access to the One Young World Summit 2019 in London
Hotel accommodation on a shared basis between 21 and 25 (inclusive) October, 2019
The cost of travel to and from London (flights in economy)
Catering which includes breakfast, lunch and dinner
Transport between the Summit accommodation and the Summit venue
Summit hand-outs and support materials
Access to Youth Health Programme pre-Summit workshop
Discretionary funds to cover reasonable out of pocket expenses connected with getting to and from the Summit (these can be claimed by Scholars after the Summit)​
Eligibility
They are looking for young people (aged 18 – 30) who work for or are involved with a non-governmental organisation, social enterprise, community based organization, or who are individuals making an impact through advocacy activities or direct programming related to fighting the burden of non-communicable diseases.
In particular this scholarship seeks to support young leaders making an impact in at-least one of the following areas:
Tackling tobacco use and alcohol consumption
Increasing physical activity and exercise
Improving diet and nutrition
Raising awareness of mental health and supporting people with mental health problems.
Tackling pollution and improving air quality
Application
For more information, visit One Young World.