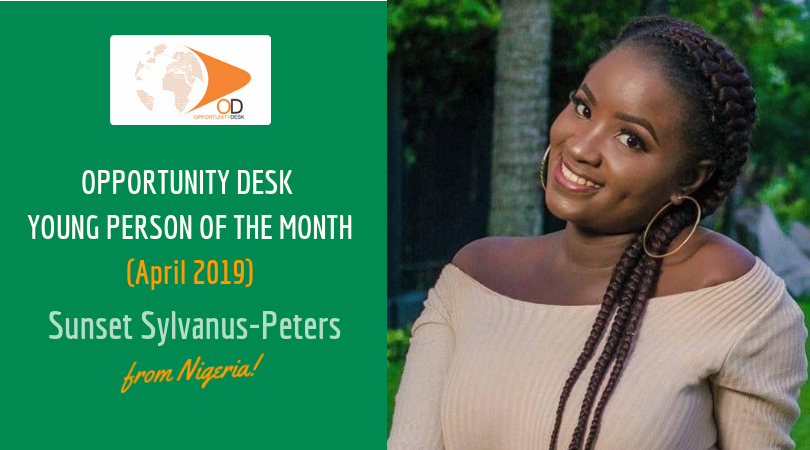 Sunset Sylvanus-Peters from Nigeria is OD Young Person of the Month for April 2019!
Welcome to April!
Our Young Person of the Month is Sunset Sylvanus-Peters from Nigeria! With 3 years of experience in social space, Sunset is the Founder of The Sunset Nigeria, a community-based organization aimed at improving the lives of youth in Edo State, Nigeria.
Sunset holds a Diploma in Public and International Relations from Olabisi Onabanjo University and she is currently pursuing a law degree at the University of Benin, Nigeria. She is also a fellow of the Young African Leaders Initiative (YALI) program. Sunset emerged the People's Choice Winner of Opportunity Desk Impact Challenge 2018.
Read her story below and be inspired!
SUNSET SYLVANUS-PETERS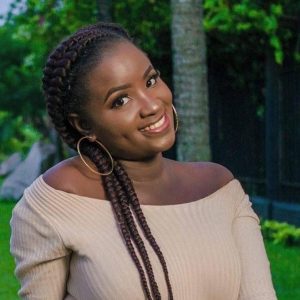 Sunset Sylvanus-Peters is the Founder of The Sunset Nigeria, a community-based organization aimed at improving the lives of youth at Edo State, Nigeria. This it does through its campaigns against rape and domestic violence. Sunset plays active roles in volunteering with local organizations such as the Crown of Glory Foundation, Bright Plus Initiative, and Youth Aflame Network International. In March 2018, she collaborated with a YALI Cohort 6 member, Joshua Ekpopkobe, on his community service project on ending Female Genital Mutilation (FGM) in Nigeria, where she educated about 50 students on the legal perspective of FGM.
In furtherance to her commitment to grassroots development, Sunset has educated over 1500 students across 13 secondary schools in Nigeria in the last 7 months. Sunset is interested in making a change in her community first because of the alarming rate of poverty, unemployment and misplaced priorities in Nigeria at Large and because one of the strengths of a Nation is in its ability to evolve with the global trend.
On How She Began
Sunset began social work back in 2016 while she was still a first-year student at the University of Benin. For her, it was all about putting smiles on people's face. Her major interest was volunteering and she began with Oko Prison in Benin City, Nigeria. Her experience was beautiful. It gave her a lifetime commitment to social work and impact. She continued volunteering with other brands until 2017 when she decided to start something.
Moved by the number of rape victims in Edo State and the normalcy that was attached to domestic violence, she began The Sunset Nigeria. This came after she spoke to a couple of friends and mentors. Although, she had no personal experience in either area, she did have people really close to her heart who were victims. Furthermore, her school (University of Benin) kept recording constant rape incidents every session so she thought of carrying out a campaign with a lasting impact.
On Her Successes
Sunset considers pulling off a campaign, "UNEXPRESSED 18" which educated over 900 students at a go as her first success story. She bet her own expectations and it was a big deal for her.
Her other success story was the growth of her team. As of now, about 4 of them currently run their own social outlet committed to giving back to their communities. This means so much to her and it feels like she replicated herself in them. Some others are into business and she can't be more excited.
On Her Obstacles and Future Plans
Sunset's major obstacles include human resources as the zeal of people constantly drops, fear on the part of victims which often leads to the refusal to open up, high level of ignorance on the part of victims of domestic violence and inadequate finances.
Her future plans for her project is to expand the reach of her NGO. They hope to touch other states of Nigeria besides Edo State where they are currently based. They also intend to set up a skills development foundation to train financially disadvantaged people on their desired skill as they find a strong link between poverty and rape.
Her Words of Advice to the Youth
Be sure you are ready. You will have a lot of reasons to pull back. Be prepared to be your own motivation and do it because you see a need to and you genuinely want to improve your community not because you hope to get to a foreign program, fellowship, grant or recognition someday. I say this because I receive a lot of messages from young people who want to get fully funded programs and they need to know what to do to get there. It is a completely wrong start point and mindset.

Finally, beyond running a social outlet to improve the lives of people in your community, have a social enterprise too which can fund your impact. The world is shifting from grant giving to self-generated revenue/personal funding. You would need some entrepreneurial skills to thrive.
You can connect with Sunset on Facebook, LinkedIn, and Instagram. Learn more about her organization, The Sunset Nigeria.
——————————————————————————————————————————
Who will be the Next Young Person of the Month?
You can be the next Opportunity Desk Young Person of the Month! All you have to do is get a friend to recommend your work or fill out the nomination form here.  We want to use the platform to recognize and celebrate the efforts of amazing young people around the world. O! And you must be an active Opportunity Desk member, either as a fan, reader or subscriber!
Don't miss any updates in the future.
Join Opportunity Desk on Facebook (155k+), Twitter (26k+), Instagram (9k+), FB Group (68k+) or join our 60k+ Email Subscribers below!