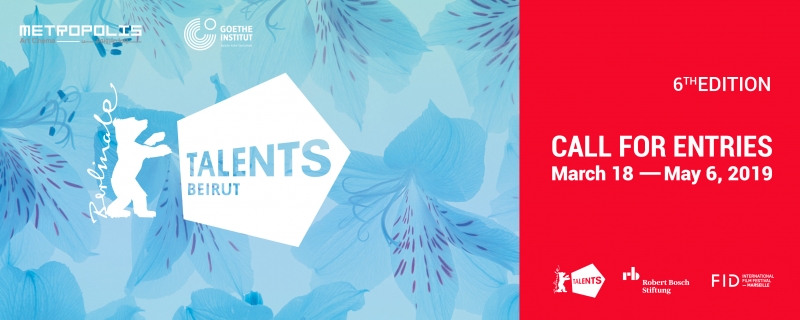 Metropolis/Goethe Institute Beirut Talents Programme 2019 (Funded)
Deadline: May 6, 2019
Metropolis and the Goethe Institute in Lebanon are pleased to announce the start of applications for participation in the 6th edition of "Beirut Talents", a program focusing on film synthesis, photography management, audio tape design and film composition in the Arab world.
The program aims to focus on these film industry professions that have not yet achieved equity in this part of the world. The program will invite 20 young talent from the Arab world, selected by an international jury, to participate in the sixth edition of Beirut Talents, to be held in Beirut from September 19 to 23, 2019.
Cost
Travel costs and accommodation are covered by Talents Beirut.
Eligibility
Open to directors of photography, filmmakers, soundtracks designers or film music artists from Algeria, Bahrain, Comoros, Djibouti, Egypt, Iraq, Jordan, Kuwait, Lebanon, Libya, Mauritania, Morocco, Oman, Palestine, Qatar, Saudi Arabia, , Sudan, Syria, Tunisia, United Arab Emirates and Yemen;
You work in one of these areas: cinematography, editing, sound design/score composition;
You have directly contributed to at least one short film with a credit as cinematographer, editor or sound designer/score composer, this film was screened at a recognised film festival, OR you have worked on this film with aforementioned credit as a student at a film school or in a film programme;
You must be residing in one of the countries above and be at least 18 years of age by September 2019;
Participants must be fluent in English and Arabic. French is a plus.
Application
The application consists of two parts:
Part 1: Fill in and complete the application form online.
Part 2: Submit a sample of work
You have to send in ONE of the following items as a sample of your work.

Film sample of THREE MINUTES in length.
Please be advised they do not accept show reels. In case the film sample is not subtitled, please provide it with English subtitles. Do not forget to identify your submission with your name.
Instead of submitting film material, sound designers/score composers have the following option:

For sound designers/composers ONLY: Your sample of work should be a continuous sequence of video. The maximum length is 3 minutes.
For editors ONLY: Your sample of work must be a continuous scene of up to 15 minutes maximum. The submitted scene must be one you have edited yourself but not necessarily directed.
For more information, visit Metropolis/Goethe Institute Beirut Talents Programme.