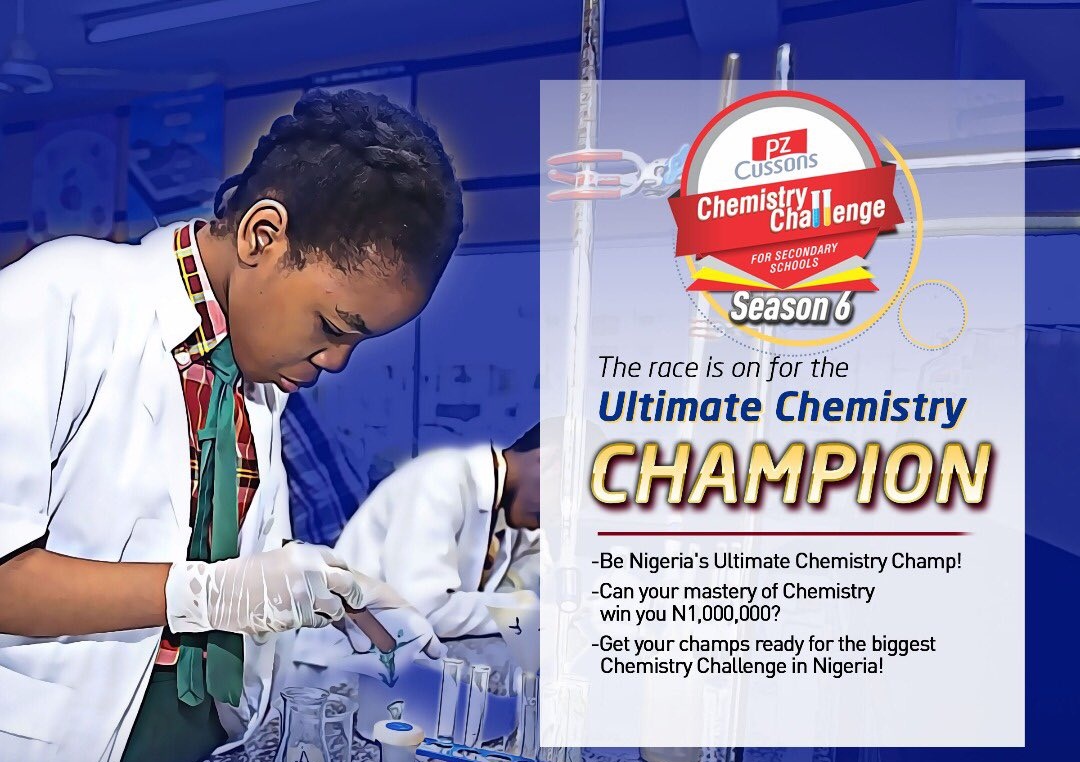 PZ Cussons Chemistry Challenge 2019 for Secondary School Students in Nigeria (₦1,000,000 prize)
Deadline: May 16, 2019
Applications are open for the PZ Cussons Chemistry Challenge 2019 for Secondary School Students in Nigeria. PZ Cussons Chemistry Challenge (PZCCC), an initiative of the PZ Cussons foundation, is aimed at improving the learning culture of Chemistry in Secondary Schools in Nigeria.
The initiative is an annual event that commenced in 2013 and has successfully completed 5 editions which were open only to schools in Lagos state. The 6th edition of the competition will 'break' the norm to strategically be a National competition that will cut across the GPZs.
Objectives
The overall objective is to continue to make PZ Cussons Chemistry Challenge the No. 1 platform for supporting the learning of Chemistry in Schools
To promote the girl child education within Nigeria
Recruiting new schools to the initiative
Deepen brand awareness and association for Premier
Prizes
1st Prize
Student: ₦1,000,000
Teacher: ₦250,000
School: Desktop and Lab Equipment
2nd Prize
Student: ₦750,000
Teacher: ₦150,000
School: Desktop and Lab Equipment
3rd Prize
Student: ₦500,000
Teacher: ₦100,000
School: Desktop and Lab Equipment
Eligibility
The competition is open to all SS 2 Chemistry students in Nigerian Schools;
Students have to be schooling within Nigeria;
Students are to be sponsored by their Secondary School and/or Parent;
Entries are open to both Private and Public Secondary Schools;
After registration, candidates would be required to printout a computer generated docket (with passport picture, name, school, passport, parent's and principal's name) for identification;
All registered students are required to undertake the online quiz which will form the basis for the initial shortlisting.
Application
Stage One: Students are to register on site for the competition and generate a printout for identification.
Stage two: Top successful 200 students from across the country would seat for 1st stage test; across 3 centers-Lagos, Abuja & PortHarcourt.
Stage Three: Top successful 10 students from each center would compete in the practical test to be held in Lagos, Abuja & PortHarcourt.
Stage Four: The top 6 students (2 each from Lagos, Abuja & PortHarcourt) will compete for the grand prize of N1m.
For more information, see FAQ or visit PZ Cussons Chemistry Challenge.