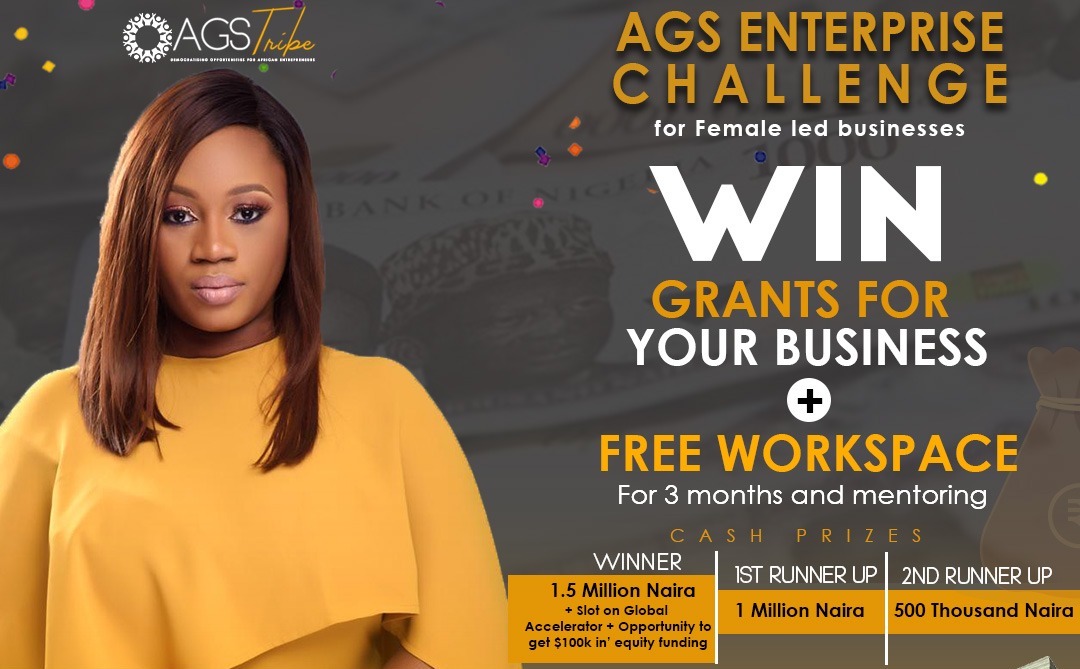 AGS Enterprise Challenge 2019 for female-led enterprises in Nigeria (N3,000,000 in prizes)
Deadline: June 12, 2019
Entries are now invited for the AGS Enterprise Challenge 2019. The AGS Enterprise Challenge is a first of its kind pitch competition for female led businesses that contribute to the Nigerian Economy.
The Competition is designed to promote the birth of more businesses that can end poverty, protect the planet and ensure prosperity for all. The competition will ensure that female led startups gain exposure, valuable feedback and grants to take their business to the next level. The program would include a pitch competition, presentations from business experts and a question and answer session. The goal is to build a network of inclusive businesses and opportunities for collaborations that would assist with promoting business sustainability across Africa over the next 10 years.
Prizes
N3,000,000 grant for the first 3 winners (N1,500,000/ 1,000,000 and N500,000 respectively)
Office space for 3 months
Mentorship
A spot on a global accelerator to female led businesses across Nigeria.
Eligibility
Open to only female led enterprises (Founder/CEO must be a woman).
Have an innovative and creative business idea.
Application
Repost flier on your page
Upload a 1 minute pitch of your business and what you need funding for.
Fill out the form on www.agstribe.org/agsenterprisechallenge2019
Follow @ifedurosinmietti and @agstribe and tag your friends to follow too so they don't miss out on opportunities
Use the hashtag #agstribe and #AGSEnterpriseChallenge2019
For more information, visit AGS Enterprise Challenge.