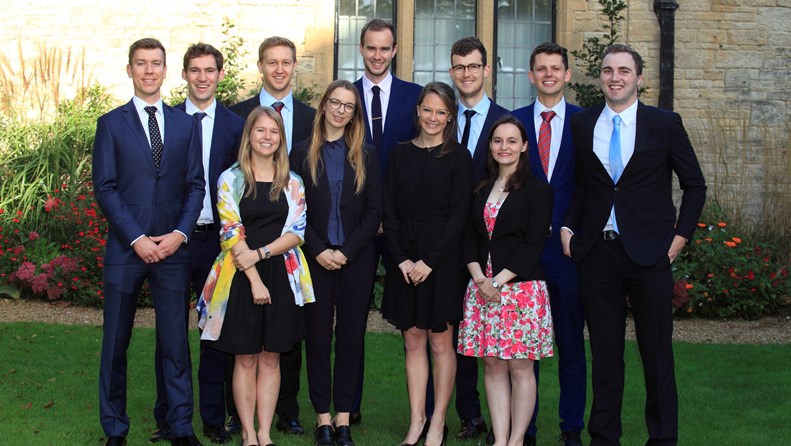 Rhodes Scholarships 2020 for Postgraduate Study at University of Oxford (fully-funded)
Deadline: Varies by Country
Applications for the Rhodes Scholarship 2020 are now OPEN! The Rhodes Scholarship supports exceptional young people for postgraduate study at the University of Oxford, and actively fosters lifelong learning and fellowship. It is the oldest (first awarded in 1902) and perhaps most prestigious international scholarship programme, enabling outstanding young people from around the world to study at the University of Oxford.
The Scholarship is not just a financial bursary, it is a life-changing opportunity for exceptional young people with the potential to make a difference for good in the world. Rhodes Scholars are people who have a vision of how the world could be better and the energy to make a difference – whatever their sphere of interest.
The Rhodes Trust provides the Rhodes Scholarships in partnership with the Second Century Founders, John McCall MacBain O.C. and The Atlantic Philanthropies, and many other generous benefactors.
They are looking for future world leaders to tackle pressing problems. Could that be you?
Scholarship
The Rhodes Scholarship is for two years in the first instance. A Rhodes Scholarship covers:
All University and College fees; the University application fee;
An annual living stipend (£15,144 per annum 2018-19);
Two economy class flights – to and from the UK – for the beginning and end of studies in Oxford. Scholars receive a settling in allowance on arrival (£225 in 2017-18).
The International Health Surcharge, which enables international students to access the UK's National Health Service, is covered for the duration of a Scholar's tenure.
The application fee required to apply to study at the University of Oxford.
A number of research grants are also available to Rhodes Scholars, on application, which enables Scholars to, for example, attend international conferences or conduct additional fieldwork.
Eligibility
The Rhodes Trust warmly welcomes applications from talented young persons of diverse backgrounds.
The broad eligibility criteria of the Rhodes Scholarship; definitive eligibility criteria are listed in the relevant Information for Candidates document for your country/region.
Selection of Rhodes Scholars is made without regard to gender, gender identity, marital status, sexual orientation, race, ethnic origin, colour, religion, social background, caste, or disability.
Eligible Countries
AUSTRALIA (9 Scholarships)
BERMUDA (1 Scholarship)
CANADA (11 Scholarships)
CHINA (4 Scholarships)
EAST AFRICA (1 Scholarship)
Covering Uganda, Tanzania, Rwanda, South Sudan and Burundi
GERMANY (2 Scholarships)
HONG KONG (1 Scholarship)
INDIA (5 Scholarships)
ISRAEL (2 Scholarships)
JAMAICA & THE COMMONWEALTH CARIBBEAN (2 Scholarships)
Covering Antigua, Bahamas, Barbados, Belize, Trinidad & Tobago, Jamaica, Dominica, Grenada, Guyana, St. Lucia, St. Vincent, St. Kitts-Nevis, Montserrat, Anguilla, the Turks and Caicos Islands, Cayman Islands and British Virgin Islands
KENYA (2 Scholarships)
MALAYSIA (1 Scholarship)
NEW ZEALAND (3 Scholarships)
PAKISTAN (1 Scholarship)
SAUDI ARABIA (Up to 2 Scholarships)
SINGAPORE (1 Scholarship)
SOUTHERN AFRICA (10 Scholarships)
Covering South Africa, Botswana, Lesotho, Malawi, Namibia and eSwatini
SYRIA, JORDAN, LEBANON AND PALESTINE (2 Scholarships)
UNITED ARAB EMIRATES (2 Scholarships)
UNITED STATES (32 Scholarships)
WEST AFRICA (1 Scholarship)
Covering Benin, Burkina Faso, Cape Verde, Gambia, Ghana, Guinea, Guinea-Bissau, Ivory Coast, Liberia, Mali, Mauritania, Niger, Nigeria, the island of Saint Helena, Senegal, Sierra Leone, São Tomé and Principe, and Togo.
ZAMBIA (2 Scholarships)
ZIMBABWE (2 Scholarships)
If your country is not listed, apply for the Global Scholarship.
Criteria
Rhodes Selection Committees are looking for young people of outstanding intellect, character, leadership, and commitment to service.
The four criteria which governed the selection of Rhodes Scholars in 1902 are still the guiding criteria for the selection of Rhodes Scholars:
literary and scholastic attainments (academic excellence)
energy to use one's talents to the full (as demonstrated by mastery in areas such as sports, music, debate, dance, theatre, and artistic pursuits, particularly where teamwork is involved)
truth, courage, devotion to duty, sympathy for and protection of the weak, kindliness, unselfishness and fellowship
moral force of character and instincts to lead, and to take an interest in one's fellow beings.
Application
Read carefully the detailed Information for Candidates specific to the country/region to which you are applying.
Check the opening and closing dates of the application for your country/region
Read through the application overview.
For more information, visit Rhodes Scholarship.