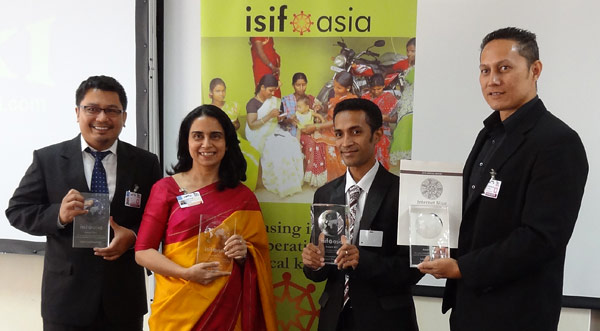 ISIF Asia Internet for Development Award 2019 (Win USD $3,500 cash prize plus a travel grant to IGF in Berlin)
Deadline: June 21, 2019
Nominations are invited for the ISIF Asia Internet for Development Award 2019. The Internet for Development Award will be given to one organization working on research and development of software and/or hardware solutions that can improve the stability and reliability of how Internet infrastructure is powered.
This includes but is not limited to solar, wind, and hydraulic solutions used to provide Internet access in remote areas, during disasters, or to power other infrastructure such as IXPs, root servers, datacentres, etc. The monitoring of batteries and their consumption, energy efficiency tools, the management and administration of micro-grids will be considered for this award.
Interested applicants can submit nominations that are focused on one or more of the following areas:
Technical innovation in provision of efficient, reliable power for Internet infrastructures, particularly in challenging situations such as off-grid, intermittently supplied, or disaster afflicted environments;
Creative organizational/partnership arrangement(s) and incentives for development of alternative and renewable energy sources for use in powering Internet infrastructure;
Creative technical and business solutions involving provision of power in tandem with Internet access, to expand connectivity to underserved areas;
Enabling regulatory frameworks that support innovative technical and business models for power access provision.
Award
The winner will receive a USD 3,500 cash prize plus a travel grant to attend the Internet Governance Forum (IGF) 2019 in Berlin where the awards ceremony will take place.
Eligibility
Nominated projects/organizations must:
Operating for a minimum of 1 year, with a clear development focus
Provide outcomes-based evidence to support impact achieved
Have clear community benefit
Address gender diversity and inclusion
Provide details about what is innovative about their approach
Provide enough technical information to assess the technical solution implemented
Application
Before submitting your nomination, kindly review the Selection Criteria, Nomination Guidelines and FAQ. 
Click here to submit your nomination
For more information, visit ISIF Asia Internet for Development Award.