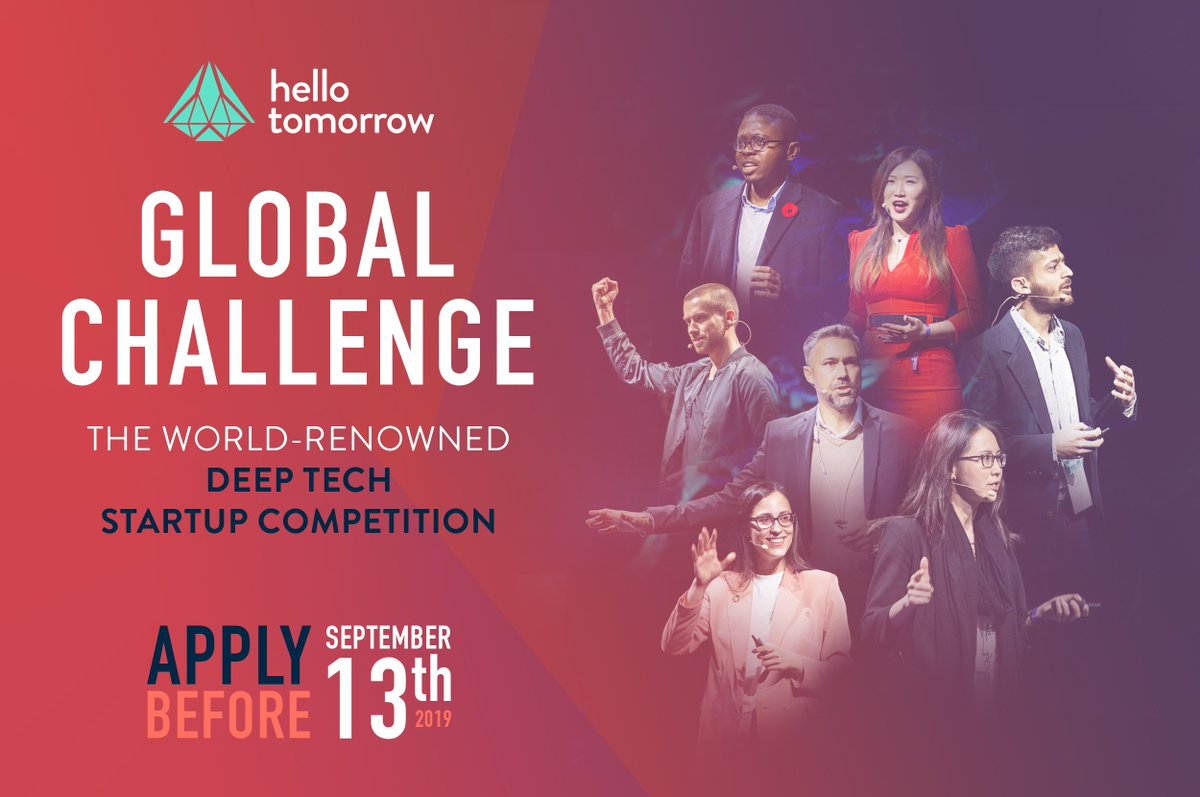 Hello Tomorrow Global Challenge 2019 for Deeptech Entrepreneurs Worldwide (€100K Grand Prize and more)
Deadline: September 13, 2019
The Hello Tomorrow Global Challenge 2019 is now open! The Hello Tomorrow Global Challenge is a worldwide renowned science & technology startup competition designed specifically to address the needs of deep tech entrepreneurs across several different industries and technologies.
The Challenge was created in 2013 by two PhD students, Xavier Duportet and Arnaud De La Tour, who realised that the resources needed to propel emerging technologies were different from those of traditional web and mobile innovation. The Challenge gives scientists and deep tech entrepreneurs around the globe a platform for their research and projects, providing participants with equity-free funding, global visibility and connections with key players in the deep tech innovation network and other fellow entrepreneurs. To date, previous early-stage participants have raised more than $300 million in funding.
If you're developing a new deep technology that can transform our lives, planet, or our industries, then they're looking for YOU.
Categories
Are you developing a new technology in one of these fields?
AERONAUTICS  –  ADVANCED COMPUTING & AI  –  CYBERSECURITY & COMMUNICATION  –  DIGITAL HEALTH & MEDICAL DEVICES  –  DRUG DISCOVERY  –  ENERGY  –  ENVIRONMENT  –  FOOD & AGRICULTURE  –  INDUSTRIAL BIOTECH  –  INDUSTRY 4.0  –  MEDICAL BIOTECH  –  MOBILITY  –  NEW SPACE  –  SMART CITY
Prizes
Connections – Visibility – Funding
ONE €100K GRAND PRIZE: For the best early-stage startup – Equity-free, no strings attached – Powered by BNP Paribas
THIRTEEN €10K PRIZES: For the best early-stage startup in each track – Equity free, no strings attached – Powered by our main partners
PITCH IN FRONT OF A SELECT AUDIENCE OF 400 INDUSTRY EXPERTS AND INVESTORS AT THE HELLO TOMORROW GLOBAL SUMMIT: For the 80 startups selected as finalists, you will pitch in the now famous Hello Tomorrow Challenge Stage
BE ENDORSED AS ONE OF THE TOP DEEP TECH STARTUPS WORLDWIDE
EXCLUSIVE ACCESS TO THE HELLO TOMORROW INVESTOR & BUSINESS DAY – MARCH 11TH 2020: For the selected Top Deep tech Startups – A full day of one-on-one meetings with 200+ leading international deeptech investors and 100+ corporates
EXCLUSIVE ACCESS TO THE HELLO TOMORROW GLOBAL SUMMIT – MARCH 12TH & 13TH 2020: For the selected Top Deep tech Startups – 3,500 curated audience – Opportunities to showcase your product, meetings with key stakeholders facilitated by Hello Tomorrow and more!
MEETINGS & INTERVIEWS WITH INTERNATIONAL MEDIA
 One full day to connect with 200 investors & 100 corporates
Startups selected as Top deep tech startups are invited to join the exclusive Investor & Business Day to meet with leading corporates and deep tech seed and early-stage VCs & CVCs.
Here are some of the participants from our 5th edition. Confirmed investors for the next edition are coming soon!
Eligibility
You are eligible if:
You are based anywhere in the world
Your activity is based on a new technology or an innovative application of an existing technology.
You have a proof of concept, a prototype, a scientific validation of your claim, or are in the process of producing one.
Your team is made up of two persons or more. Your project is not part of a larger company.
Your project/startup is in early-stage (up to series A)
You foresee an economically viable application on the market within 15 years.
Your project has the potential to have a strong impact on the industry you target, and on society or the environment in general.
All previous Global Challenge participants are welcome to reapply as long as they have not been a Grand Winner or Track Winner.
Application
For more information, visit Hello Tomorrow.