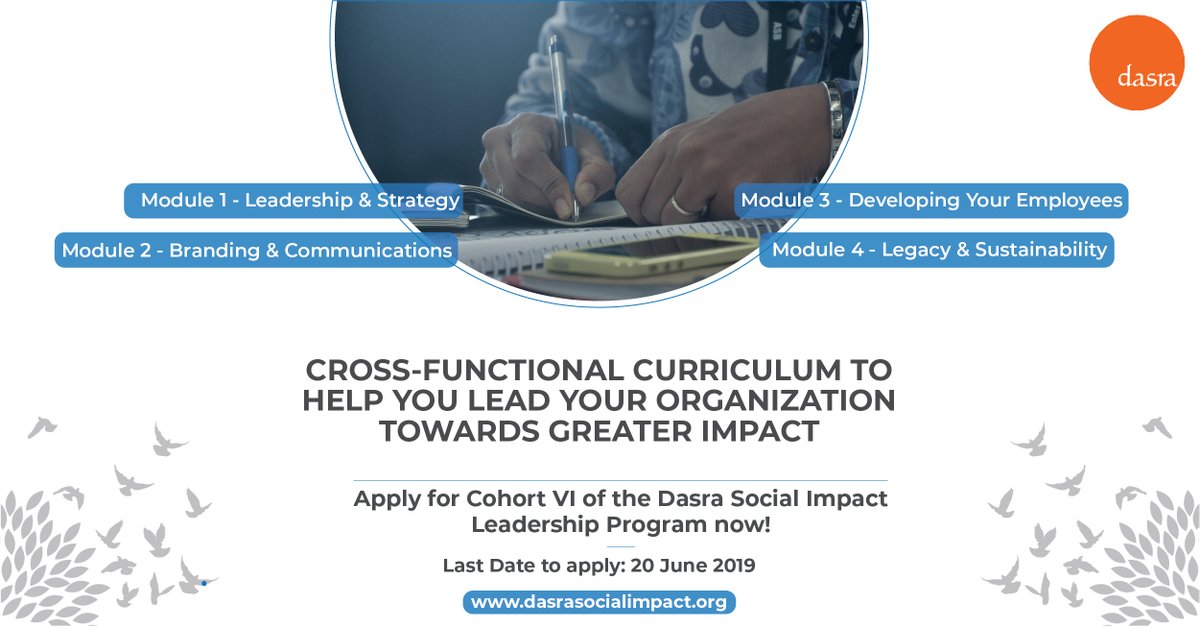 Dasra Social Impact Leadership Program 2019/2020 for India
Deadline: June 20, 2019
Applications for Cohort 6 of the Dasra Social Impact Leadership Program are open! The Dasra Social Impact Leadership program (DSI LP) has been crafted to meet the needs of Founders, Executive Directors, CXOs, and Senior Managers to strengthen their leadership style, decision-making capabilities and be more visionary. The program is designed for leaders of social sector organizations to guide them forward on their leadership journey.
Through the program, Dasra aims to support leaders to build stronger teams that can meet the demands of a growing organization. They believe that leadership plays a critical role in driving the organization's vision to achieve greater impact at scale. The content of DSI LP revolves around the theme of 'Manage Yourself' which puts the spotlight on the leader and their leadership style, with the objective of strengthening their leadership capability and expertise.
Program Details
The program takes place over 7 months and is split into 4 modules. Each module is residential and is 4 days long and offers:
Interaction with sector leaders, experts and industry specialists
Harvard Business School case study methodology for discussions
Cross-functional curriculum focusing on strengthening organizational strategies
An online platform to enable transfer of knowledge to the rest of applicant's organization
The dates for 2019-20 are:
Module 1: 20th to 23rd August, 2019
Module 2: 15th to 18th October, 2019
Module 3: 17th to 20th December, 2019
Module 4: 24th to 27th February, 2020
Location of the Program
Module 1, 2 and 3 will be conducted in Delhi, the 4th module will take place in Mumbai, India.
Benefits
Self & Professional Development: Explore leadership behaviors and traits. Through curated activities, gain a deeper understanding of yourself, build on your strengths and positively influence your workplace.
Organizational Development: With the guidance of expert facilitators dive deep into the building blocks of a sustainable organization. Brainstorm on strategies and frameworks using HBS case studies to strengthen your organization's priorities.
Strong Peer Network: Interact and collaborate with other sector leaders through energizing group discussions and activities. Build a community of peers and thought partners to share ideas, expertise and more.
Eligibility
The Dasra Social Impact Leadership Program has been designed for leaders of social sector organizations to guide them forward on their leadership journey.
Both nonprofits and social sector intermediaries are welcome to apply
Applicant's organization must have at least 10 employees and a minimum annual budget of Rs. 2 crores
The program is open only to those at a senior leadership position (Founders, CXOs, Senior Managers etc.)
It is imperative that participants attend all 4 modules of the Leadership Program.
The program is residential in nature and it is highly encouraged that participants stay at the venue for the duration of the program, unless there are unavoidable circumstances.
Application
For more information, visit Dasra Social Impact.