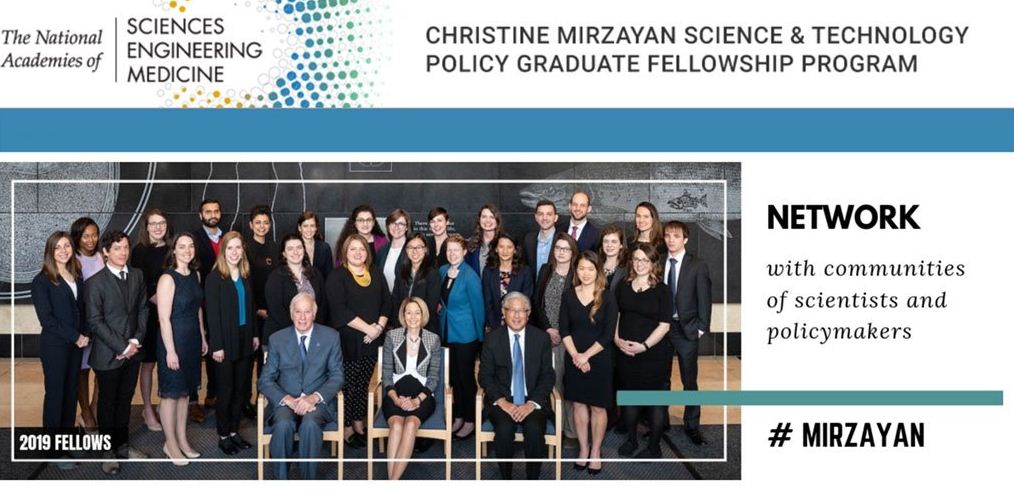 Christine Mirzayan Science and Technology Policy Graduate Fellowship Program 2020 (Stipend available)
Deadline: September 6, 2019
Applications are open for the Christine Mirzayan Science and Technology Policy Graduate Fellowship Program 2019. This Mirzayan Fellowship offers a unique opportunity to obtain the essential skills and knowledge needed to work in science policy at the federal, state, or local levels.
The Fellowship is a full-time hands-on training and educational program that provides early career individuals with the opportunity to spend 12 weeks at the National Academies of Sciences, Engineering, and Medicine in Washington, DC learning about science and technology policy and the role that scientists and engineers play in advising the nation.
Each year, applicants from around the world become part of an Academies' unit where they are assigned to a mentor and learn about the world of science and technology policy. An immersive experience, the program is designed to broaden fellows' appreciation of employment opportunities outside academia and leave them with both a firm grasp of the important and dynamic role of science and technology in decision-making and a better understanding of the role that they can play in strengthening the science and technology enterprise for the betterment of mankind.
Alumni of the program hold positions in Congressional committees such as the House Science and Technology Committee and at federal agencies such as the U.S. Department of State, National Institutes of Health, National Science Foundation, Environmental Protection Agency, United States Agency for International Development, Department of Defense, and Department of Energy. They also work in foreign governments, in international institutions such as the European Union and World Bank, in universities, and in the private sector.
Benefits
The Fellowship stipend will be $9,250.
Eligibility
The program is for graduate students, postdoctoral students, and professional school students (e.g, Master's, JD, MD, PhD);
Graduate and professional school students and those who have completed graduate studies (degree awarded) within the last five years may apply. Areas of study may include social/behavioral sciences, health and medicine, physical or biological sciences, engineering, law/business/public administration, or relevant interdisciplinary fields.
Application
Apply using the register/login buttons here. If you are a first time visitor, click the 'register' button. If you have applied in the past or already started your application, click Log In.
Notify Referees. TWO references are required. These must be relevant to your academic, professional, volunteer, or other related experience. Towards the beginning of the application form, you will be asked to provide an email address for each referee. Complete this section right away to ensure that your referees have adequate time to submit their reference before the application deadline. Mailed reference letters will NOT be accepted.
Review all sections of the application prior to submission.
In order to submit your application successfully, you must upload ALL required materials, ensure that your recommendation letters are attached, and hit the SUBMIT button by the deadline.
For more information, visit Christine Mirzayan Science and Technology Policy Graduate Fellowship.