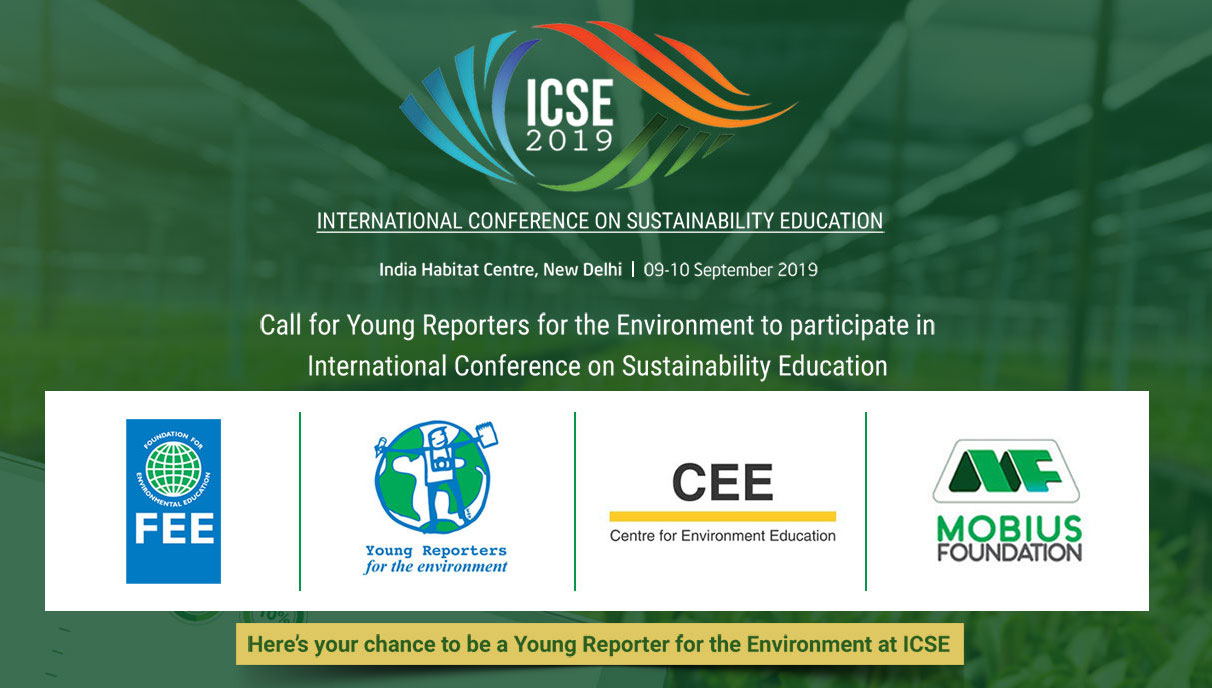 Call for Young Reporters for the Environment to attend the International Conference on Sustainability Education 2019 in New Delhi, India (Fully-funded)
Deadline: June 30, 2019
The call is open for Young Reporters for the Environment (YRE) to attend the International Conference on Sustainability Education 2019. Education is an untapped resource in addressing challenges related to environment, climate change and sustainable development. This is your chance to learn about the important role of education in addressing environmental and social challenges, to meet experts from around the world, and to report your findings on an international level!
Foundation for Environmental Education together with Centre for Environment Education and Mobius Foundation is looking to recruit four Young Reporters to participate in the International Conference on Sustainability Education (ICSE) taking place at the India Habitat Centre from 9-10 September in New Delhi, India.
ICSE will provide a global platform to national and international dignitaries to discuss the need of incorporation of Education for Sustainability, Climate Change Education and Environmental Education in course curricula. The program will bring experts, international leaders, practitioners, and educators around the globe who will not only share their knowledge but bring forth best practices already being carried around the Globe and in India.
Tasks for Young Reporter for the Environment (YRE)
The four Young Reporters are expected to actively participate in the different sessions of the conference and to report on specific topics related to Education for Sustainable Development (ESD) by attending sessions and conducting interviews with delegates. This journalistic report can be in the form of an article or a short video (max 3 minutes) which will be published on YRE's Exposure page.
The students are also asked to make daily posts on YRE International's social media platforms (Facebook, Instagram and Twitter).
Benefits
Travel and visa costs (if applicable)
Accommodation and meals in New Delhi (9-10 September 2019)
Entry fee of conference
Travel insurance
Eligibility
Age between 18-25 (the person needs to be 18 years old on the day of conference) and have a valid passport
From either China, India, Malaysia, Mongolia, Singapore, or South Korea (two applicants will be chosen from India and two from remaining countries)
Involved in the YRE programme
Can travel alone to New Delhi, India on the required dates
Good proven skills as a young reporter
Excellent English skills (both spoken and written)
Interested in journalistic types of work
Interested in themes related to ESD, sustainable development and environmental education
Application
To apply as a Young Reporter for this conference, please send the following to the International YRE Coordinator Kristina Madsen ([email protected]) no later than 30 June 2019:
Brief letter of motivation (max. ½ page in A4)
CV (max. 2 pages in A4)
Sample of work previously produced – articles or videos related to the theme of Education for Sustainable Development, SDGs, Environment, etc.
For more information, visit Call for Young Reporter.