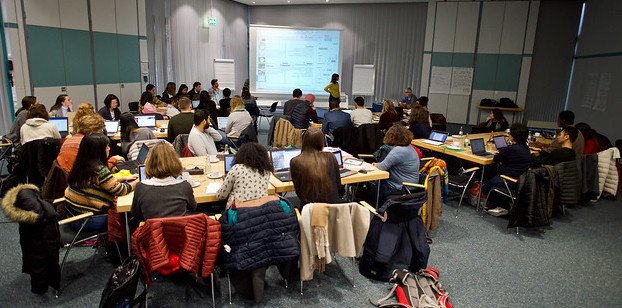 CIFOR is seeking Global Landscapes Forum Social Media Officer in in Bonn, Germany
Deadline: July 30, 2019
The Center for International Forestry Research (CIFOR) is looking for Global Landscapes Forum Social Media Officer. As Social Media Officer, you will play a key role in the implementation of GLF's global social media strategy and media outreach efforts, increasing their online presence and improving their marketing and engagement efforts.
The Global Landscapes Forum (GLF) is the world's largest knowledge-led platform on integrated land use, dedicated to achieving the Sustainable Development Goals and Paris Climate Agreement. The Forum takes a holistic approach to create sustainable landscapes that are productive, prosperous, equitable and resilient and considers five cohesive themes of food and livelihood initiatives, landscape restoration, rights, finance and measuring progress. It is led by the Center for International Forestry Research (CIFOR), in collaboration with its co-founders UN Environment and the World Bank and Charter Members.
The Center for International Forestry Research (CIFOR) envisions a more equitable world where forestry and landscapes enhance the environment and well-being for all. CIFOR is a non-profit, scientific institution that conducts research on the most pressing challenges of forest and landscape management around the world. Using a global, multidisciplinary approach, they aim to improve human well-being, protect the environment, and increase equity. To do so, they conduct innovative research, develop partners' capacity, and actively engage in dialogue with all stakeholders to inform policies and practices that affect forests and people. CIFOR is a CGIAR Research Center, and leads the CGIAR Research Program on Forests, Trees and Agroforestry (FTA). Their headquarters are in Bogor, Indonesia, with offices in Nairobi, Kenya; Yaoundé, Cameroon; Lima, Peru; and Bonn, Germany.
Job Details
This is a full-time consultancy position.
CIFOR's employment conditions follow local labor laws and regulations. CIFOR will employ suitable candidates regardless of nationality, provided that he/she complies with the local requirements for working at the posting location. Being a citizen of an EU country is preferred.
Period of the consultancy is expected to be August 2019 – June 2020.
The duty station will be in Bonn, Germany
Duties
GLF is seeking a Social Media Officer to join their team. You will be working closely with high performing teams in GLF digital, editorial and outreach.
Assist in implementing and managing GLF's strategy for social media channels, coordinating closely with the Social Media Coordinator, Digital Strategist and Communications Coordinator.
Assist with partner and organization outreach efforts on social media
Assist in monitoring and analyzing trends, practices and networks across social media to identify opportunities for strengthened engagement with boundary partners.
Other tasks related to social media, outreach and events, as required by GLF management.
Eligibility
Bachelor's degree in a related field (e.g. journalism, communications, international relations).
Two (2) years of work experience in a communications or journalism; international development experience is preferred.
Excellent knowledge of Facebook, Twitter, LinkedIn, Instagram, YouTube and other social media channels
Understanding of media relations and digital media strategies.
Proficient in MS Office, Google Suite, and Adobe Creative Cloud; familiarity with management systems is a plus (Asana, Slack, etc.).
Excellent communication abilities (oral and written) and attention to detail.
Ability to work on multiple tasks in a fast-paced environment.
Excellent organizational, time management and planning skills.
Demonstrated experience coordinating and collaborating with a diverse team.
Capacity to work both independently and as part of a multi-city, remote team.
Knowledge and passion for sustainability, environment and/or science communications.
Flawless English speaker, other languages (esp. French, Spanish, Indonesian, German) are an advantage.
Competencies
Excellent interpersonal communications and relationship-building skills, to effectively work with a variety of people and personalities, members of the media, team members, etc.
Motivation to learn and work in an entrepreneurial start-up environment.
Desire and ability to think critically and solve problems effectively.
Ability to meet deadlines and flexibility to adapt to changing priorities.
Self-motivated, deadline oriented, resourceful and energetic.
Able to find creative solutions and to strategize at both macro and micro levels.
A team player and a proven ability to work well under pressure.
Application
For more information, visit CIFOR.