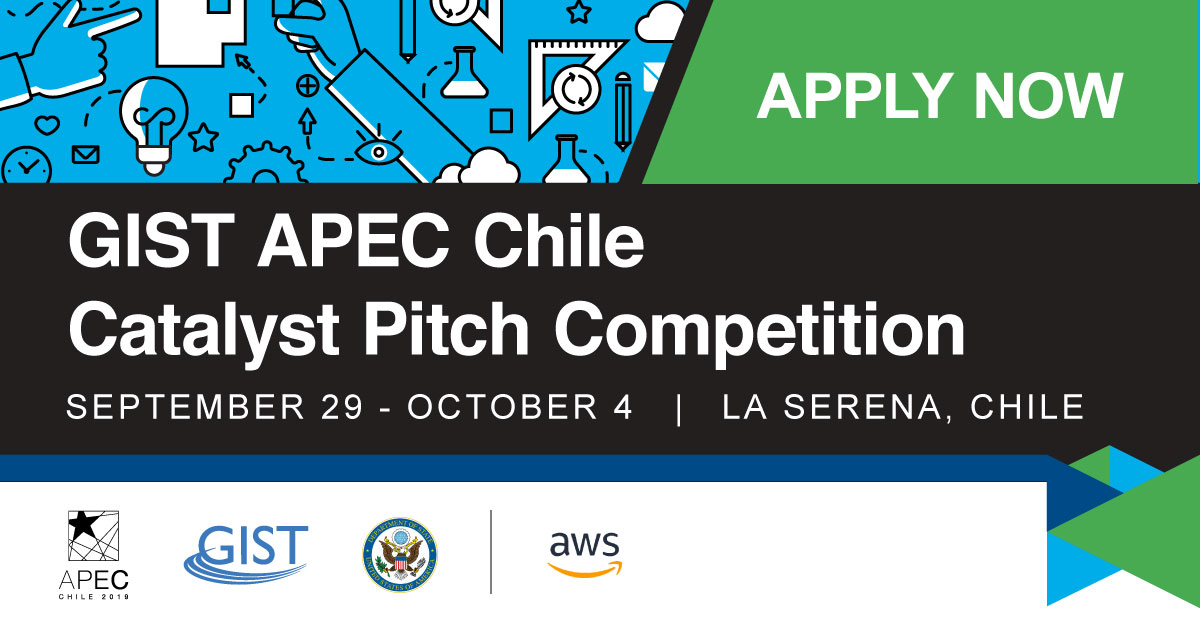 GIST APEC Chile Catalyst Pitch Competition 2019
Deadline: August 9, 2019
Applications for the GIST APEC Chile Catalyst Pitch Competition 2019 are now open. The Global Innovation through Science and Technology (GIST) Initiative is holding a live pitch competition during the 2019 APEC Chile in La Serena, Chile, September 29 to October 4, 2019.
The GIST APEC Catalyst Pitch Competition will include featured startups from around the APEC economies. Through the competition, young entrepreneurs will have an opportunity to elevate their pitch and showcase the startups they are working on. Teams will also learn how to pitch their business ideas to investors and potential partners—a critical skill for entrepreneurs.
The Competition
During the 2019 APEC Chile, startup teams will give three minute pitches, without slides, to a small panel of judges followed by two to three minutes of questions. Finalists from the public voting and review will then be given online and in-person coaching at the 2019 APEC Chile before competing in the GIST APEC Catalyst Pitch Competition.
Eligibility
All applications must consist of only one team member;
All applicants must be citizens of one of the APEC Economies below: Australia; Brunei Darussalam; Canada; Chile; Peoples Republic of China; Hong Kong, China; Indonesia; Japan; Malaysia; Mexico; New Zealand; Papua New Guinea; Peru; The Philippines; Russia; Singapore; Republic of Korea; Chinese Taipei; Thailand; the United States; and Viet Nam.
Teams must be women-focused or women-led. Preference will be given to teams that have overcome economic hardship and/or identify as a member of a vulnerable community;
Also encouraged are startups who demonstrate commitment to investing in women/vulnerable communities, inclusive company growth strategies that engage women/vulnerable communities, or innovations that address the needs of women/vulnerable communities.
Judging Criteria
Positive consideration will be given to applications that focus on the following:
Empowering women, either internally as a company or externally through the company's product or service;
Science or technology based products or services; and
Novel ideas, either by concept, approach, technology, or market.
A combination of expert review scores and public votes will determine the finalists to pitch at the GIST APEC Catalyst Pitch Competition.
Application
For more information, visit GIST APEC Chile.