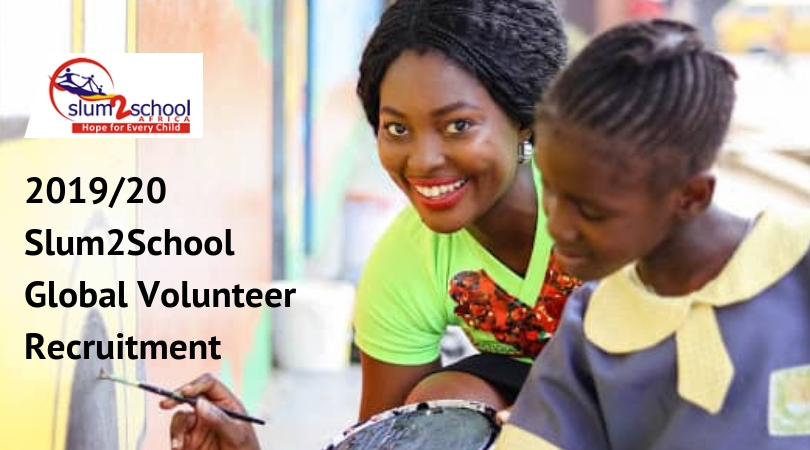 Slum2School Call for Global Volunteers 2019/20
Deadline: August 21, 2019
The Slum2School Global Volunteer Recruitment 2019/20 is open! Are you interested in constructing learning centers, building schools, mentoring children, transforming communities, fundraising, developing partnerships and ensuring that every child gets access to quality education irrespective of their backgrounds? Here's a great opportunity.
Slum2School, one of Africa's leading volunteer driven organizations is currently accepting volunteer applications for 2019/2020. With a growing network of over 8200 volunteers across 32 countries, Slum2School has provided educational scholarships, built various learning centers and supported thousands of children by enabling them gain access to basic education, psycho-social and medical support. By volunteering, you will not only be making a huge impact in the lives of underserved children living in slums and remote communities, but also in your personal development.
Benefits
An opportunity to make a difference and be a part of the dynamic and global Slum2School Africa Community.
Connect and network with a diverse range of young amazing people creating social change.
Improve your leadership skills and boost your career options.
Volunteer positions are always part-time, non paid and you will be expected to serve in one of 40+ teams with other dynamic professionals who share similar interests.
Eligibility
Anyone above 16 years from any country can apply.
Volunteers can be located anywhere in the world.
Be passionate about children and community development.
Be willing to offer your talents, time, creativity and skills as at when required.
Application
Complete the online application via www.slum2school.org/volunteer
For more information, visit Slum2School Africa.