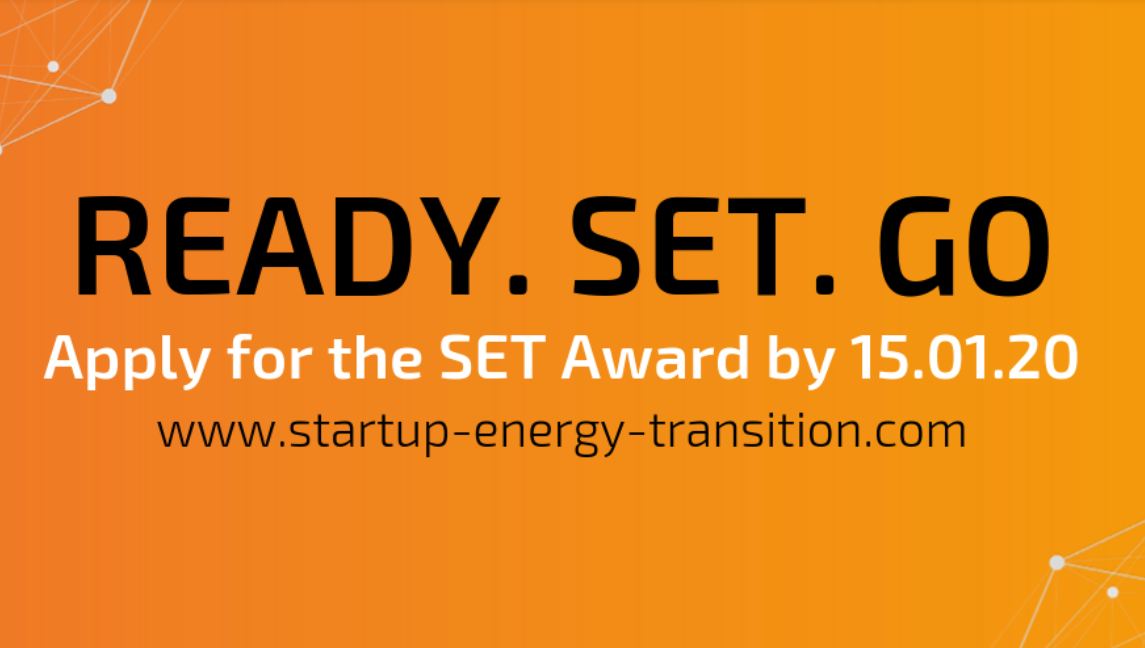 SET Award 2020 for Innovators in the Energy Transition (Up to 10,000 Euros prize)
Deadline: January 15, 2020
Applications are open for the SET Award 2020. The Start Up Energy Transition (SET) is a global innovation platform supporting innovation in energy transition. Going into its fourth year, SET is implemented with the conviction that a sustainable future is directly linked to innovative business models and political will.
The award is an initiative of the German Energy Agency (dena) in cooperation with the World Energy Council. The event in Stockholm was organised in cooperation with the German-Swedish Chamber of Commerce and the Swedish Energy Agency (Energimyndigheten). In the current round, the award is supported by the partner country Sweden and the German Federal Ministry for Economic Affairs and Energy.
Categories
Applications can be submitted in five different categories:
Category 1: Renewable Energies & Materials
Category 2: Digital Energy Systems
Category 3: Energy Efficiency Solutions
Category 4: Smart Mobility
Category 5: Special Prize: Quality Access & SDG-7
Benefits
No matter how far you go into the SET process, there is always a value-added for your start-up. Many of the start-ups have gone on to gain new investors, mentors and customers, received invitations to energy events around the world and won even more awards and recognition for their inspiring work.
For all Participants: join the global platform of innovation leaders; see your views represented in the Energy Innovators Issues Monitor; Inform and influence policies that will boost innovation.
For the #SET100 2020: the Top 100-ranked applicants will be featured in the annual publication which is circulated to investors, corporates and political stakeholders across the globe. The Top 100 also receive a free ticket to the SET Tech Festival 2020.
For all Finalists: return-flight to Berlin, and accommodation for 2 representatives of the start-up to attend the Tech Festival; Pitch coaching; Meet-and-greet with high-level jury, Individual booth at Tech Festival; Live pitches at Tech Festival; Investor-matchmaking; Tickets to the Berlin Energy Transition Dialogue (BETD); Content creation: interviews and branding in all communication material.
Winners of each category: up to 10,000 Euros prize money; Participation on the winners' panel at the Berlin Energy Transition Dialogue (BETD); Profile of start-up celebrated across the World Energy Council' s global energy network in 99 countries. In addition, start-ups will have the opportunity to attend the World Energy Leaders' Summits.
Eligibility
Applicants may only apply to one category. All subsequent applications to other categories will be disqualified. This also applies to the Special Prize: Quality Access & SDG-7.
The start-up must not have been founded longer than ten years ago. In other words, the date of foundation cannot exceed 2009.
The application, including any attached documents, must be in English.
The start-up must be able to present a functioning prototype. In addition, the applicant must be able to present a legal framework, proof of concept or a client, and/or an industrial/corporate/institutional partner.
Application
For more information, visit SET Award.