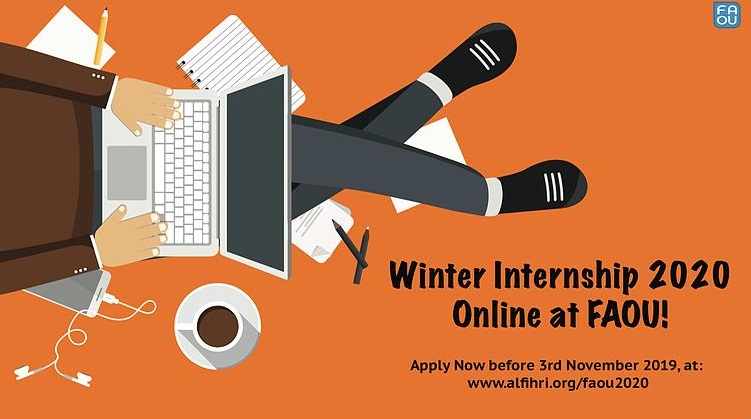 Fatima Al-Fihri Open University (FAOU) Winter Internship 2020
Deadline: November 3, 2019
Applications for the Fatima Al-Fihri Open University (FAOU) Winter Internship 2020 are now open. The Fatima Al-Fihri Open University is an international non-profit educational institution established online in February, 2016. Since then, it has been growing at an incredible pace.
Currently, they are a team of multinational youths working in various countries worldwide and passionately committed to the goal of creating an inclusive learning environment that elevates students and gives meaning to their educational experiences. The University is currently working to provide short courses. To achieve this goal, they open a volunteer and internship program for youth around the world.
Benefits
No program fees.
Flexible work timing (Between 6 to 8 hours a week).
Remotely Training during the program.
Certificate of internship provided by the end of the program.
Support to apply for scholarships or to participate in other programs and events.
International work environment with various social programs activities.
Eligibility
Applicants should be proficient in English language;
Have basic understanding of computer and internet applications;
Access to internet at least twice a week;
Ability to learn and act in a fast-paced environment;
Ability to work effectively as part of a team;
High motivation to learn and grow professionally;
Ability to work in a multicultural, multi-ethnic environment and to maintain effective working relations with people of different national and cultural backgrounds.
Available positions
Communication Officer
Partnership Officer
Marketing Officer
Social Media Editor
Social Media Officer
Pedagogical Affairs Officer
IT Officer
Platform Officer
Photo Designer and Editor
Video Designer and Editor
Newsletter Manager
Application
For more information, visit FAOU Winter Internship.