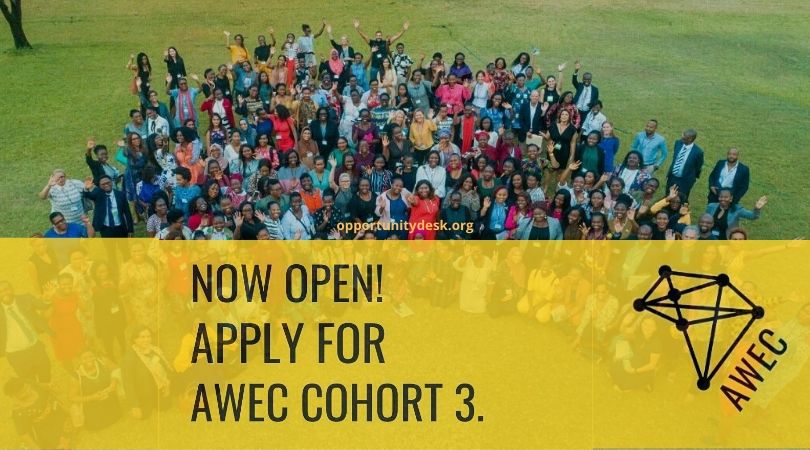 African Women Entrepreneurship Cooperative (AWEC) Program 2020 for Female Founders
Deadline: December 17, 2019
The African Women Entrepreneurship Cooperative (AWEC) is now accepting applications for its third cohort of 200 female founders seeking to upskill their capabilities, expand their networks, and learn from global experts and mentors. By effectively leveraging technology through our unique blended learning model, AWEC is able to empower African women entrepreneurs with the knowledge and network necessary to build resilient and scalable businesses.
AWEC is an innovative 12-month leadership and business management capacity building program that is transforming lives for hundreds of women across the continent. In two years, 400 African women entrepreneurs have upgraded their skill set and built a vast network to grow their businesses. You too can be a part of this.
The African Women Entrepreneurship Cooperative (AWEC) is a one-of-a-kind, high-touch leadership and business management capacity building program. AWEC focuses on applied learning and collaborative experiences to ensure immediate business impact and the creation of a pan-African network of entrepreneurs, experts and allies.
Benefits
Upon successful completion of the 12-month program, participants will:
Form connections with a diverse network of African women entrepreneurs
Establish a relationship with at least one senior business mentor
Strengthen strategy, leadership and business management skills
Apply their AWEC learning to their business with an eye toward sustainable growth
Gain skills needed to grow and scale their enterprise
Develop a toolkit of soft skills, including self-confidence, resilience, collaboration, and cross-cultural communications
Eligibility
This program is designed for African women entrepreneurs seeking to expand their knowledge, increase their skills, broaden their network, and make a lifelong connections during a 12-month program from April 2020 to March 2021.
Women who meet the following criteria are encouraged to apply:
Current or aspiring African women entrepreneurs working in any industry
Citizens of any African country, currently living on the continent or in the diaspora
Founders of for-profit or non-profit/NGO ventures
Comfortable with remote teamwork and collaboration, especially using digital tools
Proficient in verbal and written English
Regular (at least weekly) access to the Internet through a computer or tablet
Please note: For those living in the diaspora, your business (or NGO) must clearly impact Africa. AWEC does not have a minimum requirement for the number of years in business or revenue/turnover amounts. We encourage interested entrepreneurs at any stage of their venture to consider applying.
While AWEC seeks to build diverse cohorts, successful applicants tend to share the following traits:
Resilience as individuals and entrepreneurs
Passion for building a scalable and sustainable business
Strong interest in building business, management and leadership skills
Collaborative spirit
Desire to build a pan-African network of peers
Empathetic leaders
Clear communicators
Expectations
Participants should expect to spend an average of 4 to 6 hours per week participating in AWEC activities (primarily online), for one year. When considering whether or not to apply, please keep in mind that this program is fast-paced and requires firm commitment to active learning and engagement. Participants are expected to engage in one AWEC activity every week. While generous philanthropic donations enable AWEC to offer the 12-month learning experience without charging a program fee, participants may wish to plan for some travel expenses related to attending optional in-person events. Additional details will be provided to accepted members of the cohort.
Application
The application will close at 11:59pm UTC on December 17.
For more information, visit AWEC Program.