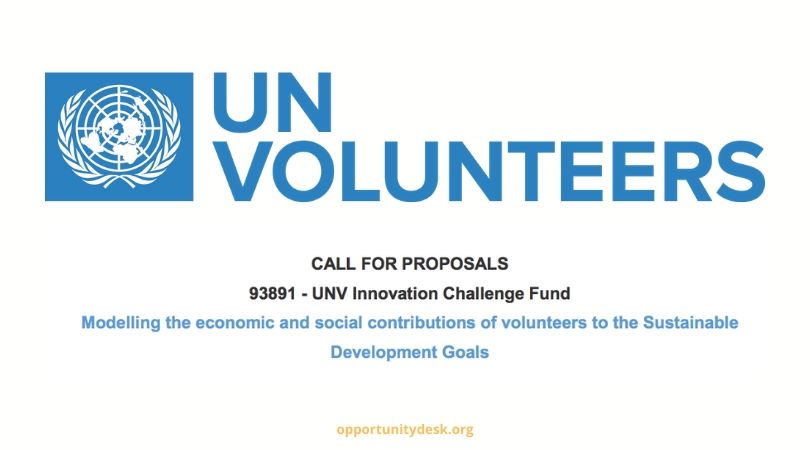 United Nations Volunteers (UNV) Innovation Challenge Fund 2020 ($15,000 Prize)
Deadline: January 6, 2020
Applications are open for the UNV Innovation Challenge Fund – Modelling the economic and social contributions of volunteers to the Sustainable Development Goals. This Open Innovation Challenge seeks ideas of how to apply existing data and research on volunteering to the 2030 Agenda and the SDGs, to help better understand:
Analytical approaches: What are some potential qualitative and quantitative analytical frameworks or models that could help understand the contributions of volunteers at community, district, municipal or national level to the Sustainable Development Goals?
Alternative data sources: What are some freely available data sources that can be combined to provide insights or analysis on volunteerism and how would this be done?
Measures: Which supplementary indicators or targets could better integrate an understanding of citizen contributions under specific SDG goals, targets or indicators?
Models of development: can analytical models incorporating volunteering tell us more about the nature and quality of human development?
Under this Innovation Challenge (Stage I), UNV expects to form partnerships with 6-8 applicants to create and develop possible approaches to the above questions.  Selected innovators will produce a 5,000-word paper including diagrams and infographics and will participate in Innovation Challenge activities as part of a community of practice. The papers will be published as part of an anthology for the Global Technical Meeting on Volunteering 2020 and will also inform a toolkit being developed on the measurement of volunteer work by UNV.
Benefits
Join a dynamic community of practice to share ideas and provide challenge through the study development process.
All selected innovators will have their work published by UNV, including on the global Knowledge Hub on Volunteerism.
Based on the final submissions by the innovators, two contributors will be awarded a further USD 15,000 to pilot their idea in relation to one context (country/community) by the end of 2020.
Based on progress by May 2020, one innovator may be selected to participate in the Global Technical Meeting on Volunteering in July 2020 at the High-Level Political Forum on the SDGs in New York (maximum 2 representatives).
Eligibility
The eligible applicants include any individual or organization (public or private) that can demonstrate relevant expertise in volunteerism research and measurement or a related field (governance, social development).
Collaboration/partnerships under one proposal are possible, however UNV will only be able to issue one agreement with one individual and/or responsible legal entity per proposal and additional internal arrangements must be made by innovators.
Organizations or institutions must identify the lead personnel who will be involved in the development of the paper in their proposal.
Application
Each applicant (individual or institution) is required to submit a proposal to UNV Procurement [email protected] – Ref. 93891 – UNV Innovation Challenge fund for up to a maximum of USD 10,000 to prepare and deliver a 5,000-word paper addressing one or more of the objectives of the challenge fund.
The deadline for the proposal is Monday 6 January 2020.
For more information, visit Innovation Challenge Fund.