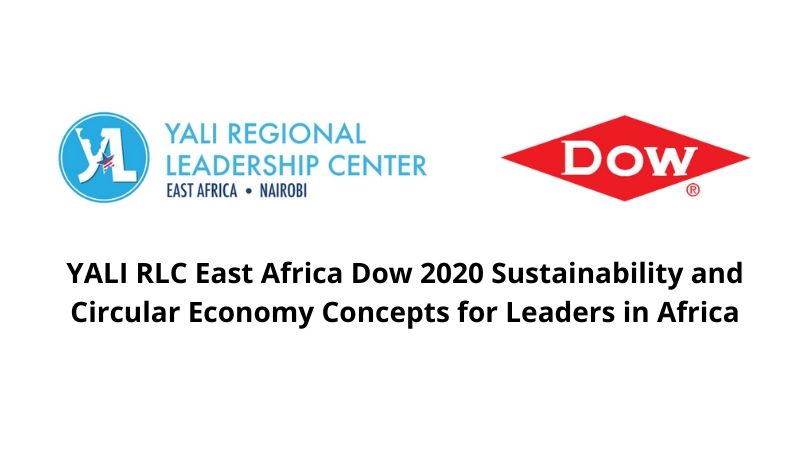 YALI RLC East Africa/Dow 2020 Sustainability and Circular Economy Concepts for Leaders in Africa (Funded)
Deadline: January 20, 2020
Applications for the YALI RLC East Africa/Dow 2020 Sustainability and Circular Economy Concepts for Leaders in Africa are now open. The YALI RLC EA and Dow, a materials science company, have partnered to invest in young African leaders who will engage and advance sustainability and circular economy both for personal, business opportunity and advancing the engagement within their communities, country and continent.
The 4-week residential program will engage in leadership training in the Sustainability and Circular economy sector focusing on individual and team leadership skills, innovation and communication. The program's emphasis is on interactive and experiential learning, which fosters each participant's ability to contribute both individually, and in teams. The first cohort will hold from March 2 – 27, 2020.
Cost
The program will cater for round-trip transportation to the Center, lodging, meals, and course materials for the successful participants.
Eligibility
Eligible applicants
Are 18 to 35 years of age at the time of application submission
Are citizens and residents of one of the following countries: Burundi, Central African Republic. Republic of the Congo, Democratic Republic of the Congo, Djibouti, Eritrea, Ethiopia, Kenya, Rwanda, Somalia, South Sudan, Sudan, Tanzania, and Uganda
Are eligible to receive any necessary visa to Kenya
Are proficient in reading, writing, listening and speaking English
Must have a passport valid for the period of the program
Ability to commit to a four-week residential training program
Evaluation Criteria
The selection panel will use the following criteria to evaluate applications:
Demonstrated leadership, engagement, interest and/or professional experience in the sustainability and the circular economy
Active engagement in community service, volunteerism or mentorship
The ability to work cooperatively in diverse groups and respect the opinions of others
Strong social and communication skills
An energetic and positive attitude
A commitment to apply leadership skills and training to benefit your community, country, the continent of Africa and beyond
Application
For more information, visit Sustainability and Circular Economy Concepts.