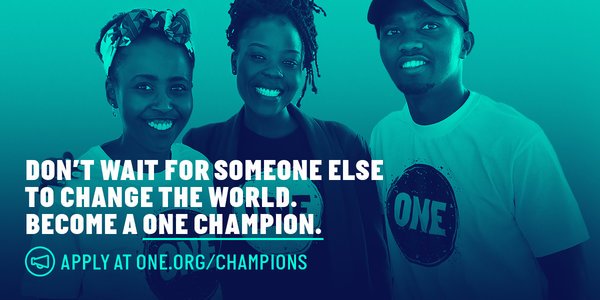 ONE Champion Program 2020 for Emerging Leaders in Ethiopia and Kenya
Deadline: February 14, 2020
ONE is launching its Champions Program in Kenya and Ethiopia in 2020. This is a voluntary program where ONE will recruit, train, and support 30 emerging leaders between 18-35 years of age who will champion ONE's work in Kenya and Ethiopia.
ONE advocates and campaigns on education, health, agriculture and transparency as a means to fight poverty with focus on gender and youth. ONE Champions will work with the direction and support of the ONE team to come up with innovative and exciting ways to engage policymakers to secure policy changes and public investments to address poverty in Ethiopia and Kenya. 
This is a fantastic opportunity to impact your community, country and the world working with a highly-visible, mission-driven ONE supporters in an incredible, supportive environment.
Benefits
Champions will receive training on how to campaign, pressure decision-makers and engage the media.
You will have the opportunity to attend ONE events and put your skills into practice in meetings with high-level decision makers.
Eligibility
Open to emerging leaders between 18-35 years of age
Applicants should be citizens of Kenya and Ethiopia who are permanently resident in the countries.
Application
For more information, visit ONE Champion.