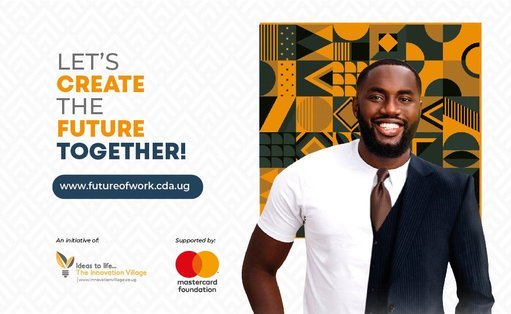 Mastercard Foundation/The Innovation Village Future of Work Accelerator Program 2020 (up to $ 25,000 in funding)
Deadline: January 31, 2020
Applications for the Mastercard Foundation/The Innovation Village Future of Work Accelerator Program 2020 are now open. The Accelerator program will support promising technology startups to increase workforce access, readiness and success.
The Innovation Village is looking for promising startups that are developing solutions aligned to:
Job creation and Opportunity matching

Making invisible jobs visible.
New stream of business that create jobs opportunities for hundreds of thousands of youth.
Innovative business models that accelerate entrepreneurship.
Deliver opportunities to youth from under-represented backgrounds to real-world of work and support networks.
Link exceptional graduates and undergraduate students with Uganda's leading organizations through internships, volunteer and training opportunities.

Leveraging technology to create jobs for all

Provide opportunities to vulnerable youth to equip them with the relevant skills needed to find a job, set up a business or engage in productive work.
Platforms and programs for digital skilling, upskilling and reskilling.
Empower young people to be more innovative and creative in how they think, learn and work.
Design and deliver engaging educational programs and events that bring exposure, inspiration, and training in STEM that inspires new forms of work.
Benefits
Pre- seed funding: Startups accepted into the program will be offered up to $ 25,000 in pre-seed funding.
Mentors and Networks: Connections to impact investors, business leaders, social enterprises and strategic partners
Free working space: As part of the program, you will be offered free working space at The Innovation Village.
Peer Learning: Work alongside and learn from peer entrepreneurs around the Country
Extensive one-on-one training: Startups will get intensive one-on-one business training from experienced serial entrepreneurs.
Continued Support: Post-accelerator support with growth strategy, ecosystem connections through the CDA network, and peer advisory.
Eligibility
They are looking for promising startups that can develop solutions aligned to the following challenge theme areas:
Track 1- Job creation and Opportunity matching
Track 2- Leveraging technology to create jobs for all
Readiness and Traction
The solution: Participating team should share a presentation of their proposed solution.
The Startup: The startups should in operation for at least 1 year. This team should consist of at least 4 members with various skillsets, demonstrate added value and cohesiveness.
Business Model: The startup should be have a good idea of the business model envisaged for the solution – with a good idea of the key resources needed to grow the solution, and how they intend to monetize it.
Innovation: Ingenuity of the solution or improvement of existing technology-based process, Solution uniqueness.
Selection Criteria
Relevance and impact

How well does the solution respond to the challenge theme areas​

Solution shows a good understanding of market and customer it is targeting

Demonstrate a strong promise of building a sustainable and impactful business.

Feasibility

The solution should be practical and easily implementable thereby positively impacting the lives of the youth.
Application
For more information, visit Future of Work Accelerator.