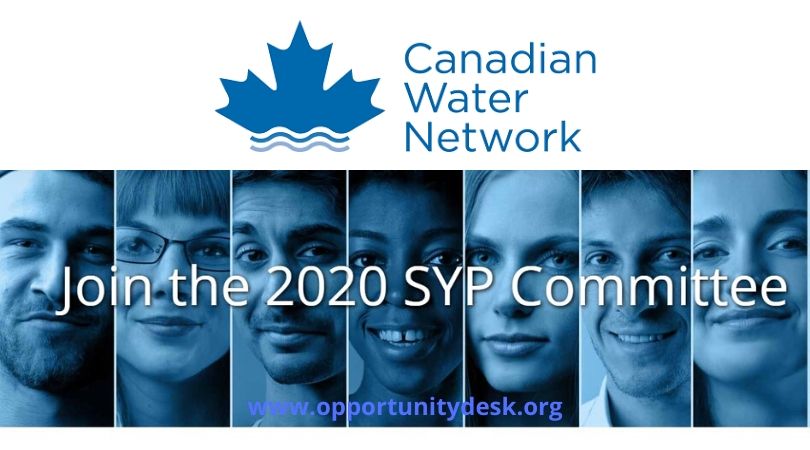 Call for Applications: Canadian Water Network 2020 Student and Young Professional Committee
Deadline: February 15, 2020
What are your water goals for the next 5 years? Advance your career by volunteering on the Canadian Water Network's 2020 Student and Young Professional Committee. Acquire new skills, expand your professional network and demonstrate leadership.
Canadian Water Network selects 20 candidates for the roles of President, Webinar Coordinator (2 positions), Social Media Specialist (2 positions) and Regional Representative (15 positions).
Their objective is to select representatives from major centres across Canada, including Vancouver, Edmonton, Winnipeg, Toronto, Ottawa, Montreal and Halifax, as well as smaller communities or remote locations. Where possible, they select two representatives from each location. This is a one-year volunteer commitment from March 1, 2020 to March 31, 2021.
Responsibilities
Each representative submits a brief biography and photo for publication on CWN's website.
Representatives work with others in their region and CWN staff to organize and promote Blue Networking events. This often involves collaboration with other water professionals and water organizations in your community.
National meetings are held monthly on Skype (attendance is mandatory).
Regional meetings may occur with greater frequency when planning an event.
Committee members are encouraged to participate on social media.
President: Coordinates and documents the Committee's monthly meetings; gathers feedback; assists regional representatives with problem-solving; represents Canadian Water Network at Blue Cities.
Webinar Coordinators: Work with CWN's Events Manager to organize four webinars with student presenters.
Social Media Specialists: Promote the Committee's activities on social media, tweet during #CWNSYP webinars and share SYP success stories, publications and other updates.
Estimated time commitment is 5 hours per month.
Benefits
Volunteer with outstanding young people who are passionate about water.
Expand your professional network with contacts from across the water sector.
Interact with CWN staff and members of the Canadian Municipal Water Consortium.
Attend our Blue Cities conference (special rates and scholarships are available).
Learn how to organize and promote events, establish your personal brand and become a social media influencer.
Access mentoring opportunities with CWN staff and others.
CWN's Student and Young Professional Committee is highly regarded. Each representative is featured on CWN's website, plus there are opportunities to share your accomplishments through CWN's social media.
Eliigbility
You are eligible to apply if:
You are studying or working in the water sector in Canada.
You are in the first five years of your career.
Members will be selected based on merit, with an effort to have representation across Canada and across disciplines.
Application
To apply, upload your completed application form, resume and video here.
For more information, visit Canadian Water Network.