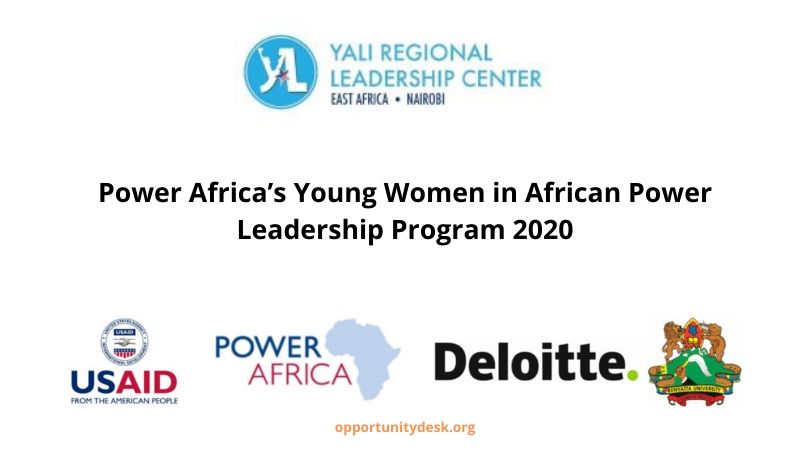 YALI RLC-EA/Power Africa's Young Women in African Power Leadership Program 2020 (Fully-funded)
Deadline: March 13, 2020
Applications for Power Africa's Young Women in African Power Leadership Program are now OPEN. The Young African Leaders Initiative Regional Leadership Center East Africa (YALI RLC-EA) and Power Africa, a U.S government led partnership coordinated by USAID that aims to double access to electricity in Sub-Saharan Africa by 2030, have partnered to invest in young female African leaders who are working in or involved in Africa's energy sector.
Are you a young African woman engaged in Africa's energy sector ready to take your career to the next level? Are you interested in increasing your leadership skills, strengthening your professional networks, gaining new career opportunities, and demonstrating a desire to take on a greater leadership role? Apply now!
This investment is through the Young Women in African Power program. This special opportunity is part of the Young African Leaders Initiative (YALI) signature effort to invest in the next generation of African leaders.
The 4-week residential program will engage in leadership training in the energy sector focusing on individual and team leadership skills, innovation and communication. The program's emphasis is on interactive and experiential learning, which fosters each participant's ability to contribute both individually, and in teams.
About YALI
The Young African Leaders Initiative (YALI) was launched by former President of the United States Barack Obama as a signature effort to invest in the next generation of African leaders. The need to invest in grooming strong, results-oriented leaders comes out of the statistics: nearly 1 in 3 Africans are between the ages of 10 and 24, and approximately 60% of Africa's total population is below the age of 35.
Who will empower and lead these young Africans? Who will shape the future of business and entrepreneurship, civic leadership, and public management? In order to answer these questions, YALI promotes three models designed to identify and empower young leaders: the YALI Mandela Washington Fellowship, YALI Network, and the Regional Leadership Centers across Africa.
Benefits
There is no fee to apply for or participate in the program. The program will cater for round-trip transportation to the Center, lodging, meals, and course materials for the successful participants.
Eligibility
Admission to the Young Women in African Power Program is merit-based and open to young East African leaders who meet the following criteria:
Are women, 18 to 35 years of age at the time of application submission
Must have experience working in or leading a project in the energy sector
Are citizens and residents of one of the following countries: Burundi, Central African Republic. Republic of the Congo, Democratic Republic of the Congo, Djibouti, Eritrea, Ethiopia, Kenya, Rwanda, Somalia, South Sudan, Sudan, Tanzania,and Uganda
Are eligible to receive any necessary visa to Kenya
Are proficient in reading, writing, listening and speaking English
Must have a passport valid for the period of the program
Ability to commit to a four-week residential training program in Nairobi, Kenya
Selection Criteria
The selection panel will use the following criteria to evaluate applications:
Demonstrated leadership, engagement, interest and/ or professional experience in the Energy sector
Active engagement in community service, volunteerism or mentorship
The ability to work cooperatively in diverse groups and respect the opinions of others
Strong social and communication skills
An energetic and positive attitude
A commitment to apply leadership skills and training to benefit your community, country,the continent of Africa and beyond
The program encourages applications from rural based and economically disadvantaged young leaders, young leaders with disabilities and other minority groups.
Application
Applicants will not be discriminated against on the basis of race, ethnicity, colour, religion, socio-economic status, disability, sexual orientation or gender identity.
For more information, visit YALI RLC-EA.