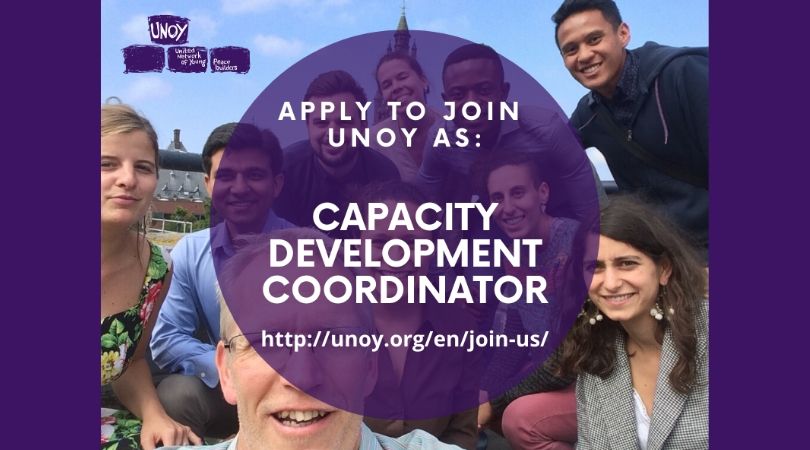 UNOY Peacebuilders is hiring a Capacity Development Coordinator in the Netherlands for 6 months
Deadline: March 23, 2020
The United Network of Young Peacebuilders (UNOY Peacebuilders) is looking for a Capacity Development Coordinator with responsibility for coordinating our capacity development programme, starting in April 2020 for a period of 6 months. This is a temporary and part-time (0.8 FTE) position to cover for a colleague on sick leave, based in The Hague.
UNOY Peacebuilders is a youth network of over a 100 youth-led peace organisations across 50 countries around the world. Our International Secretariat is located in The Hague, the International City of Peace and Justice. The Secretariat is run by a young and dedicated international team of eight staff, four interns, and remotely based regional coordinators. The management of the network is shared by two leading coordinators.
Responsibilities
You will be responsible for:
Programme management

Coordinate the development, implementation and monitoring of ongoing projects, including: two regional trainings on financial sustainability in East & Southern Africa and West & Central Africa;
Coordinate the newly established pool of trainers for UNOY, including a Training of Trainers and day-to-day coordination;
Support the launch and promotion of an online course on Youth, Peace, and Security through the Erasmus+ Virtual Exchange platform, in collaboration with our partner organisations;
Provide creative input for and support the planning of our next strategic period (2021-2025);
Organise an online training for youth organisations in Middle East & Northern Africa.

Programme oversight

Ensuring administrative and reporting requirements for capacity development projects are fulfilled, with support from the Partnership Coordinator;
Provide guidance and support to regionally-based project coordinators, including technical input to the youth empowerment projects in Asia;
Support the development of a gender mainstreaming programme for youth organisations;
Support the dissemination of projects' results within the network and externally, including the translation and dissemination of our toolkits;
Support the establishment of an expert database of UNOY members and partner organisations.

Human resources, fundraising & admin

Supervise and provide guidance to the intern assigned to support the capacity development programme;
Support fundraising for capacity development activities;
Take shared responsibility for assigned office management tasks, including office supplies and equipment, and development of a physical security policy.
Benefits
They will offer you:
a unique coordinating position in a global network of young peacebuilders with a solid track record of successful programming;
a dynamic, young and international work environment both in the office and within the wider network;
a contract for a position of 0.8 FTE (32h per week) for 6 months, as a springboard for future professional development in this field;
opportunities to travel within and outside of Europe for UNOY Peacebuilders activities, external meetings and trainings.
Eligibility
You're great for the job if you have:
a relevant postgraduate university degree in peace and conflict, international relations, development studies or a related field;
at least 2 years experience (paid or unpaid) working within the fields of peacebuilding and/or youth, or other related field;
demonstrated experience working with capacity development and/or non-formal education;
project and budget management skills;
relation-management skills, including strong coordination skills and intercultural communication skills;
excellent written and spoken English;
an inclusive approach to dealing with people and a proactive attitude to your job.
You're perfect if you also have:
Demonstrated knowledge of and/or experience with the UNOY network;
Additional language skills. French is strongly preferred. Arabic, Spanish, and Russian are also useful;
Experience in capacity development programming and strategy;
Experience in M&E for capacity development and/or data collection for impact stories.
They strongly encourage candidates under the age of 30 and from the global South to apply. The position includes regular travel within Europe and beyond.
Application
Send your resume (max 2 A4 pages) and cover letter to [email protected] Only applicants that comply with this procedure will be considered. If you have any questions, please email [email protected].
The deadline for written submissions is 23 March 2020.
Click here to apply.
For more information, visit .