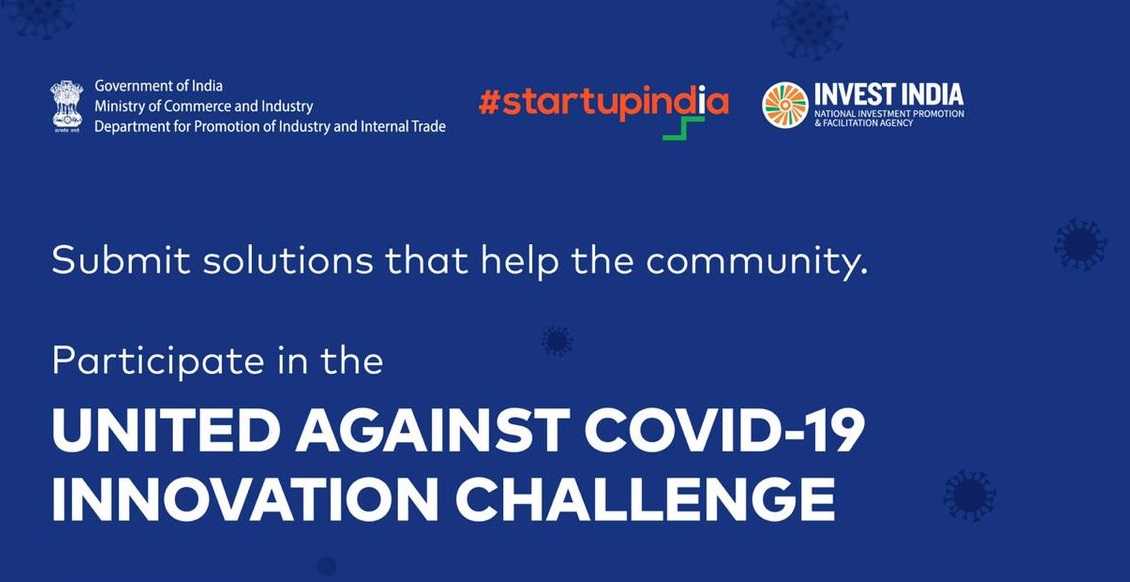 DPIIT/Startup India United Against COVID-19 Innovation Challenge 2020
Deadline: March 29, 2020
Participate in the United Against COVID-19 Innovation Challenge 2020 and submit solutions that help the community! As the world is currently looking at a serious healthcare challenge caused by the pandemic Covid-19, DPIIT with Startup India is scouting for innovative technologies and solutions for precautionary as well as treatment-related interventions.
They are building a one-stop repository of innovative solutions for ready access by the government and the private sector for further development and deployment.
Benefits
The top solutions will be:
Published on the Invest India Business Immunity Platform, which is a comprehensive and interactive resource for investors, the business community, and other stakeholders to access all relevant information about India's fight against COVID-19 (Coronavirus)
Referred to the government and private stakeholders for further funding and deployment.
Eligibility
Open to all the Startups, Companies, Innovators whose innovation can plug the gap between the demand and supply of essential medical items to fight the Covid-19 outbreak as well as an innovative tech for applications such as motion tracking, geofencing, fake news detection, etc.
Application
Applicants are to select from the list of problem statements:
Personnel protective equipment: Eg: Low-cost masks which can capture virus from the air and absorb respiratory droplets
Testing Equipment: Eg: Cost-effective thermal scanning devices and rapid diagnostic kits (paper-based and other point-of-care devices)
Critical- care equipment: Including portable oxygenators and hospital and home-based ventilators to monitor and control the spread of the new coronavirus
Large area sanitization and sterilization: Including electrostatic spray and Ultra-Violet treatment for various available surfaces like glass, ceramic, wood, textile
AI-based technology for contact less entry: Eg: Facial recognition tools to assist in contact less entry of officials, doctors, and others. 
Movement tracking: Using mobile apps to diagnose contagion and track people movements in quarantine areas/ lockdown regions
Geofencing: Including solutions that can assist the officials in monitoring those under compulsory home quarantine
Crowd management: Eg: Drones armed with heat-sensing cameras
Fake news detection: As information gets passed on social media, it becomes difficult to discern its authenticity and may mislead people
Logistics: To citizens during this time and no contact delivery of medicines
For more information, visit United Against COVID-19 Innovation Challenge.