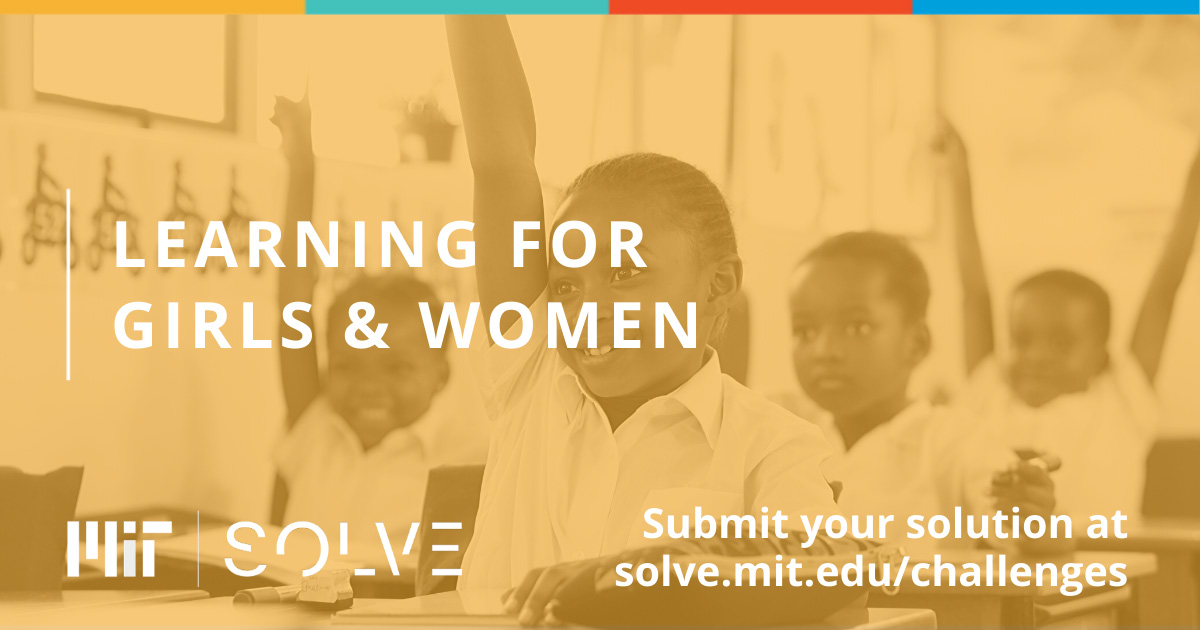 MIT Solve – Learning for Girls & Women Challenge 2020 ($10,000 grant)
Deadline: June 18, 2020
The Learning for Girls & Women Challenge 2020 by MIT Solve is open. The MIT Solve community is looking for technology-based solutions that level the playing field for girls and young women throughout their learning journey, from birth up to age 24.
How can marginalized girls and young women access quality learning opportunities to succeed?
Solve seeks solutions that:
Increase the number of girls and young women participating in formal and informal learning and training;
Strengthen practical skills, competencies, and experiential learning opportunities, particularly in STEM and digital literacy, for girls and young women to effectively transition from education to employment;
Reduce the barriers that prevent girls and young women—especially those living in conflict and emergency situations—from reaching key learning milestones; and
Promote gender-inclusive and gender-responsive education for everyone, including gender non-binary and transgender learners.
Benefits
There's more than $1 million of funding available for the 2020 Solver Class.
If you are selected as a Solver, you'll receive a $10,000 grant from Solve, as well as access to significant additional prize funding.
Solver teams will be selected by a panel of cross-sector judges at Solve Challenge Finals during UN General Assembly week in New York City on September 20, 2020.
In addition to Solve funding, the following prizes are available to Solver teams selected for the Learning for Girls & Women Challenge. To be considered for a prize, complete the prize-specific question within the application. You do not need to meet these requirements to apply to the Learning for Girls & Women Challenge:
Innovation for Women Prize
The GM Prize on Learning for Girls and Women
The Gulbenkian Award for Adult Literacy
The AI for Humanity Prize
The Andan Prize for Innovation in Refugee Inclusion
Eligibility
Anyone, anywhere around the world can submit a solution to Solve's Challenges.
You can be an individual, a team, or an organization.
You can be an applicant from previous years or already part of our community.
Criteria
Judges will score solutions along the following criteria:
Alignment: The solution uses technology to address one of Solve's Global Challenges.
Potential for Impact: The planned solution implementation has the potential to impact lives.
Feasibility: Solution implementation is feasible, and the team has a plan for financial sustainability.
Innovative Approach: The solution includes a new technology, a new application of technology, a new business model, or a new process for solving the Challenge.
Scalability*: The solution can be scaled to affect the lives of more people.
Partnership Potential*:The applicant clearly explains how the solution would benefit from the broad range of resources that the Solve community is positioned to provide.
Application
For more information, visit MIT Solve.