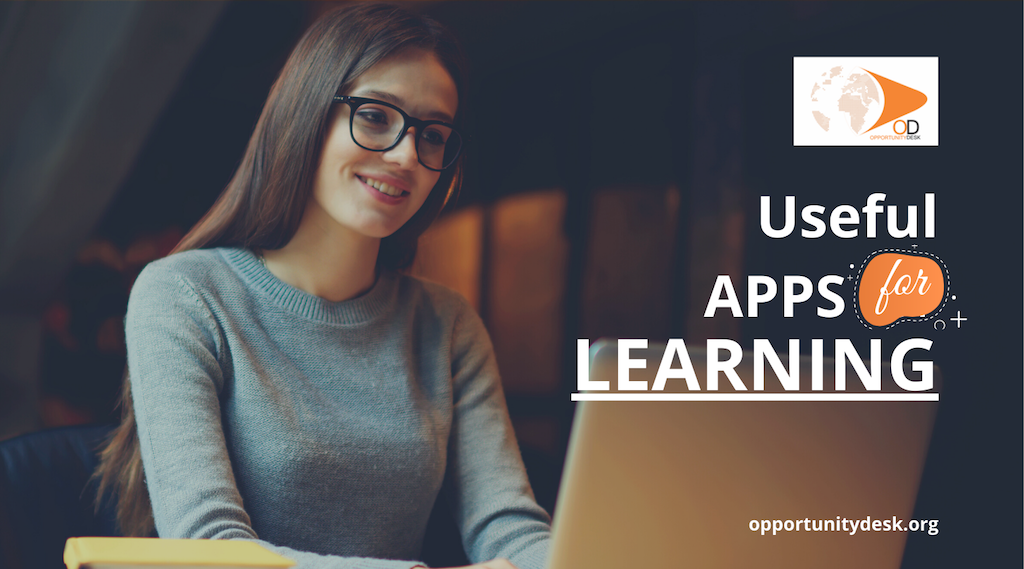 Useful Apps for Online Learning
The world is currently on lock down and you may be wondering what tools and services to add to your app list or bookmarks that will open up new knowledge, skills and opportunities for you. The good news is that from language learning to job-finding services, there are some brilliant applications out there that have been designed to make learning seamless.
Here are some of the useful applications for learning:
1. Duolingo.com
Duolingo is a popular language-learning platform and education app with more than 300 million users. The company's mission is to make education free, fun and accessible to all. Duolingo is designed to feel like a game and scientifically proven to be effective.
2. Designkit.org
Looking to learn more about human centered design and how to apply it to your project? Design Kit is the app for you. This open source platform allows anyone to learn and practice the methodologies of human-centered design. The tools are divided into methods, or ways to practice HCD, and mindsets, or ways of thinking about HCD.
3. Philanthropyu.org
Do you run a social impact organization? Philanthropy University is a free online learning platform for social change that puts practical courses and knowledge-sharing communities just a click away.
4. Noexcuselist.com
No Excuse List is simple platform to learn anything, free. They have curated the best resources on the web to teach you anything that you want.
5. Wikihow.com
wikiHow is that go-to website no one really thinks about until they need something. WikiHow is an online wiki-style community consisting of an extensive database of how-to guides. Founded in 2005 by Internet entrepreneur Jack Herrick, the website aims to create the world's most helpful how-to instructions to enable everyone in the world to learn how to do anything.
6. Nonprofitready.org
With over 300 learning resources, Nonprofitready is an open online learning initiative with essential nonprofit skills with free online courses on fundraising, grant writing, leadership, and more.
7. Blinkist.com
Blinkist is a mobile learning company that distills key insights from outstanding nonfiction books into fifteen-minute, made-for-mobile reads. Their mission is to make great knowledge engaging, inspiring, and accessible for the modern reader. They present lifelong big ideas in small packages.
8. Flipboard.com
Flipboard is one place to find the stories for your day, bringing together your favorite news sources with social content, to give a deep view into everything from political issues to technology trends to travel inspiration. Flipboard curates the world's stories so you can focus on investing in yourself, staying informed, and getting involved.
9. OpportunityDesk.org
Opportunity Desk (OD) is the largest digital media platform that shares information about the latest global opportunities. Opportunity Desk works to provide access to global experiences to all through educational opportunities abroad, scholarships, training and conferences, fellowships, grants and awards, jobs, internships and volunteer programs. By doing so, OD hopes to bring an international experience to everybody, regardless of their background, age, disabilities, education, gender identity, racial or ethnic identity, sexual orientation or socio-economic status.
10. Codecademy.com
Want to learn how to code? Codecademy is an online platform offering free coding classes in 12 different programming and markup languages. These include Java, JavaScript, Python, Ruby, SQL, C++, Swift, Sass, HTML and CSS.
11. Elektev.com
The web application Elektev lets you compare thousands of the world's best free and paid courses from the best teachers from the best universities and online educational platforms. Elektev online courses provide users with course details, reviews and prices aggregated from multiple online education providers.
---
There are certainly more useful applications out there. These are but a few. We hope you begin your learning journey and inspire others to do same by share this post with them.
For more articles, visit OD Blog.