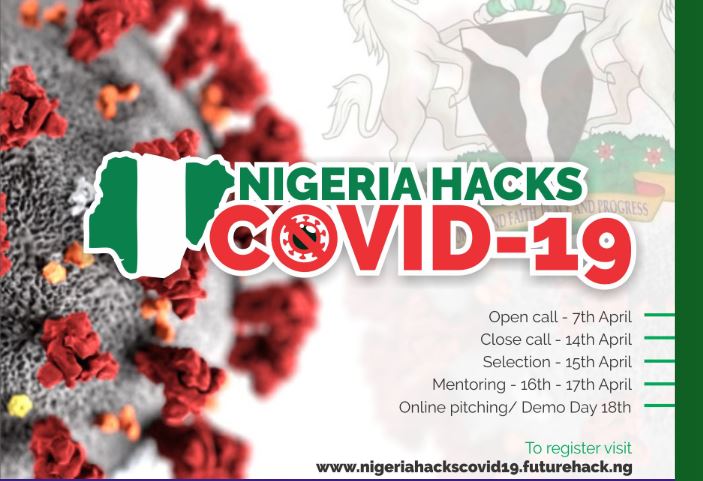 Nigeria Hacks COVID-19 Virtual Hackathon Challenge 2020 (Win N1,000,000)
Deadline: April 14, 2020
Applications are open for the Nigeria Hacks COVID-19 Virtual Hackathon Challenge 2020. Nigeria Covid-19 Hackathon is an online competition set up to meet the challenges the Nigerian society is facing as a result of the coronavirus.
With the World Health Organization (WHO) declaring coronavirus (COVID-19) a global pandemic, governments have issued guidance for members of the community to practice social distancing, while companies have enforced work from home policies in an effort to flatten the curve of viral infections across the population.
Given the isolation currently being experienced within communities right now, they are calling on developers, entrepreneurs and other creatives to ideate, experiment and build software solutions to help address this crisis. This Hackathon is powered by National Information Technology development agency (NITDA), implemented through its subsidiary; The Office for ICT Innovation and Entrepreneurship (OIIE).
Prizes
The overall 3 best startups at the end of the challenge stand to win cash prizes, get support to develop full prototype of the solution, incubation at an appropriate Tech hub; Mentorship; as well as an opportunity for their solutions to be showcased at NITDA events.
First prize: N1,000,000
Second prize: N750,000
Third prize: N500,000
Eligibility
Open to students, software developers, entrepreneurs and other creative individuals with innovative and feasible ideas on how to help mitigate the further spread of the COVID-19 pandemic and other interrelated solutions that will reduce or eliminate the impact of the pandemic on the society.
Application
Interested participants must sign up and create a username and password with an active email address on the virtual hackathon portal
Upon registration, participant is automatically logged.
For more information, visit Nigeria Hacks COVID-19 Hackathon.