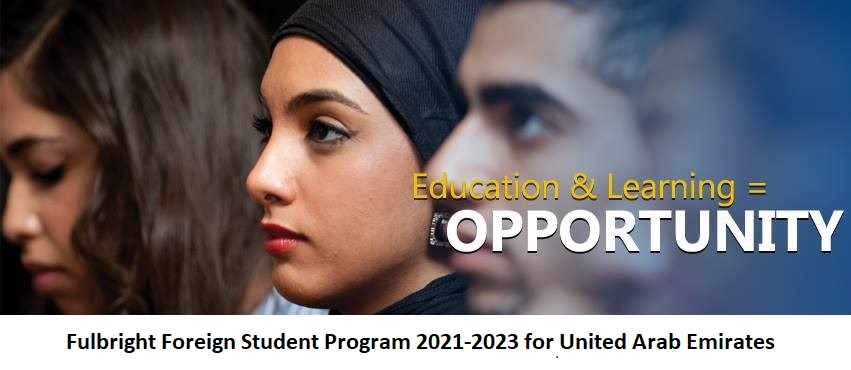 Fulbright Foreign Student Program 2021-2023 for Students and Young Professionals in the UAE (Fully-funded to the US)
Deadline: June 30, 2020
Applications for the Fulbright Foreign Student Program 2021-2023 for Students and Young Professionals in the UAE are now open. The Fulbright Foreign Student Program provides Emirati students and young professionals the opportunity to pursue graduate-level study in the U.S.
The Fulbright Program, sponsored by the U.S. Department of State, is the flagship international educational exchange program designed to foster mutual understanding among nations through educational and cultural exchange.
AMIDEAST administers the Fulbright Foreign Student Program for the Middle East and North Africa on behalf of the U.S. Department of State's Bureau of Educational and Cultural Affairs. This highly prestigious scholarship program up to two-year fellowship, which provides full funding for up to two academic years to achieve a Master's graduate degree at a U.S. university.
Benefits
The award includes funding for
Tuition and required fees;
A book, equipment, and travel allowance;
A monthly stipend for room & board; and
Also a supplemental health and accident coverage plan.
All disciplines and fields of study are available to Emirati students. Please note that clinical studies are not permissible under this program.
Eligibility
Applicants must
Be a U.A.E. national.
Reside in country throughout the application, selection and placement process.
Hold a Bachelor's degree from an accredited institution.
Possess a strong academic background.
Be proficient in English and/or able to attend a Long Term English (LTE) program prior to the start of the study program.
U.S. citizens or green card holders are not eligible to apply.
Application
Applications are made online and must include:
CV or resume (2 pages)
Personal statement (~600 words)
Academic statement (~600 words)
Unofficial university transcript
3 letters of recommendation
If nominated, candidates will also need to submit:
Official university transcripts
Copy of bachelor's degree
Copy of UAE passport
Exam scores:

iBT TOEFL® (score of 81+)
GRE® revised General Test for graduate school admissions
For more information, visit Fulbright Foreign Student Program.