You are invited to join OD Live with Hauwa Ojeifo – Sustainable Advocacy During and After COVID-19.
Advocacy is about influencing people, structures and existing policies to create change. It involves action! It's critical and it's necessary. The prevailing COVID-19 pandemic will need raise a new breed of advocates who understand problem solving and genuinely have what it takes to make the changes they desire. The pandemic demands sustainable advocacy across different sectors in addressing key prevailing issues such as food security, unemployment, access to quality education.
Hauwa Ojeifo will show you, step by step, how to truly make the change you desire. It's more than knowledge, it's about putting the knowledge into work!
This session will address the following key questions:
What are the key elements of an effective advocacy?
How to spot gaps in problem solving.
How to identify key players in your advocacy sector.
Identifying systems and structures to enhance your advocacy.
How to identify your beneficiaries.
How to formulate a powerful action plan
The #ODLive series is part of our efforts to empower our users with the right knowledge and tips they need to grow and succeed in their businesses, projects, and applications for global opportunities.
---
About the Speaker: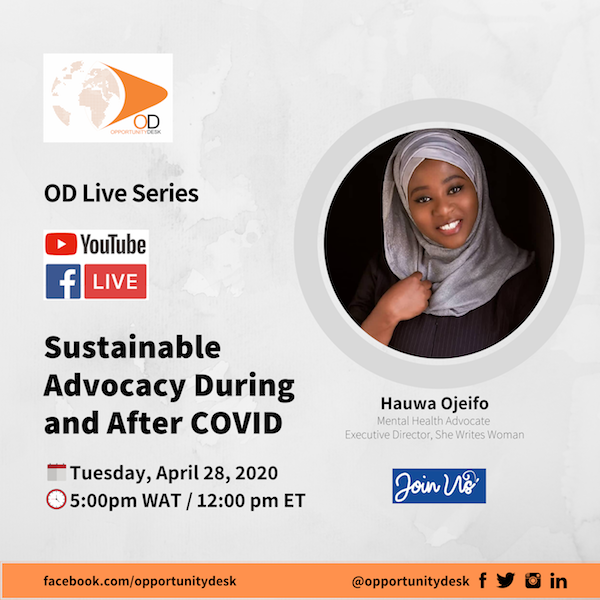 Hauwa Ojeifo publicly identifies as a person who lives with a mental health condition and psychosocial disability. Popularly tagged as the voice and face of mental health in Nigeria, Hauwa has received numerous local and international honours and recognition. She is the Executive Director at She Writes Woman (SWW); an award-winning movement that gives mental health a voice in Nigeria. She is the creator of Safe Place Nigeria – a community based youth centre – which provides psychosocial support and support groups as preventative and early intervention approaches to mental health issues young Nigerians deal with. She is giving mental health and sexual violence a voice; taking back the existing misinformed narrative and normalising mental health conversations in Nigeria.
Hauwa is a recipient of the prestigious Queen's Young Leaders award by the Royal Commonwealth Society and the Queen Elizabeth Diamond Jubilee Trust. She was selected as a One Young World Young Leader Against Sexual Violence (YLASV) and AstraZeneca Young Health Programme scholar. She addressed the One Young World delegation in The Hague, Netherlands and spoke at the first-ever United Nations sexual violence Survivors Town Hall calling on world leaders to pass a UN Sexual Violence Survivors' Bill of Rights.
Hauwa is the only African to bag the MTV Europe Music Generation Change Award and was also honoured as an Obama Africa Leader 2019. She has been featured and interviewed in both local and international media such as Telegraph UK, Aljazeera, Guardian Nigeria, Reuters UK, This Day, Guardian Life, Nigerian Tribune, Reuters Japan, Leadership Newspaper, BBC World News, Yahoo Lifestyle, Wikimedia, Bella Naija and more.
---
Event Details
Topic: Sustainable Advocacy During and After COVID-19
Speaker: Hauwa Ojeifo
Date: Tuesday, 28th April 2020
Time: 5:00pm WAT / 12:00pm ET / 4:00pm GMT
In preparation for this session, download and read this guide before Tuesday – http://bit.ly/advocateguide and come with your questions!
How to Join the Livestream
No registration required, just click the link below and show up on Tuesday, 28th April 2020 ready!
Join via Opportunity Desk's Facebook Livestream or YouTube Channel.
You don't want to miss this. Save the date! #ODRocks #ODLive
---
About Opportunity Desk
Established in 2012, Opportunity Desk (OD) is the largest digital media platform that bridges the gap to education by sharing information on relevant learning and growth opportunities for youth around the world. These opportunities help to facilitate young people's efforts in exchanging ideas and preparing themselves for the future.
Opportunity Desk works to provide access to global experiences to all through educational opportunities abroad, scholarships, training and conferences, fellowships, grants and awards, jobs, internships and volunteer programs. By doing so, the OD hopes to bring an international experience to everybody, regardless of their background, age, disabilities, education, gender identity, racial or ethnic identity, sexual orientation or socio-economic status.
Follow OD to stay up to date:
Facebook: https://www.facebook.com/OpportunityDesk
Twitter: https://twitter.com/OpportunityDesk
Instagram: https://www.instagram.com/opportunitydesk/
LinkedIn Profile: https://www.linkedin.com/in/opportunitydesk/
LinkedIn Page: https://www.linkedin.com/company/opportunitydesk/
Telegram Channel: https://t.me/opportunitydeskofficial
Telegram Group: https://t.me/joinchat/SNHwcxPJdHa3XIlcchG7-Q
, ,
It's going to be amazing!
Watch past OD Live sessions here.