You are invited to join OD Live with Ade Olowojoba on Remote Work: Where are the Opportunities?
The COVID-19 uncertainties has caused businesses to cut hundreds and thousands of employees, increasing global unemployment. We are at a risk. Remote work is therefore, a tempting solution not only during this pandemic but also in the long run. However, finding a remote job comes with its challenges. You have to demonstrate that you are the perfect applicant and that you can work exceptionally well remotely.
Ade Olowojoba will be speaking on making the shift to working remotely; searching and securing the remote job for you; positioning yourself to sell your skills and connect with the companies that are hiring remote workers.
The #ODLive series is part of our efforts to empower our users with the right knowledge and tips they need to grow and succeed in their businesses, projects, and applications for global opportunities.
---
About the Speaker: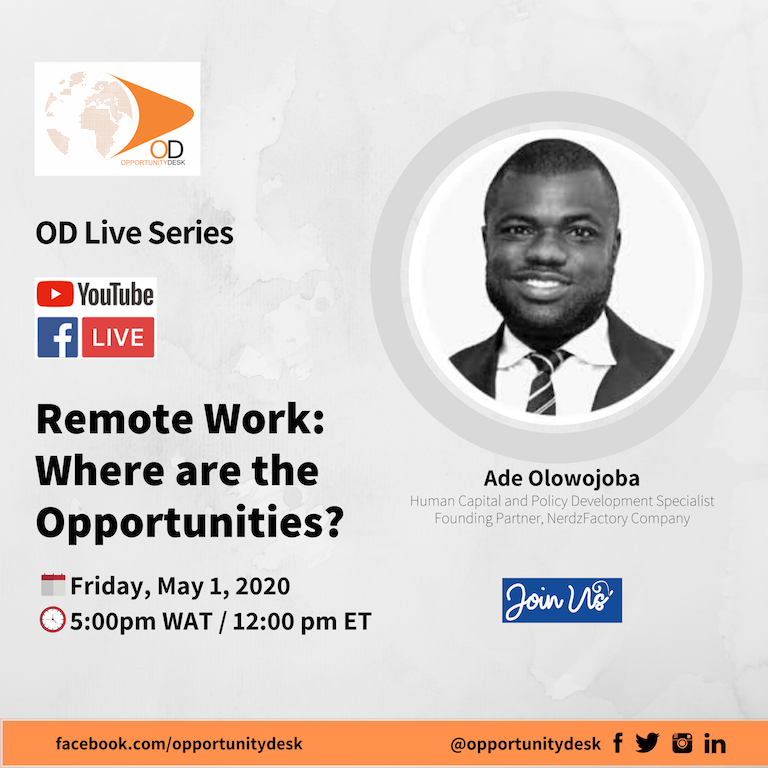 Ademulegun (Ade') Olowojoba is a Human Capital and Policy Development Specialist who works closely with the Public and Private Sectors to creatively proffer sustainable solutions to Youth Unemployment in Nigeria. His experience spans across Human Capital Development, Youth Employment, Technology, Media, and Enterprise Development and his work experience in the past decade cut across several sectors – Technology, Consulting, Non-Profit as well as the Oil and Gas Sectors. He currently serves as a Consultant for a number of human capital development initiatives in Nigeria and beyond. He served as the pioneer project lead for the CodeLagos project and prior to that, he served as Community Affairs Specialist at Microsoft.
Ade' is the founding partner at NerdzFactory Company, a Human Capital Development organization that is focused on equipping Africa's young generation with skills and employment opportunities. He also co-founded codetutor.com.ng in 2018, a platform that seeks to make technology and digital skills accessible to young people across the world.
Asides his professional engagements, he currently serves as an Education and Skills Expert at the African Union – European Union Youth Cooperation Hub where he works with several young professionals from Africa and Europe to improve education outcomes across both continents. Ade' is a firm believer that access to quality education and technology can transform into economic opportunities for young people across the world.
---
Event Details
Topic: Remote Work: Where are the Opportunities?
Speaker: Ade Olowojoba
Date: Friday, 1st May 2020
Time: 5:00pm WAT / 12:00pm ET / 4:00pm GMT
How to Join the Livestream
No registration required, just click the link below and show up on Tuesday, 28th April 2020 ready!
Join via Opportunity Desk's Facebook Livestream or YouTube Channel.
You don't want to miss this. Save the date! #ODRocks #ODLive
---
About Opportunity Desk
Established in 2012, Opportunity Desk (OD) is the largest digital media platform that bridges the gap to education by sharing information on relevant learning and growth opportunities for youth around the world. These opportunities help to facilitate young people's efforts in exchanging ideas and preparing themselves for the future.
Opportunity Desk works to provide access to global experiences to all through educational opportunities abroad, scholarships, training and conferences, fellowships, grants and awards, jobs, internships and volunteer programs. By doing so, the OD hopes to bring an international experience to everybody, regardless of their background, age, disabilities, education, gender identity, racial or ethnic identity, sexual orientation or socio-economic status.
Follow OD to stay up to date:
Facebook
YouTube
Twitter
Instagram 
LinkedIn Profile
LinkedIn Page
Telegram Channel
Telegram Group
It's going to be amazing!
Watch past OD Live sessions here.