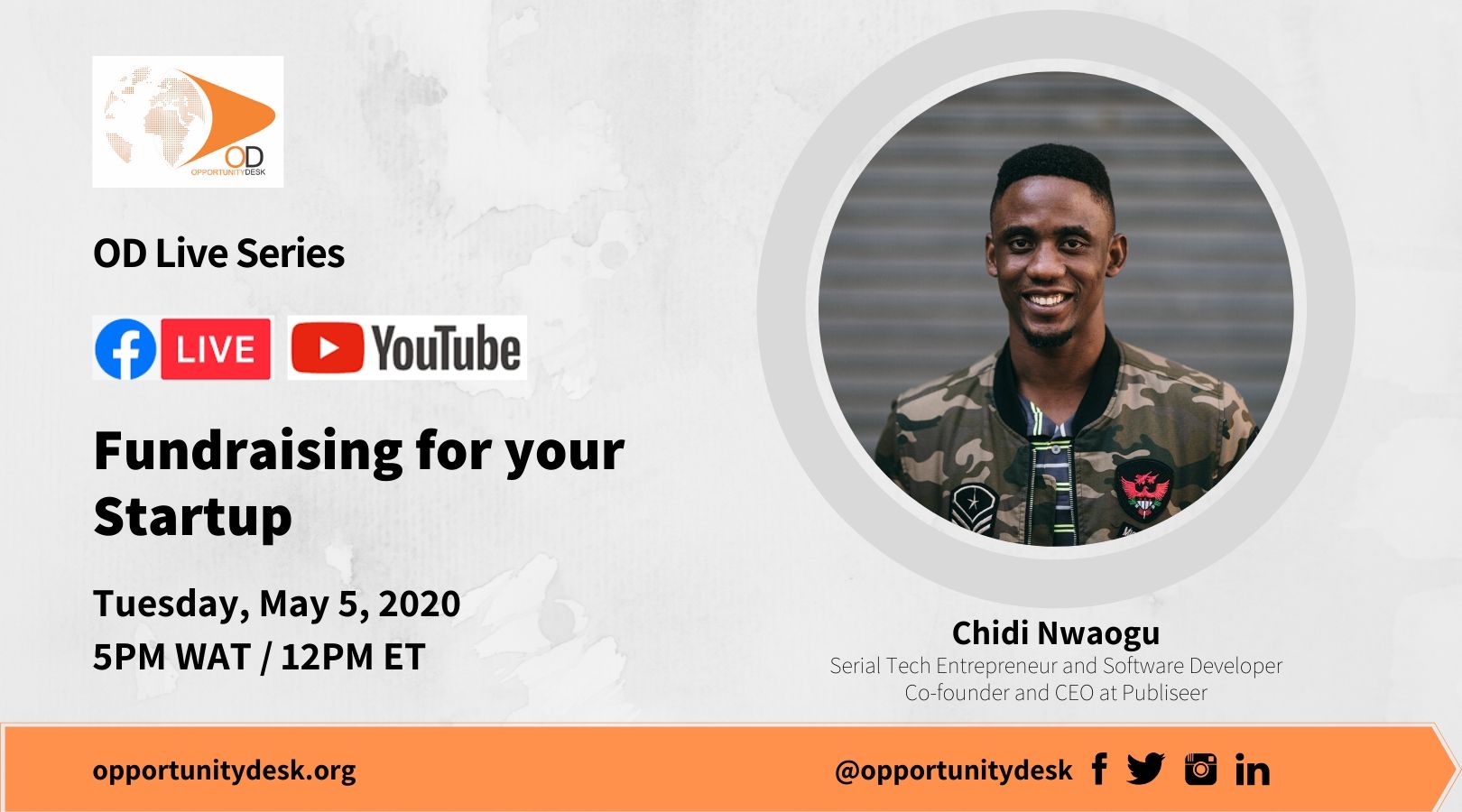 OD Live with Chidi Nwaogu: Fundraising for Your Startup
You are invited to join OD Live with Chidi Nwaogu: Fundraising for Your Startup.
Securing funding for your idea or startup is usually a significant turning point. It can help kick start your dreams and give your startup the wings to take flight. But convincing investors is hard, especially when you don't know where you should start looking. There are a number of ways to get capital for your startup and Chidi Nwaogu, a serial internet entrepreneur, will be sharing the options available to take your idea off the ground.
This session will cover:
Understanding the basics of raising capital
Startup fundraising process
Positioning strategically for the funding
Understanding the different types of investors
Crafting a captivating pitch deck
The role of networking in raising funds
The #ODLive series is part of our efforts to empower our users with the right knowledge and tips they need to grow and succeed in their businesses, projects, and applications for global opportunities.
---
About the Speaker: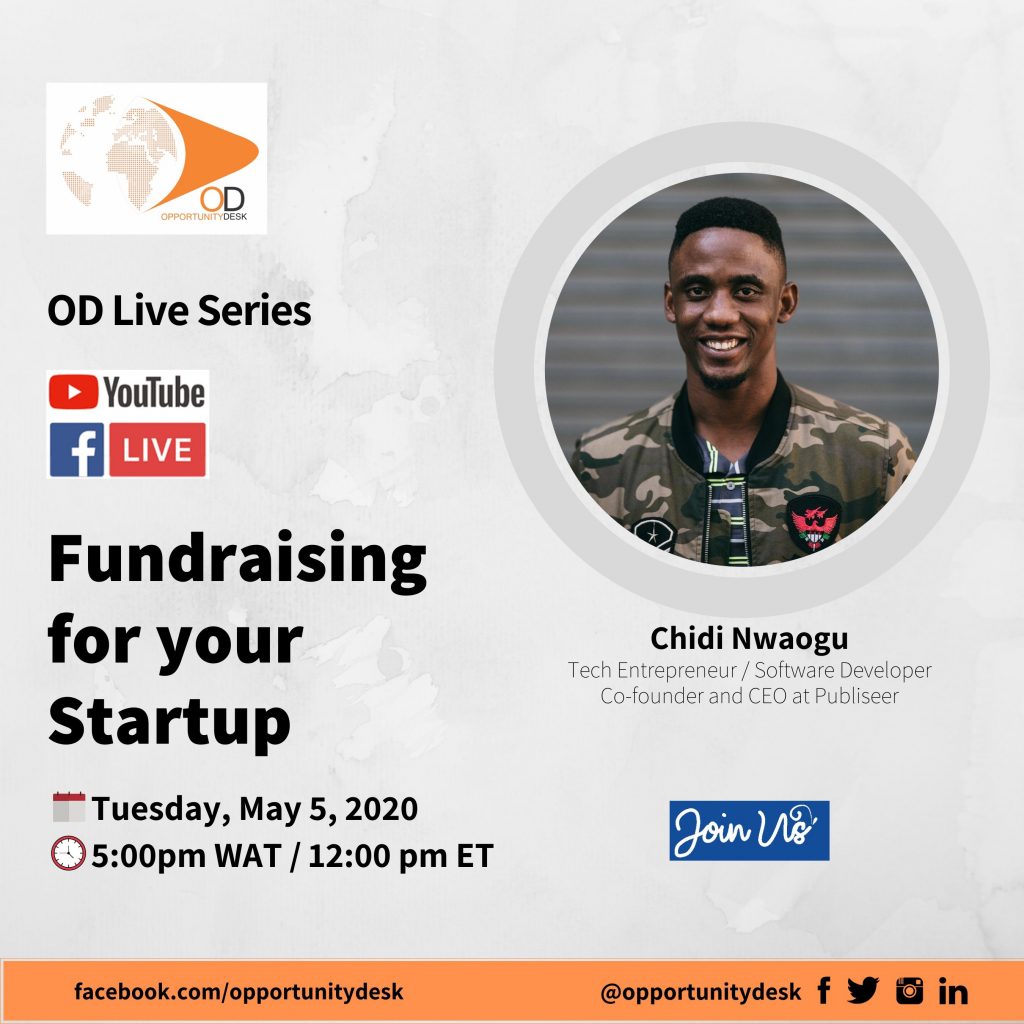 Chidi Nwaogu is a serial tech entrepreneur and software developer. He is the Co-founder and CEO at Publiseer, a digital publisher for independent African creatives, described by Konbini as "one of the largest digital publishers in Africa" and identified by IFC as one of the startups "that could speed up innovation in Africa".
Nwaogu has been described as one of the "Young innovators making Africa great in 2019" and one of the "50 Top Personalities on LinkedIn". He is the winner of the 2020 Migration Entrepreneurship Prize, the 2019 Africa 35.35 Award for Entrepreneurship, the 2019 Young Leaders Award 2019 for Media and Entertainment, and the 2019 Bizz Business Excellence Award. Nwaogu is a 2020 Acumen Fellow (West Africa), 2019 Westerwelle Fellow 2019 (Berlin), 2019 Halcyon Incubator Fellow (Washington DC), 2019 Yunus&Youth Global Fellow (New York), and 2019 AfricanPLP Fellow (Cairo).
---
Event Details
Topic: Fundraising for Your Startup
Speaker: Chidi Nwaogu
Date: Tuesday, 5th May 2020
Time: 5:00pm WAT / 12:00pm ET / 4:00pm GMT
How to Join the Livestream
No registration required, just click the link below and show up on Tuesday, 5th May 2020 ready!
Join via Opportunity Desk's Facebook Livestream or YouTube Channel.
You don't want to miss this. Save the date! #ODRocks #ODLive
---
About Opportunity Desk
Established in 2012, Opportunity Desk (OD) is the largest digital media platform that bridges the gap to education by sharing information on relevant learning and growth opportunities for youth around the world. These opportunities help to facilitate young people's efforts in exchanging ideas and preparing themselves for the future.
Opportunity Desk works to provide access to global experiences to all through educational opportunities abroad, scholarships, training and conferences, fellowships, grants and awards, jobs, internships and volunteer programs. By doing so, the OD hopes to bring an international experience to everybody, regardless of their background, age, disabilities, education, gender identity, racial or ethnic identity, sexual orientation or socio-economic status.
Follow OD to stay up to date:
Facebook
YouTube
Twitter
Instagram 
LinkedIn Page
Telegram Channel
Telegram Group
It's going to be amazing!
Watch past OD Live sessions here.