You are invited to join OD Live with Courtney Gehle: How to Rock a Virtual Job Interview.
Due to COVID 19, working from home is almost inevitable; and yet, companies still have to make hiring decisions. Virtual interviews are now becoming common solutions. It is through virtual interviews that employers get to assess your intangible qualities like professionalism and body language.
Courtney Gehle will be speaking broadly about virtual job interviews. You will learn how to prepare yourself, how to impress employers/interviewers and how to stand out from the crowd including mistakes to avoid during an interview as well as expressing your enthusiasm for the job while physically disconnected.
The #ODLive series is part of our efforts to empower our users with the right knowledge and tips they need to grow and succeed in their businesses, projects, and applications for global opportunities.
---
About the Speaker: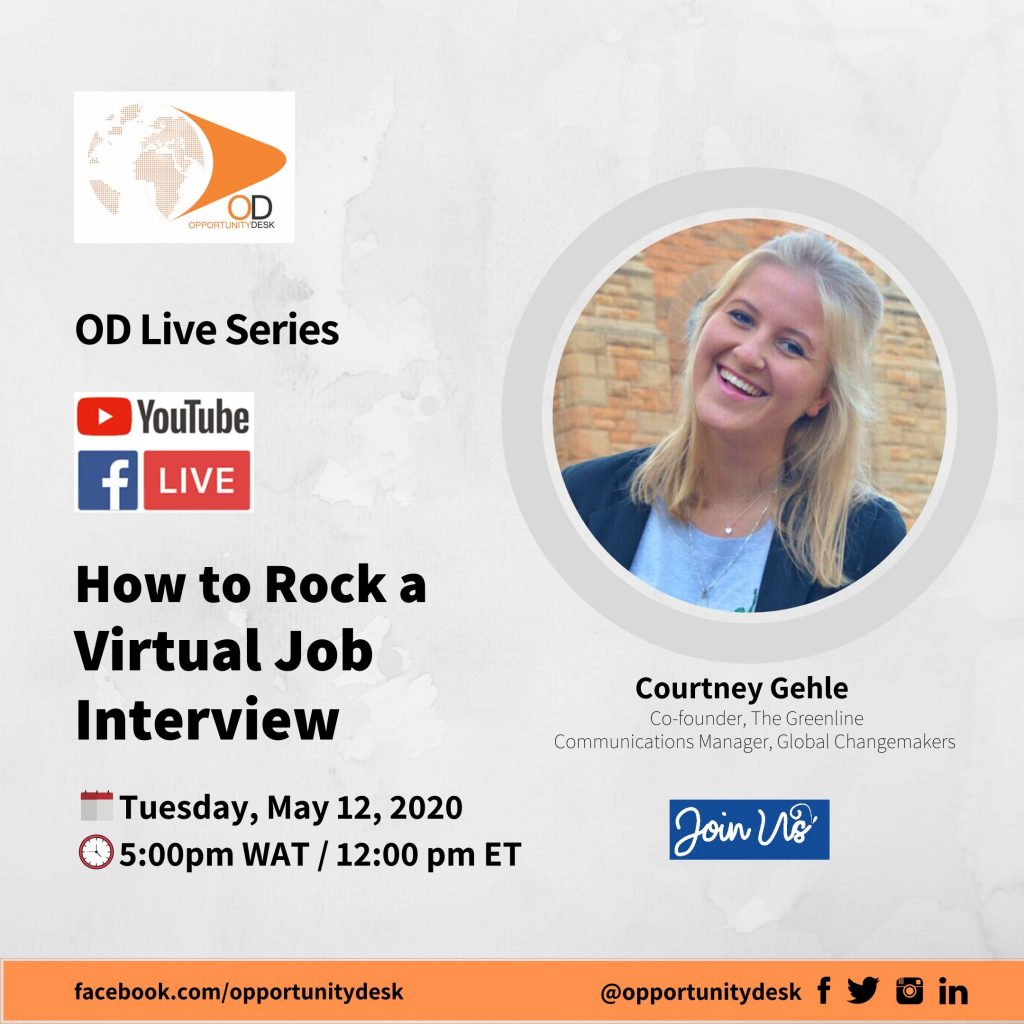 Courtney Gehle is a driven South African change agent passionate about youth led sustainable development. She is the co-founder of 'The Greenline' a youth led environmental organisation and 'The Better Tomorrow Movement' an award winning social startup that works to help people create and scale social impact projects. After serving as a consultant to UNIDO, she joined Global Changemakers as their Communications Manager. Global Changemakers is an international youth organisation with a mission to support youth to create positive change in their communities through skills development, capacity building, mentoring and grants.
She was one of eight young people selected to draft the Youth Resolution on Climate Change at the Paris Climate Negotiations in 2015. She was a finalist for the South African Eco-Youth award, was awarded South African Green Student of the Year and named a Global Changemaker in 2016. Was named one of sixteen Young Leaders for Development by the European Commission in 2017 and was named a Global Citizenship Young Leader by UNESCO in 2018.
---
Event Details
Topic: How to Rock a Virtual Job Interview
Speaker: Courtney Gehle
Date: Tuesday, 12th May 2020
Time: 5:00pm WAT / 12:00pm ET / 4:00pm GMT
How to Join the Livestream
No registration required, just click the link below and show up!
Join via Opportunity Desk's Facebook Livestream or YouTube Channel.
You don't want to miss this. Save the date! #ODRocks #ODLive
---
About Opportunity Desk
Established in 2012, Opportunity Desk (OD) is the largest digital media platform that bridges the gap to education by sharing information on relevant learning and growth opportunities for youth around the world. These opportunities help to facilitate young people's efforts in exchanging ideas and preparing themselves for the future.
Opportunity Desk works to provide access to global experiences to all through educational opportunities abroad, scholarships, training and conferences, fellowships, grants and awards, jobs, internships and volunteer programs. By doing so, the OD hopes to bring an international experience to everybody, regardless of their background, age, disabilities, education, gender identity, racial or ethnic identity, sexual orientation or socio-economic status.
Follow OD to stay up to date:
Facebook
YouTube
Twitter
Instagram
LinkedIn Page
Telegram Channel
Telegram Group
It's going to be amazing!
Watch past OD Live sessions here.