You are invited to join OD Live with Gbenga Awomodu: Positioning Your Personal Brand for Career Opportunities.
Personal branding involves finding your uniqueness and building a reputation around it. It is how you promote yourself. Even in business, people don't do business with companies but rather with the people they like. Personal brand is therefore a huge asset. But creating a personal brand can be daunting especially if you don't know where to start. In the present evolving job market, it is helpful and necessary to stand out from the crowd whether you are applying for a job or starting your own company.
Gbenga Awomodu will expound on how to build and position your personal brand for career opportunities. This session will cover everything from crafting an outstanding CV, profile and cover letter to writing a winning personal statement. You will learn about the things to consider when building your personal brand, techniques you can use and actions you can take to make your personal brand reach the levels you aspire.
The #ODLive series is part of our efforts to empower our users with the right knowledge and tips they need to grow and succeed in their businesses, projects, and applications for global opportunities.
---
About the Speaker: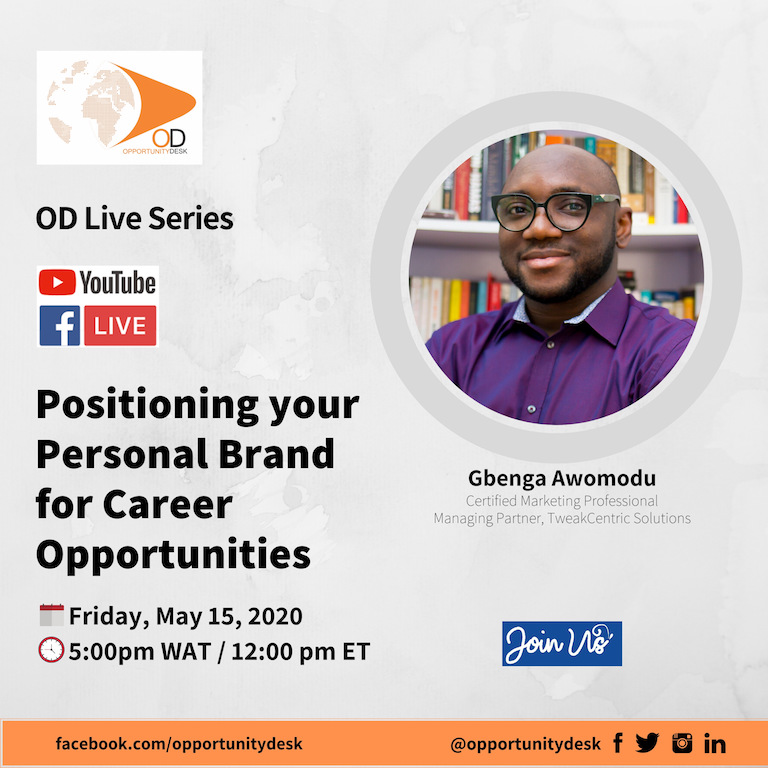 Gbenga Awomodu is a certified marketing professional with more than 8 years of experience across industries, including online media, oil and gas, healthcare, power, transportation, and telecommunications. Gbenga currently serves as the Managing Partner at TweakCentric Solutions, a marketing communications and content solutions consultancy based in Lagos, Nigeria. Prior to this role, Gbenga served as a marketing specialist and acting marketing manager for the Mobile division at Samsung Electronics West Africa, with primary focus on Nigeria. In this role, he was responsible for driving marketing communications strategies and executions for all mobile devices sold in-country.
Gbenga began his career as an Editorial Assistant at Africa's leading lifestyle website, BellaNaija.com , where he interviewed exceptional young entrepreneurs, innovators and leaders, and wrote various insightful and enlightening articles for the Inspired, Career, and Music columns between October 2010 and January 2013. Gbenga joined General Electric (GE) Africa Corporate Communications team via the Early Career Development Programme in February 2013, where he helped develop a digital communications strategy for Sub-Saharan Africa, set up GEReportsAfrica.com, and managed employee communications for the region.
In September 2014, Gbenga joined the Marketing team at Samsung Electronics West Africa, where he managed Digital Marketing and later served as Marketing Specialist and acting Marketing Manager for the Mobile division in Nigeria until January 2020. Gbenga is an Associate Member of the Chartered Institute of Marketing (CIM), UK and an Associate Registered Practitioner in Advertising (arpa) with the Advertising Practitioners Council of Nigeria (APCON).
Gbenga holds a Bachelor's degree in Chemical Engineering from the University of Lagos, a Diploma in Professional Marketing from the Chartered Institute of Marketing (UK) and a Certificate in Advanced Brand Management from the Brand Marketing Academy, Lagos, Nigeria. Gbenga is a Maven-Connector who aims to build and support communities, create greater access for more people, and promote learning through sharing.
---
Event Details
Topic: Positioning Your Personal Brand for Career Opportunities
Speaker: Gbenga Awomodu
Date: Friday, 15th May 2020
Time: 5:00pm WAT / 12:00pm ET / 4:00pm GMT
How to Join the Livestream
No registration required, just click the link below and show up!
Join via Opportunity Desk's Facebook Livestream or YouTube Channel.
You don't want to miss this. Save the date! #ODRocks #ODLive
---
About Opportunity Desk
Established in 2012, Opportunity Desk (OD) is the largest digital media platform that bridges the gap to education by sharing information on relevant learning and growth opportunities for youth around the world. These opportunities help to facilitate young people's efforts in exchanging ideas and preparing themselves for the future.
Opportunity Desk works to provide access to global experiences to all through educational opportunities abroad, scholarships, training and conferences, fellowships, grants and awards, jobs, internships and volunteer programs. By doing so, the OD hopes to bring an international experience to everybody, regardless of their background, age, disabilities, education, gender identity, racial or ethnic identity, sexual orientation or socio-economic status.
Follow OD to stay up to date:
Facebook
YouTube
Twitter
Instagram
LinkedIn Page
Telegram Channel
Telegram Group
It's going to be amazing!
Watch past OD Live sessions here.