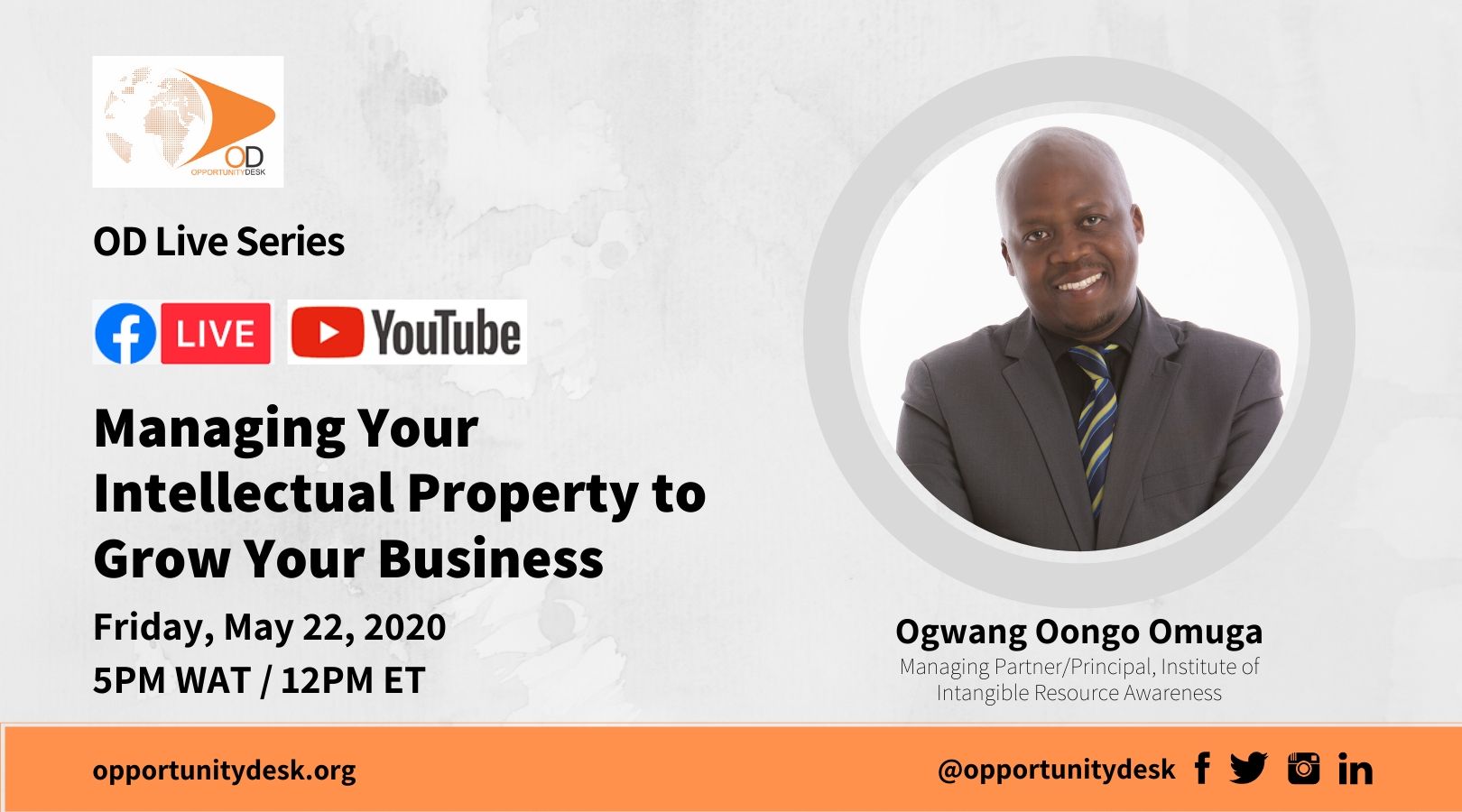 OD Live with Ogwang Oongo Omuga: Managing Your Intellectual Property to Grow Your Business – May 22, 2020
You are invited to join OD Live with Ogwang Oongo Omuga, one of Africa's leading intellectual property voices, to learn how to manage your Intellectual Property to grow your business.
In new and emerging economies, intellectual property is an important issue. In new and emerging economies, intellectual property is an important issue. However, many entrepreneurs still separate intellectual property from their business strategy. Intellectual property strategy should be managed according to business strategy.
This session will cover models of identifying intellectual property, how to strategically manage intellectual property and how to monetize your intellectual property as you take your business to the next higher level.
The #ODLive series is part of our efforts to empower our users with the right knowledge and tips they need to grow and succeed in their businesses, projects, and applications for global opportunities.
---
About the Speaker: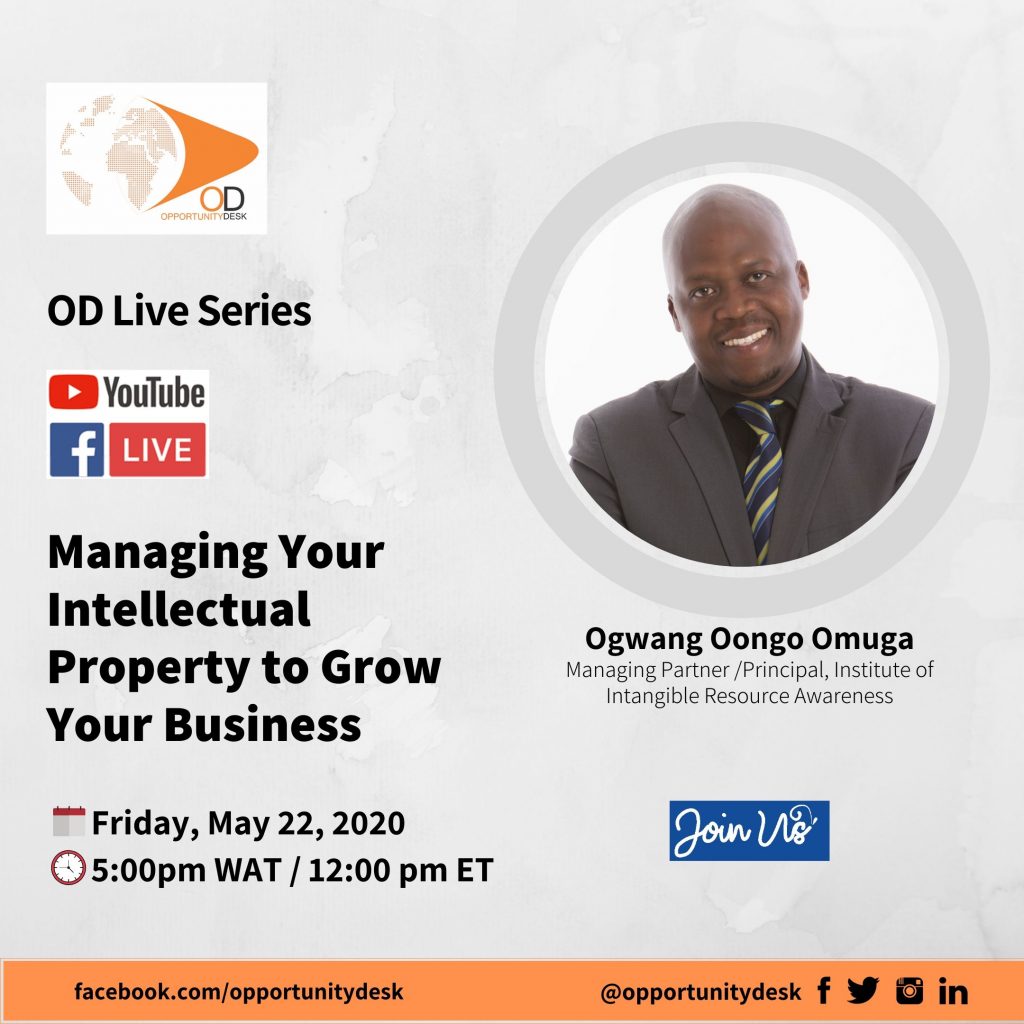 Mr. Ogwang Omuga Oongo, or fondly known by his clients and friends alike as trIPle O, is one of Africa's leading intellectual property voices, a Kenyan born intellectual property law practitioner of good standing for 9yrs, he is the managing partner and Principal at Institute of Intangible Resource Awareness, a fully owned subsidiary of trIPle O & Associates, which exclusively deals in intellectual property Research, Consulting, Advisory and Training.
Mr. Ogwang subscribes to a simple philosophy, "If Africa is to compete aggressively at the global marketplace then we cannot afford to ignore the roles intellectual property awareness can play in building our competitive advantages". In whichever space in the African continent you look, whether it is education, corporate Africa, governance, entertainment, fashion, arts, research fields, manufacturing, technology, agriculture, traditional heritage, construction, financial industry, etc., the least exploited form of resource is intellectual property, in all its form.
Mr. Ogwang seizes every opportunity that comes his way to sensitize his audience to begin identifying and appreciating their diverse forms of intellectual property, whether it is an academic paper he publishes, public lecturers, weekly TV interviews, intellectual property workshops, he's always consistent in the simplicity of his message.
He believes that every individual and organization is not adequately resourced to appear meaningfully until they have an intellectual property operational capacity threshold.
---
Event Details
Topic: Managing Your Intellectual Property to Grow Your Business
Speaker: Ogwang Oongo Omuga
Date: Friday, 22nd May 2020
Time: 5:00pm WAT / 12:00pm ET / 4:00pm GMT
How to Join the Livestream
No registration required, just click the link below and show up!
Join via Opportunity Desk's Facebook Livestream or YouTube Channel.
You don't want to miss this. Save the date! #ODRocks #ODLive
---
About Opportunity Desk
Established in 2012, Opportunity Desk (OD) is the largest digital media platform that bridges the gap to education by sharing information on relevant learning and growth opportunities for youth around the world. These opportunities help to facilitate young people's efforts in exchanging ideas and preparing themselves for the future.
Opportunity Desk works to provide access to global experiences to all through educational opportunities abroad, scholarships, training and conferences, fellowships, grants and awards, jobs, internships and volunteer programs. By doing so, the OD hopes to bring an international experience to everybody, regardless of their background, age, disabilities, education, gender identity, racial or ethnic identity, sexual orientation or socio-economic status.
Follow OD to stay up to date:
Facebook
YouTube
Twitter
Instagram
LinkedIn Page
Telegram Channel
Telegram Group
It's going to be amazing!
Watch past OD Live sessions here.