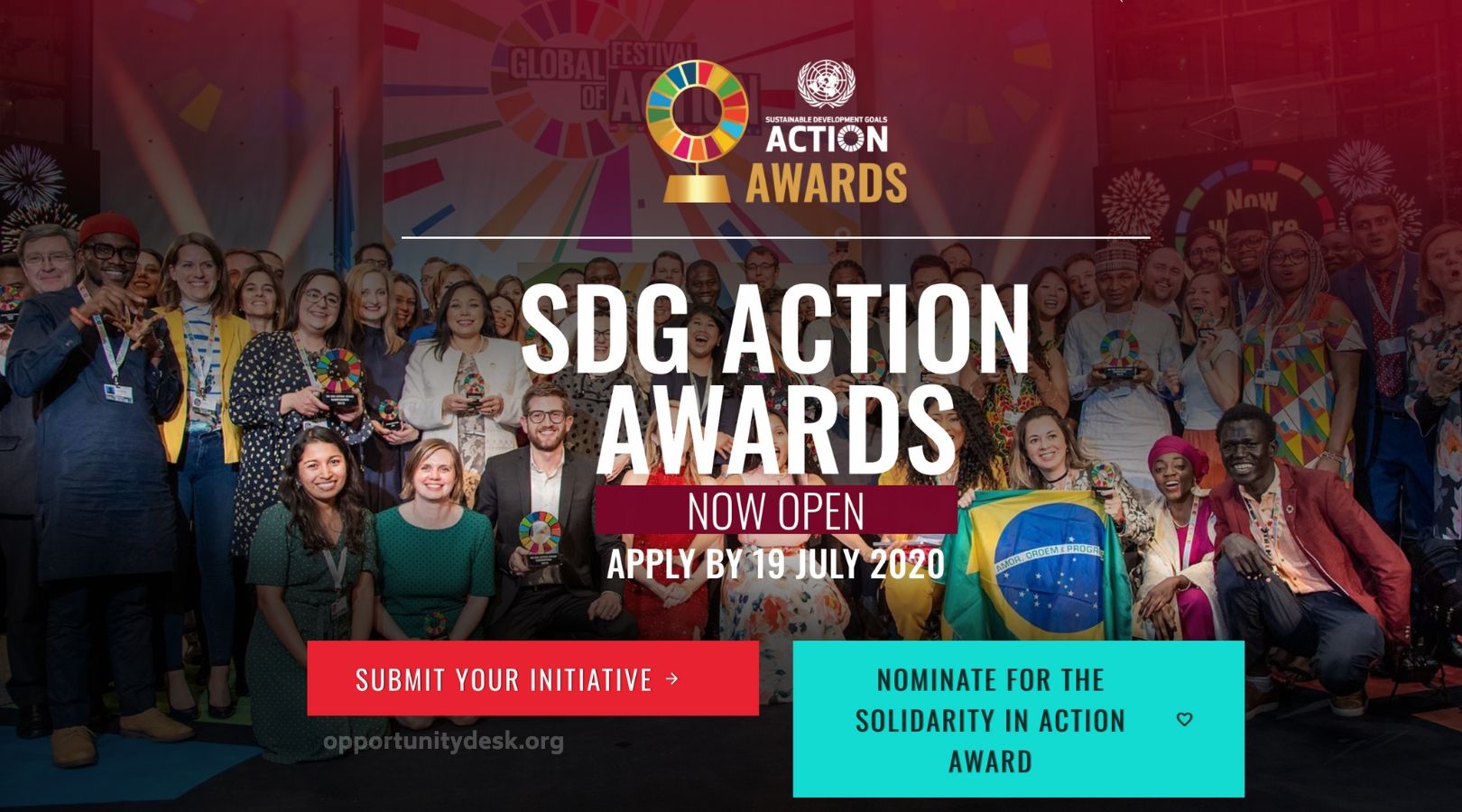 UN Sustainable Development Goals (SDG) Action Awards 2020 for Outstanding Initiatives
Deadline: July 19, 2020
The United Nations SDG Action Awards 2020 is now open. People and organisations everywhere are encouraged to submit their outstanding SDG Action and nominate to become one of the UN SDG Action Award winners.
The UN SDG Action Campaign has launched the third edition of the UN SDG Action Awards to identify and celebrate outstanding initiatives from around the world that are accelerating action towards the achievement of the Sustainable Development Goals, whilst inspiring the growing global community by showing that transformative change for people and the planet is possible.
Since 2018, the UN SDG Action Awards have attracted more than  2750 applications from 142 countries. 64 initiatives, from transmedia series illustrating the impact of climate change, to youth theatre and poetry programmes addressing taboos on sexual and reproductive health or blockchain platforms connecting entrepreneurs from among the world's poorest to clean up ocean plastic, have been honored for their contribution to accelerating action towards the Goals.
Categories
The 2020 edition is seeking creative, scalable and transformative initiatives worldwide that:
Mobilize large numbers of individuals and organizations to take action for the achievement of the Goals; whilst building coalitions across communities and societies;
Inspire people to shift behaviors and policies for the achievement of the Goals; whilst promoting the values of hope and solidarity;
Connect partners to increase progress on the Goals, whilst strengthening dialogue and trust between people and institutions at all levels.
SPECIAL CALL: THE SOLIDARITY IN ACTION AWARD
In the midst of the global health crisis, they see strong examples of solidarity among people everywhere. Acts of kindness and solidarity are burgeoning, helping neighborhoods, communities, and people everywhere to adapt to the new norm.
The SOLIDARITY IN ACTION AWARD will honor the most heartwarming and impactful acts of humanity that improve the lives of others, inspire resilience, and lift hopes in the ongoing global health crisis.
From local heroes, to stories from the other side of the world, nominations can come from everyone, everywhere.
Award
People and organisations everywhere are encouraged to submit their outstanding SDG Action and nominate to become one of the UN SDG Action Award winners.
The winning initiatives will be honored at the UN SDG Action Awards Ceremony and widely amplified throughout the year to inspire the growing global SDG Action community to accelerate change for people and the planet.
Eligibility for the UN SDG Action Awards
All sectors are encouraged to apply and nominate initiatives to the UN SDG Action Awards.

However, please note that national governments, UN entities and UN SDG Action Campaign official partners are not eligible for an SDG Action Award but their efforts will be highlighted through honorable mentions – an esteemed recognition to be featured as part of this programme, at the Awards Ceremony and through associated promotion and communications.

Eligible initiatives will have been launched between 2015 and now, including those implemented in response to COVID-19.

All applications will need to demonstrate tangible impact of the initiative regardless of the longevity of the activation – thus ideas or projects that have not moved beyond the conceptual stage will not be considered.

Applicants can submit multiple initiatives under different categories. Please do not re-submit the same initiative to multiple categories.

If you are unsure which category is the best fit for your initiative, you can include it in the overview description. The application will be assessed under the category deemed more aligned by the reviewers.

Those who have applied in the past to the UN SDG Action Awards are welcome to re-apply if (i) the previously submitted initiative has produced greater impact, or if (ii) if a new initiative has been designed and rolled out.
Judging Criteria
Each shortlisted entry will be scored on a scale of 0-10 for each of the 3 criteria below for a maximum overall score of 30 points:
Impact: What kind of tangible impact has this initiative had? What are the direct benefits and to whom? We will consider the number of people impacted, policies/legislation changed, etc. – (0-10)
Approach: How is this initiative new or transformative in comparison to what has been done before? Is it a breakthrough idea or process, or a whole new way to address an issue? Is it including those often left behind? (0-10)
Scalability/Replicability: Does this initiative have the potential to scale up or be replicated to create a greater impact? Is there any evidence that replication or scaling is already happening? (0-10)
The UN SDG Action Campaign is committed to ensuring that shortlisted candidates and winners are representative of the sectoral and regional diversity found within our pool of applicants.
Application
To enter a project or initiative to win please begin by registering and filling in each section of the application form. Your application can be saved and edited each time you return, until you submit the completed form prior to the closing date.
The best entries will offer clear supporting evidence such as photos and videos and endorsements from participants in your initiative.
Click here to submit your initiative.
Click here to nominate for the Solidarity in Action awards.
For more information, visit UN SDG Action.