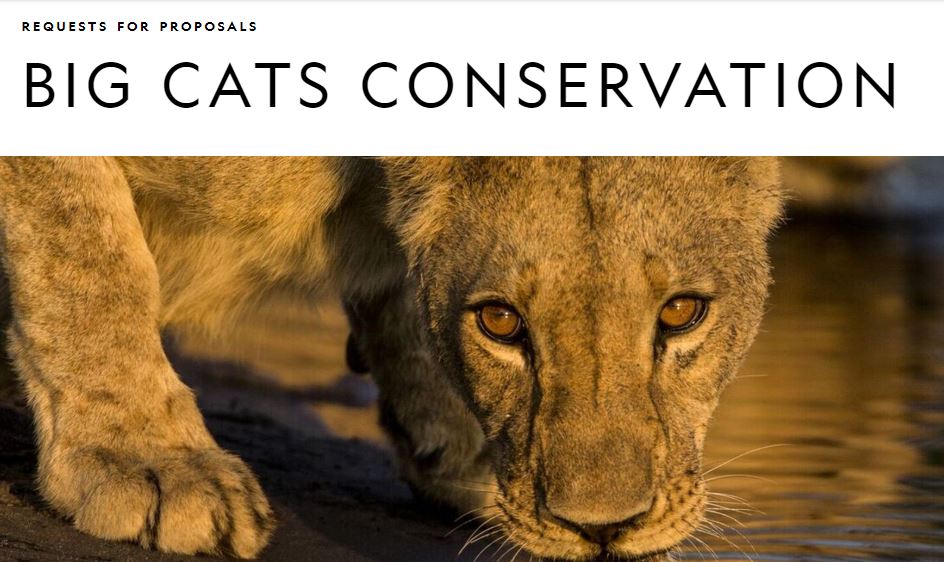 National Geographic Big Cats Conservation Grants 2020 (up to $100,000)
Deadline: October 21, 2020
Applications are open for the National Geographic Big Cats Conservation Grants 2020. The goal of this fund is to identify projects that will help reduce the decline of African big cats in the wild.
The National Geographic Big Cats Initiative (BCI) seeks to advance conservation efforts benefitting big cat populations, protecting and restoring them and their habitats via field-based, action-oriented, direct, and quantifiable strategic programs.
Program Details
BCI conducted an evidence-based analysis to assess big cat conservation in Africa, identify funding gaps, and determine a focused engagement strategy for lion conservation funding. As a result of this analysis, National Geographic's lion population priorities have more than 50 individuals currently, either have high recovery potential or are current strongholds, are not primarily based around a trophy hunting reserve, and are primarily threatened by human-wildlife conflict or livestock encroachment.
Given these requirements, 17 lion populations qualify as National Geographic lion population priorities for conservation attention. Three additional lion populations from West and Central Africa were also included, since lions in these geographic regions are genetically distinct from those in East and Southern Africa.
In total, BCI has identified 20 populations (and 32 lion areas), spread across 18 countries, as National Geographic lion priority areas. These priority populations encompass nearly 1.25 million square kilometers and are estimated to contain ~19,000 lions, or 83 percent of Africa's known lion population. Although priority will be given to projects focused on lions, projects on leopard and cheetah populations within these 20 areas will also be considered.
Grants
Applicants may request up to $100,000. Successful applicants may use awarded funds over one or two years.
Eligibility
Open to any individual from around the world. At this time, National Geographic can not fund work in North Korea, Iran, Syria, and Crimea due to U.S. legal restrictions concerning projects in these countries.
All applicants must be at least 18 years old at the time they submit an application.
You may submit a proposal as the project leader for only one project at a time. You must submit a final report and media from any previous grants for which you were the leader before applying to lead a new project.
Organizations can apply for grants, but the person within the organization who will lead the project—not the institution—should be the applicant and will be expected to meet the requirements of the grant.
Students should not submit in their advisor's name. The individual responsible for carrying out the project should apply and write the application.
Application
All applications must be submitted through the online application system. They do not accept mailed or emailed applications. All application materials must be submitted in English.
For more information, visit National Geographic.