Welcome to June!
Our Young Person of the Month is Matthew Gaiser from Canada! Matthew is a software developer with the City of Calgary, a former innovation analyst in the financial sector, the #1 ranked solver on the global crowd solving website MindSumo, and the winner of the 125th Award for Engineering Excellence from Queen's University.
He is a computer engineering graduate of Queen's University at Kingston, a top 50 Major League Hacking hacker of 2020, an avid hackathon attendee, a frequent writer on sites such as Quora and StackExchange. He describes himself as someone who is always up for a new challenge.
Read his story below and be inspired!
MATTHEW GAISER
Matthew Gaiser is a software developer with the City of Calgary. He studied Computer Engineering at Queen's University of Kingston ,and he is the winner of the 125th Award for Engineering Excellence from Queen's University.
Matthew is the son of an immigrant mother from Jamaica and a father who can trace his ancestry to the time of Canadian confederation. Throughout his life, he has been meddling elements from one family practice to another. This has made him comfortable with altering and changing things simply because everything, from family traditions to how they do things,in general, is altered and changed.
In many ways, Matthew says, he is a stereotypical engineer. As a child, he built Lego models and played with robots when he was older. He says, he was that first person to sign up for his high school's inaugural programming class. He opened his laptop at the beginning of every class and spent most of the day as well as the evening on it and he studied computer engineering while at university.
Between the two elements of his personality, Matthew has become very good at building projects that take innovations from other areas and applying hem to other challenges.
On His Project
One of Matthew's current projects is called Guardian Citizen, which has taken several forms over the past year but the core idea is creating a crowd of volunteers who can be called into action through their smartphones to protect lives when it requires manpower.
The idea behind Guardian Citizen was that if people signed for beforehand, they could be rapidly deployed by a computer program without needing to have them called individually or generate PDF maps for them. Imagine it as Starcraft or Axis and Allies or Age of Empires except that you are deploying people to build barriers and clear out old age homes using that same style of interface. The status of the response could be seen on a single dashboard in the emergency response headquarters.
Guardian Citizen consists of a network of vetted (doctors, nurses, firefighters, teachers, and other trusted professionals) citizen volunteers who within seconds can be told of an emergency call nearby. If a building needs to be searched, dozens of nearby people (many of whom would already know the layout unlike first responders) can easily be deputized to the response team. The goal is to ensure that anyone who has a medical crisis is found rapidly while not straining emergency response teams.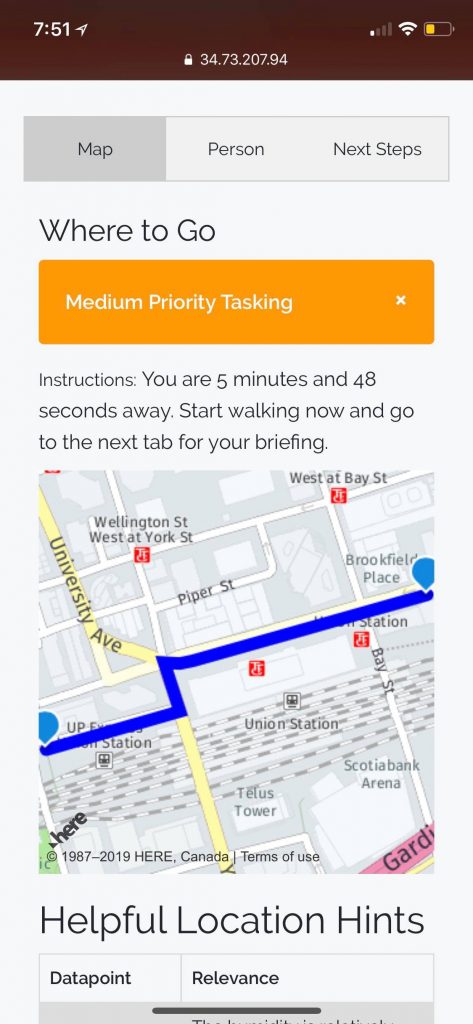 The concept was a semi-finalist in AquaHacking 2019, Microsoft's Smarter and Sustainable Economies 2020, and emerged among the top 3 finalist in the TD Make a Difference 2 competition.
On His Obstacles
Matthew Gaiser says, staying focused is one of his greatest challenges. There are just so many interesting opportunities out there and there is the urge of wanting to actively pursue all of them. For instance, he writes, develops software, and he does innovation contests and the combination of skills means that there is always something new he could be tackling.
In the past few days Matthew has seen 10 different things he would want to pursue and the problem is that, if he goes after them all, he would succeed at none of them, because he would do a mediocre job by spreading his efforts around.
His Words of Advice to the Youth
"You can achieve a surprising amount by just being willing to try as others will remove themselves from competition because they assume the competition is too intense. That is a mistake. "
"I once won an academic scholarship because nobody else bothered to apply. Many years that scholarship went unclaimed because no application was submitted. "
"A few weeks ago, a prominent marketer held a competition offering $2000 for amateur 30-second videos promoting a toothpaste he was working on. Thousands and thousands of people knew about the competition, but know how many people entered in the 30 day contest period? Zero."
"Had just one person decided to submit an entry, they would have won $2000 USD for 30 seconds of work. "

"This applies to everything from grants to fellowship spots, where you can obtain the resources and assistance you need to make your project succeed. Don't eliminate yourself from the competition. Make someone else beat you as often, there isn't someone else."
You can connect with Matthew Gaiser on LinkedIn, Twitter, DevPost, Quora or through his personal blog!
View Guardian Citizen demo project here (best viewed on a mobile phone).
Who will be the Next Young Person of the Month?
You can be the next Opportunity Desk Young Person of the Month! All you have to do is get a friend to recommend your work or fill out the nomination form here. We want to use the platform to recognize and celebrate the efforts of amazing young people around the world. Oh! And you must be an active Opportunity Desk member, either as a fan, reader or subscriber!
Join Opportunity Desk on Facebook (190.2k+), Twitter (40.6k+), Instagram (48.6k+), FB Group (75.9k+) or join 84k+ Email Subscribers