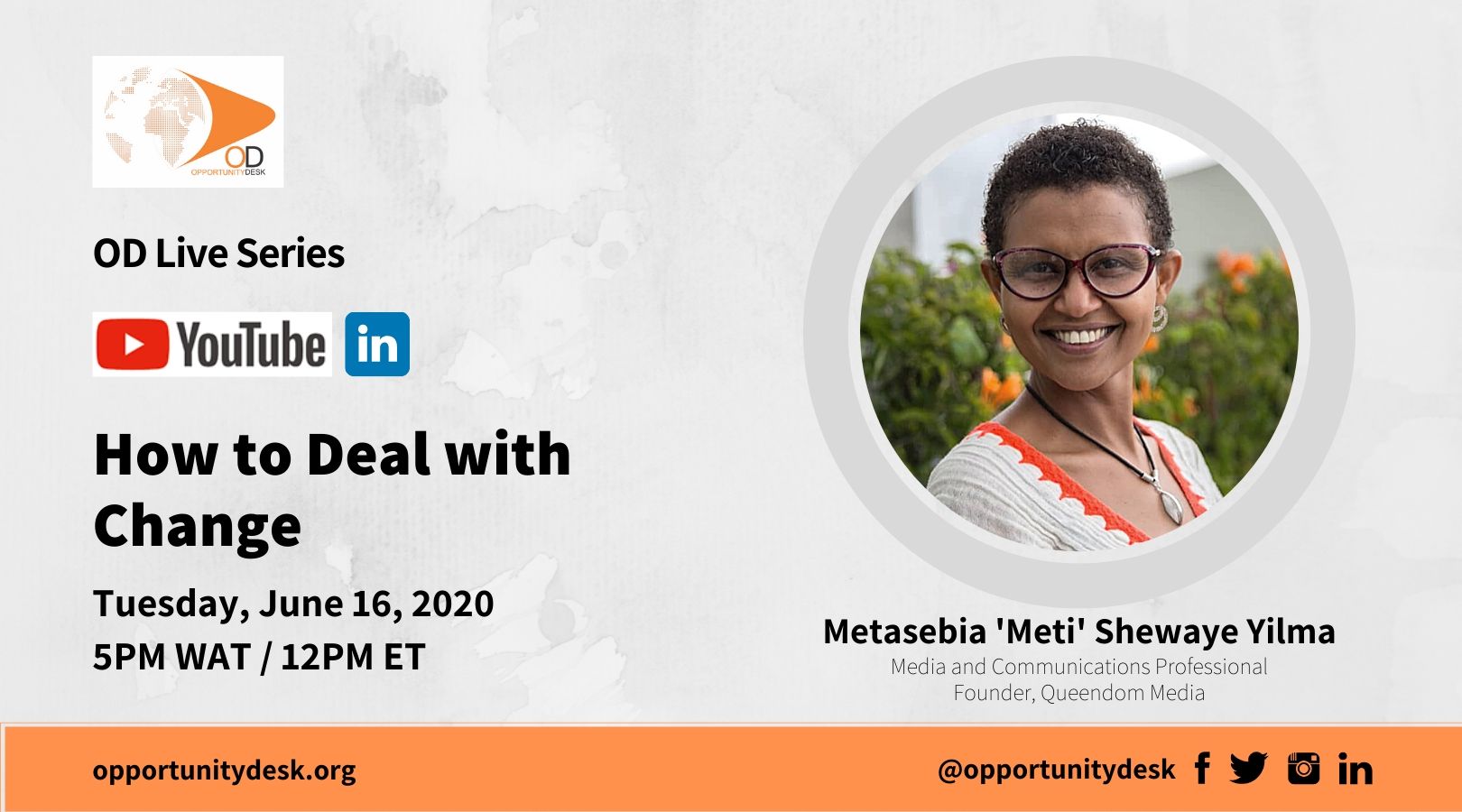 How to Deal with Change: OD Live with Metasebia 'Meti' Shewaye Yilma – June 16, 2020
OD Live with Metasebia 'Meti' Shewaye Yilma: How to Deal with Change – June 16, 2020
Due to COVID-19, a lot is changing and life may not be as we know it after this is all over. We can't figure out yet what the new normal is going to look like. Many have already lost their jobs and others are not certain of how long they can hold on to. As we are not prepared and only reacting to this change, we may feel anxious. This session will equip you with tools to manage changes in professional and personal lives.
In this presentation, Meti will show how to build healthy relationships with change (particularly when we don't make the change happen), how to deal with our fear and how to make use of this opportunity to thrive. The lifehack tools she will share in this presentation are simple to use in situations whether we plan to bring change or when change is forced upon us.
The #ODLive series is part of our efforts to empower our users with the right knowledge and tips they need to grow and succeed in their businesses, projects, and applications for global opportunities.
---
About the Speaker: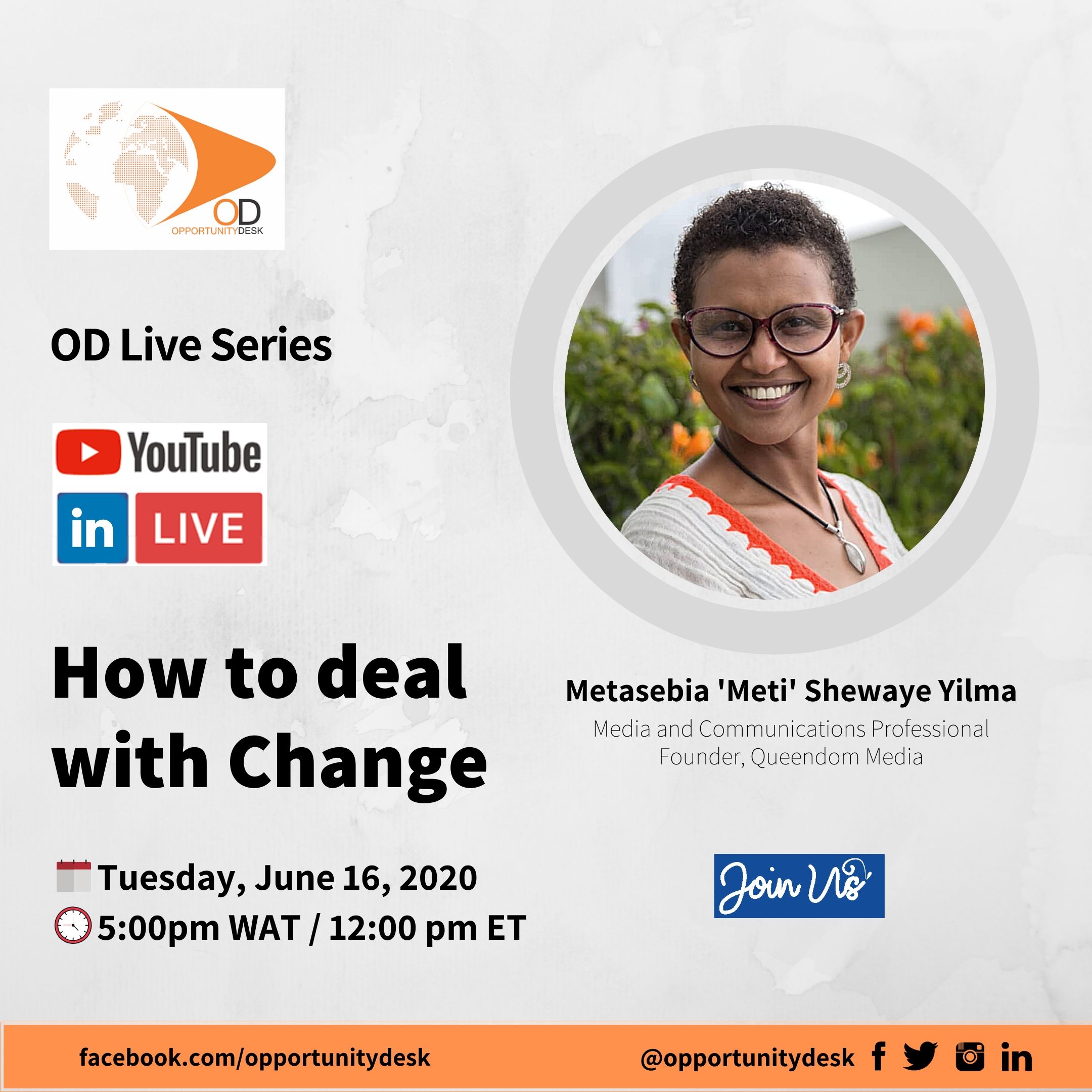 Metasebia Shewaye Yilma "Meti" is a media and communications professional with over 20 years of experience. Her media experience ranges from print to radio and television as reporter, producer & presenter.
Meti has worked with various local and international private, not-for-profit and governmental institutions. She has hosted corporate and social events, lead high level meeting and moderated panels. Meti has a deep understanding of the Ethiopian media landscape with a wide network across Africa.
Among her achievements in media are:
– Producer & presenter of the first mobile app-based live interactive TV game show in Ethiopia, Meda Shi on Fana TV 
– Producer and host of the popular unique experiential travel show, Let's Go with Meti, on LTV- Co-founder and producer of the highest income generating syndicated infotainment show, Tadias Addis, on Sheger FM 102.1
– The only Ethiopian contestant in the continental reality show, Survivor Africa in Panama, on M-Net Channel on DSTV
– Co-hosted the Ethiopian episode of a Pan-African travel show, Destinations Africa, on EbonyLife TV on DSTV
– Co-hosted on the Pan-African magazine show, Studio 54, on M-Net Channel on DSTV.
Meti is a media entrepreneur, who founded and currently leading QUEENDOM.MEDIA, a Pan-African multimedia production house focusing on television programs, documentaries, personal and company profiles, and advertisements. She served in the board of AWIB (Association of Women in Boldness) & was its president in 2018
www.awib.org.et
 As helping unleashing young people's potential is her passion, she closely works with youth groups such as AIESEC, Rotract clubs and is part of Meri Mentorship Program by Earuyan Solutions 
www.earuyan.com
Meti is a high energy, creative person who thinks critically, plans strategically and lives consciously. And her favorite question is WHY. 
---
Event Details
Topic: How to Deal with Change – June 16, 2020
Speaker: Metasebia 'Meti' Shewaye Yilma
Date: Friday, 16th June 2020
Time: 5:00pm WAT / 12:00pm ET / 4:00pm GMT
How to Join the Livestream
No registration required, just click the link below and show up!
Join via Opportunity Desk's YouTube Channel.
---
About Opportunity Desk
Established in 2012, Opportunity Desk (OD) is the largest digital media platform that bridges the gap to education by sharing information on relevant learning and growth opportunities for youth around the world. These opportunities help to facilitate young people's efforts in exchanging ideas and preparing themselves for the future.
Follow OD to stay up to date: