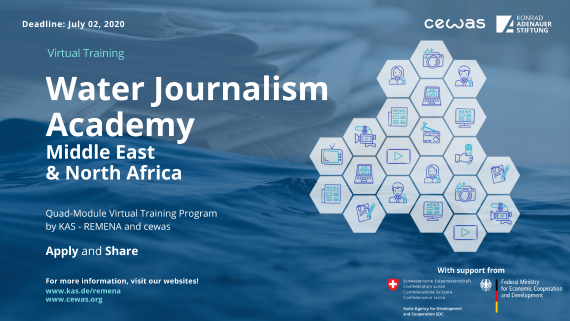 Konrad-Adenauer-Stiftung Water Journalism Academy Middle East & North Africa 2020
Deadline: July 2, 2020
Applications are open for the Konrad-Adenauer-Stiftung Water Journalism Academy Middle East & North Africa 2020. The Regional Program Energy Security and Climate Change Middle East and North Africa (KAS – REMENA) of the Konrad-Adenauer-Stiftung and cewas have joined hands to involve and work with media enthusiasts to engage in in-depth reporting on pressing water and sanitation matters across the MENA region.
Outstanding environmental journalists and media professionals will be selected to take part in a tailored program with the goal of intensifying and improving the quality and scope of media coverage of acute water-related challenges in the country of implementation and region.
The program comprises a four-module training and co-creation workshop bringing together media professionals with key stakeholders of the water and environmental sectors on constructive water reporting, follow-up coaching and a regional competition, the Blue Peace Open Eye Award, that will award the production of innovative media pieces that make a meaningful contribution to improve water management across the region.
Objectives of the Workshop
At the end of the learning and exposure program, participants will have developed:
Innovative ways of disseminating information about water-topics.
New relationships and learned from horizontal exchanges with other environmental journalists.
An overview of information sources on water topics and insights into aspects of water management that should not be neglected in journalistic work.
A better understanding of how to engage with and consult water sector experts.
Tangible story concepts in target group-tailored formats, as a basis for participation in the regional Blue Peace Open Eye Award.
Eligibility
Open to
Experienced journalists from MENA with proven interest or track record in environmental topics;
Young media professionals (YouTubers, bloggers, content creators, social media influencers etc.) that demonstrate exceptional interest and motivation in water-related reporting and storytelling.
Application
Make sure to have the following information/documents at hand:
Short biography (100 words maximum);
Updated short CV (3 pages maximum);
Short abstract of your water story (100 words maximum);
Samples of previous stories if available, preferably on water/environmental issues in the region.
For more information, visit Konrad-Adenauer-Stiftung.