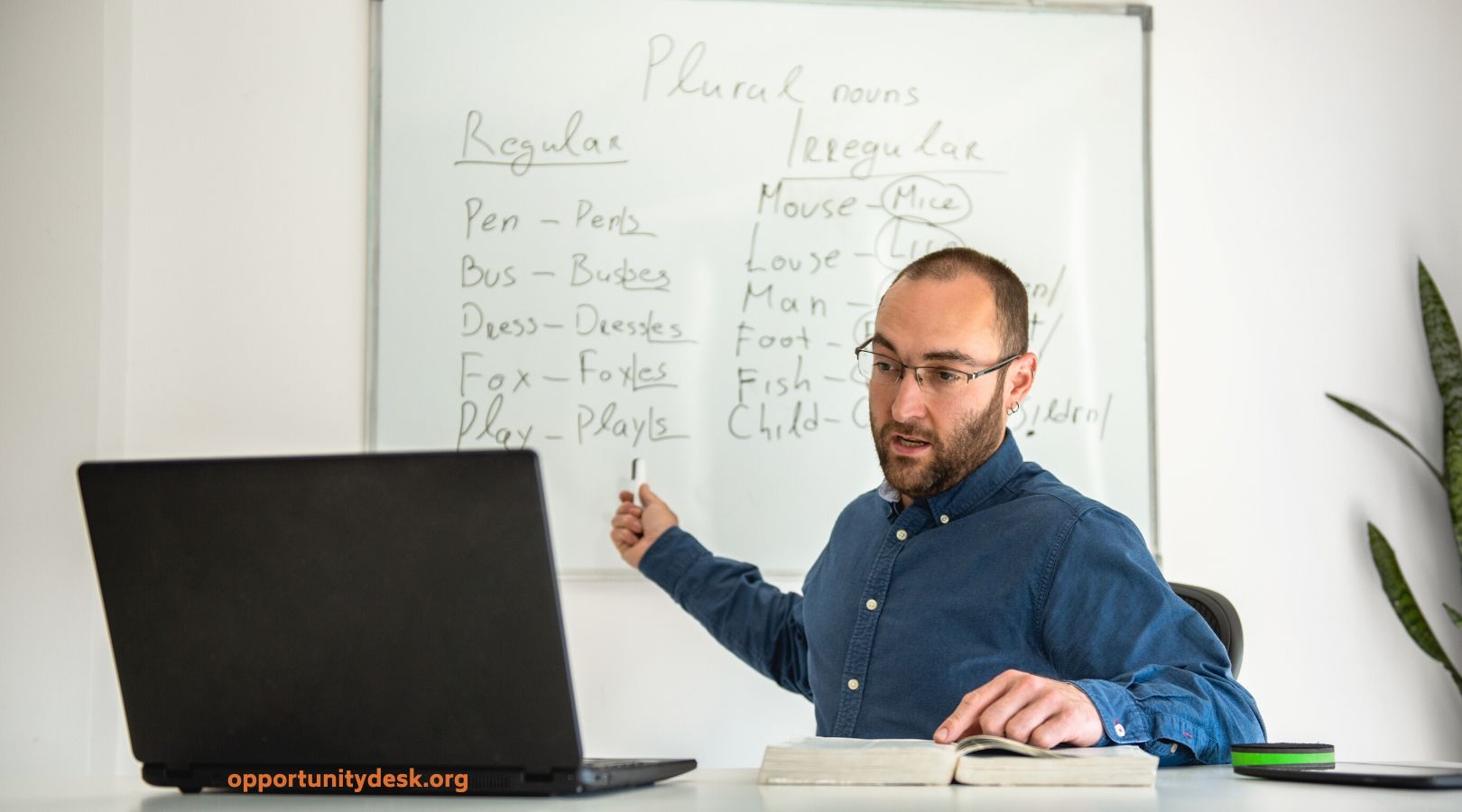 5 Reasons to Teach English Online
Teaching English online allows you to take control and manage your own career path. If you've recently gained your TESOL certification, it's a great way to ease yourself into this new chapter of your life.
Or maybe you're already an experienced EFL teacher and are looking to reduce your hours or move home. In this case, it can be an equally beneficial way to wind down your hours and take a step back from full-time teaching.
You can also teach online as a way to boost your existing income! Being your own boss has its advantages – you can set your lesson rate, work the hours you want, and teach when you want.
Here are just five of many reasons to teach English online.
1. Flexible Hours
Your time is precious. Teaching online allows you to choose how little or how much you work. It allows you the flexibility you need to fit around your current work and personal life commitments. Whether you decide to teach full time, or alongside another job or your studies – whatever time you have available is what you make of it.
Your schedule can vary as you need from week to week. Every week can be different! No need to worry about booking time off work for that last-minute holiday deal or upcoming family event. Just adapt your online schedule accordingly! 
To make things easier for both you and your students, you can use appointment scheduling software. This way, you'll increase class bookings and revenue by allowing your students to self-schedule. Automated notifications will prevent classes from being missed, and the best part is that there's no need for back-and forth emails or calls.
The likelihood of working in many different time zones also means that you won't be tied to the typical working day. Whatever time of day (or night) you work best, your energy bursts need not be put to waste. Most online teaching companies let you determine your schedule so you can teach when you're available. Work-life balance has never been easier to manage.
Working flexibly also enables you to determine your income. You choose how often you'd like to work. Online companies tend to offer fixed wages, and are a good means of initially establishing yourself in the industry. If you plan to teach independently, the more experience you have the better. This will give you more leverage with your fees. Ultimately, the job is what you make of it and the possibility to earn a substantial income is there.
2. High demand for teachers
The EFL industry is constantly expanding, meaning that there is plenty of work available for certified EFL teachers. Around the world, proficiency in English is highly sought after. The very fact that there are far more English language learners than native speakers expresses the demand in itself. As the number of internet users worldwide continues to grow, so does the demand for online English teachers.
Many students are well aware of the benefits of learning English online. The ability to access one-to-one teaching whenever being one of them. Many English language learners will stick with the same teacher for prolonged periods of time, meaning that you can build up a steady and loyal student base.
However, it is important to bear in mind that most major online teaching companies will require you to have a degree before taking you on.
3. Teach anywhere
Teaching English online gives you the unique opportunity to experience the world. Your working day may begin with a student in Asia, and end with another in South America. And the next day could be entirely different. Few jobs enable you to experience different cultures and interact in this way without leaving your own home.
That's not to say you have to stay put while teaching online. One of the best things about it is that you're free to work wherever. Maybe you're taking some time out to travel the world, or are a nomad by nature. Whatever your lifestyle, teaching English online can help you sustain it. A quiet space and a Wi-Fi connection is all you'll need!
4. Gain invaluable work experience
If you're considering teaching full-time abroad but aren't quite ready to take the leap, teaching online is the ideal place to start. Consolidate what you've learned during the course while also gaining new practical skills from teaching independently.
The more students you teach, the more you will understand what works well and what doesn't. You'll learn to adapt to different students' needs and will become a better teacher for it.
Whilst previous teaching experience isn't a requirement for TESOL jobs in many countries, it undoubtedly enriches your CV and will give you an edge when applying for more competitive positions.
5. No more long commutes!
Let's face it. Commuting often feels like a waste of time. Being a standard part of most people's working-day doesn't change the fact that it's additional unpaid hours that are required to attend the paid ones. Most definitely you would rather spend this time doing something else – making a nice breakfast, spending extra time with family or simply even lying in.
Teaching English online means you can have that extra hour (or in fact entire morning) in bed when the dreaded alarm goes off once again. Start the day unrushed with family. Or make that Instagram worthy breakfast. The working day starts when you decide.
No need to run to make that train, where you'd most likely be squashed in amongst other equally unenthusiastic commuters. Your work is where and when you want it to be.
With the potential of a shorter working day – you can also save a fortune on travel. Not to mention you'll be spending less on coffees and lunches too. Teaching English online is a great way to get involved with the TESOL industry. You're bound to gain a wealth of knowledge that you can carry from one job to the next. And the more experience you gain, the greater your earning potential!
For more articles, visit OD Blog.