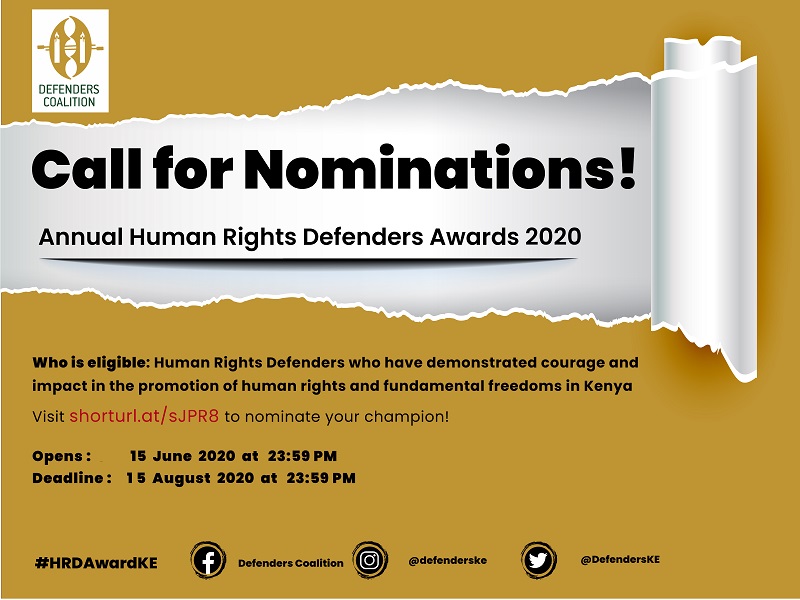 Call for Nominations: The Human Rights Defenders Award 2020 (up to $1,000)
Deadline: August 15, 2020
Nominations are invited for the Human Rights Defenders Award 2020. The aim of the award is to honour and publicly recognize the important work of Human Rights Defenders (HRDs) in Kenya, by giving out awards to men and women who have demonstrated courage and impact in the promotion and protection of human rights and fundamental freedoms.
The objectives of these awards are to:
Honor the extraordinary work of HRDs and groups of HRDs in the promotion and protection of human rights;
Profile the work of HRDs and the challenges they face as agents of social change and transformation;
Recognize and appreciate the human rights work of young and upcoming HRDs and HRD groups in Kenya and support talent;
Enhance the safety and protection of all HRDs in Kenya;
Recognize innovation in engaging with human rights work
Categories
Three awards will be presented to the overall winners:
The Munir Mazrui lifetime achievement award,
The HRD of the year award and;
The upcoming HRD award.
Awards
The winners will receive:
A cash award of $1,000 in every category
A plaque with the HRD's or the group/organization's name on it
Will be a guest at the HRD award ceremony 2021
Eligibility
Nominee should be based in Kenya;
The HRD or the group should be grassroots based;
Show demonstrable impact of the HRD's or the group's human rights work to the community;
The role of the HRD or the group in promoting human rights, especially the rights of marginalized and vulnerable groups;
'Civil courage' of the HRD or the group in human rights work;
Demonstrated leadership, innovation and creativity in the human rights work of the HRD/the group;
Contribution to development of a human rights based approach within the relevant county with regards to the thematic area of focus;
Future goals and likely impact;
Degree of difficulty of the achievement and sacrifices made;
Visibility derived from the award to enhance the work of the HRD or the group to promote human rights and active citizenship;
The HRD/group should have a link to the community and the work should have built or is working towards building a movement.
Application
To nominate your favorite HRD, download the nomination form here or nominate online.
All nomination forms should be sent back to the Defenders Coalition via [email protected] with a clear subject line "HRD AWARDS NOMINATION" by August 15, 2020 at 11.59 P.M.
For more information, visit Human rights Defenders Award.