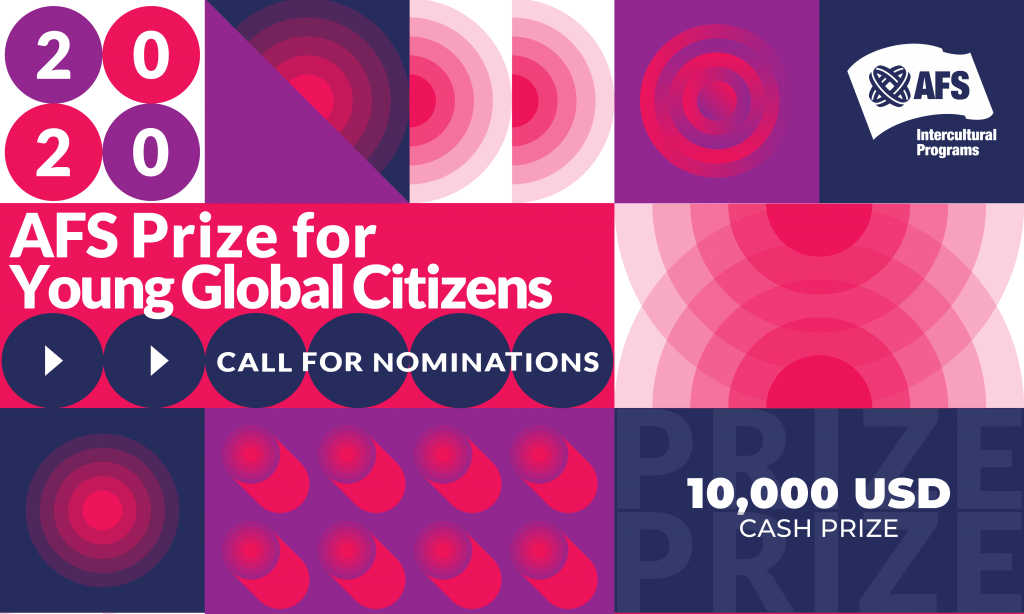 AFS Prize for Young Global Citizens 2020 ($12,800 prize)
Deadline: July 28, 2020
Are you a person under 30 committed to improving the global community?Applications for the AFS Prize for Young Global Citizens 2020 are now open. Pandemic. Climate crisis. The need for young global citizens has never been greater. They are driving the changes urgently required to address and solve our shared challenges.
The AFS Prize for Young Global Citizens will recognize one young person for their commitment to improving the global community and whose actions contribute to a more just, peaceful, and tolerant world.
Prizes
A single Prize shall be awarded to the Winner and shall consist of a cash award of ten thousand dollars (US$10,000.00) and participation in the 2020 AFS Global Conference Virtually (ARV of $300) as well as the AFS Global Award winners' network (ARV of $2,500). The total ARV of the Prize is $12,800.
Eligibility
The Prize will be awarded to an individual who:
Is no older than 30 years old by October 22, 2020.
Is in charge of a project that is currently running or has been completed between January 2018 and January 2020. Both must have already demonstrated success in achieving their stated goals.
Demonstrates how their project is successfully addressing a pressing global issue, tackling one or more of the challenges outlined by the United Nations Sustainable Development Goals, and what this translates into in real-life impacts.
Shows how their project successfully engages others outside their own community/culture and how this aspect is crucial to advancing their work. Projects must rely on intercultural understanding and global competence.
Articulates how their initiative has significant potential to be scaled up and extended.
Application
Candidates who fit the criteria can apply for the 2020 AFS Prize for Young Global Citizens by filling in the application form and submitting it before the deadline. Only one application (focused on one project) per person will be considered.
Candidates for the AFS Prize for Young Global Citizens can also be nominated by someone else. The nominator should provide basic information within the designated form, after which AFS will notify the candidate about the nomination, complete with criteria and application. One person can nominate as many candidates as they wish. The number of nominations received will not influence the selection of the Prize winner.
For more information, visit AFS Prize for Young Global Citizens.