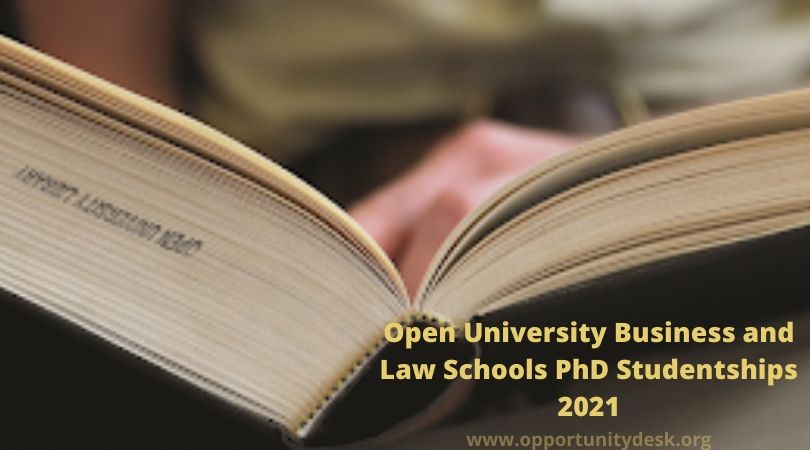 Open University Business and Law Schools PhD Studentships 2021 on Responding to the Health and Climate Emergencies (Funded)
Deadline: September 7, 2020
The Open University Business and Law Schools invite applications for a number of full-time funded PhD studentships beginning February 1, 2021 on 'Responding to COVID-19 and the Climate Emergency'.
This themed call is for PhD research projects that consider the organisational and legal challenges posed by the COVID-19 pandemic and/or the climate emergency – as urgent, complex societal problems that management, business and legal researchers can help to address. Your application should be based on one of the advertised projects.
You will join a vibrant environment of students and academics in the Faculty of Business and Law who conduct research of the highest international standard that has economic, public and social value consistent with the mission of The Open University. You will work with subject specialists and have the opportunity to develop your skills in research communication, engagement and impact.
Benefits
Studentships cover tuition fees, a generous research training support grant and a stipend (circa £15,285 per annum) for 36 months.
PhD studentships are based on full-time study for three years at the Milton Keynes campus. Students are normally expected to live within commuting distance of Milton Keynes.
Eligibility
Applicants for the PhD programme should have minimum qualifications of an upper second class honours degree 2:1 (or an equivalent) and usually a specialist masters in a subject relevant to the intended study with a strong research element.
The University requires a minimum IELTS score of 6.5 with no less than 6.0 in any of the four categories (or approved equivalent). You should have your level of proficiency certified through a provider approved by UK Visas and Immigration and provide your certificate and grade with your application.
Application
Your application must include:
Your proposal should be at least 1,000 words and no longer than 2,000 words, which indicates your knowledge of the literature, methods and likely approach to your project of interest (guidance on how to write your research proposal)
A covering letter indicating your suitability for the project
A fully completed application form.
Copies of degree certificates and transcripts relevant to your application.
Your proposal, covering letter, fully completed application form and copies of certificates and transcripts, should be emailed by the closing time and date.
For more information, visit Open University Business and Law Schools.