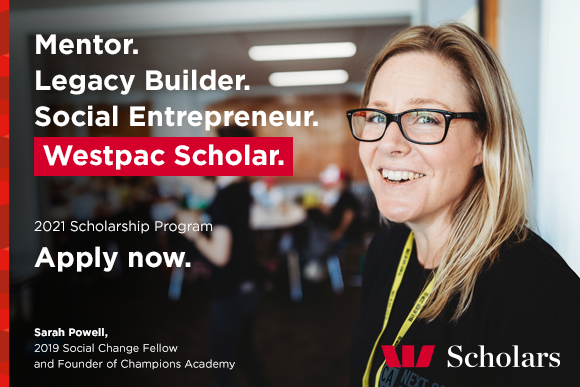 WestPac Social Change Fellowship 2021 for Australians (up to $50,000)
Deadline: July 17, 2020
Are passionate about making positive social change happen in Australia? This could change your life. Apply for the WestPac Social Change Fellowship 2020.
If you had the chance to take the time to develop yourself, and increase your impact, would you do it? The Westpac Social Change Fellowship is both empowering and inspiring. Unlike other social innovation programs, they focus on the growth and development of the extraordinary individuals leading social change in Australia.
Although living in one of the luckiest countries in the world, social issues surrounding health, disability, disadvantage and unemployment still affect many Australians. These issues can't be solved with the wave of a magic wand. But they can be improved by people like you with the determination, ideas, and networks to create genuine change.
Program Details
This Fellowship gives you the rare chance to focus solely on yourself and your development. You're probably already changing lives through your work, but this is your chance to further enhance your learning and skills, expand your networks, and explore new opportunities. And with 10 Fellowships per year, each valued at up to $50,000, it doesn't stop here.
The Fellowship gives you the opportunity to go on a 6-month personal development journey, allowing you to really explore your leadership potential. It could literally change your life. From overseas research and travel to development courses and work experience. Our Foundational Leadership Program means you'll also get hands-on professional coaching advice to really help you bring your ideas for social innovation to life.
As a Westpac Social Change Fellow, you'll become part of the Westpac 100 Scholars Network. Lifelong membership to this network gives you access to one of Australia's most diverse meetings of like-minds. It's designed to be inspiring, influential and a life-long learning experience.
Eligibility
You are an Australian citizen or Permanent Resident;
You are over the age of 18;
You are applying for funds to build your capability, skills, experience and connections to deliver social change;
You are already leading an initiative to improve the wellbeing of Australians at a local, state or national level;
You have the support of the community that your initiative is seeking to benefit;
You have a keen desire to share ideas with others, to be challenged, to be inspired.
Selection Criteria
They are looking for individuals who have qualities that sets them apart from others.
They have generosity of spirit and a strong desire to give back to Australia.
Their commitment to Australia's broader social purpose, to create equal opportunity and better lives for all Australians, is reflected in their work and their actions.
Application
For more information, visit WestPac Social Change Fellowship.