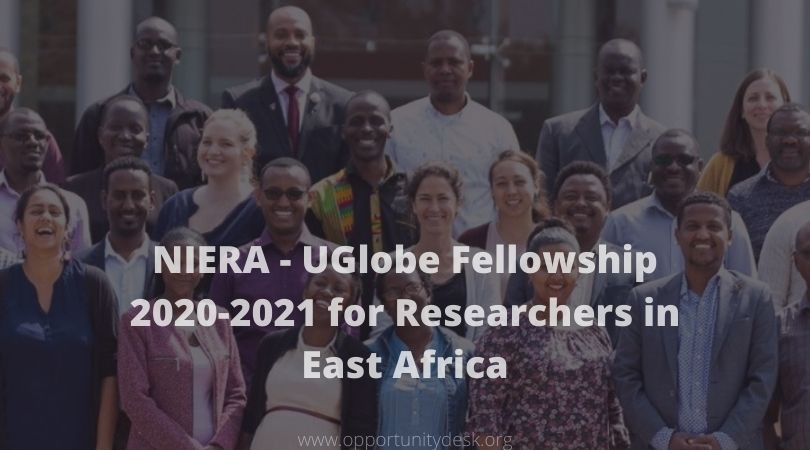 NIERA – UGlobe Fellowship 2020-2021 for Researchers in East Africa (Stipend available)
Deadline: July 31, 2020
Applications are open for the NIERA – UGlobe Fellowship 2020-2021. The NIERA-UGLOBE fellowship aims to develop tailored IE course curriculum's and materials to be offered in academic and research institutions for students and researchers.
NIERA is looking for Fellows who are motivated and excited to develop impact evaluation courses at their institution. This fellowship provides a unique opportunity to receive much content support and become part of a network of like-minded East African academics. In addition, the fellowship comes with a modest stipend in support.
Benefits
The program will offer Fellows the following content support and training:
Kick off Training Workshop to equip the selected fellows on IE tools and processes.
Monthly remote meetings between the fellows and NIERA secretariat and regular in country meetings.
Access to a virtual cross-country resource site in which fellows can share progress, ask questions and give continuous advice on the course materials.
Opportunity to develop materials that are suitable for both online and face to face delivery.
Eligibility
Applicant should have a PhD in a relevant technical field;
Holding teaching positions in accredited universities or researchers working with research institutions and development organizations but with qualifications to teach in accredited universities in East Africa;
Provide supporting letters from their university indicating that the institution is supportive of the applicant developing an IE course. (N.B This will be required of selected applicants ONLY);
Have a minimum of 5 years of previous experience working with development of training programs or similar assignments;
Knowledge and understanding of multi-disciplinary research involving use of scientific evaluation in social and economic development programs in East Africa;
Demonstrated knowledge of current instructional theories and principles applicable in both online and instructor led learning programs with strong training and facilitation skills;
Excellent management skills and written and verbal communications skills;
Ability and willingness to work long hours, take responsibility for delivery and meet tight deadlines.
Deliverables
IE curriculum designed as a course that can be taught at any University or Research Institution, Concentration (a number of IE courses) that can be taught at Masters or Doctorate level and academic credit awarded.
Evaluation framework for prepared curriculum and materials
Presentation of the work (training modules and curriculum) in a workshop.
Commitment to organize a workshop open to students and faculty at their respective institutions on evidence-based policy making using IE.
NOTE: Given the COVID-19 dynamics, applicants are required to develop materials that are suitable for both online audience and face to face delivery. These include but are not limited to the utilization of digital platforms such as Zoom or Microsoft Teams, online engagements, telephone, or other modes of contact at any time.
Application
Proposal should be no more than 5 pages long, Arial font size 11, single spacing, normal margins. Applicants are encouraged to include samples of training modules and or/curricula that they have developed as appendixes to the proposal.
All proposals should be submitted to [email protected] 
For more information, visit NIERA – UGlobe Fellowship.